Manila Mayor Isko Moreno has finally confirmed what people have long been speculating, and that is he isn't part of the real 'opposition.'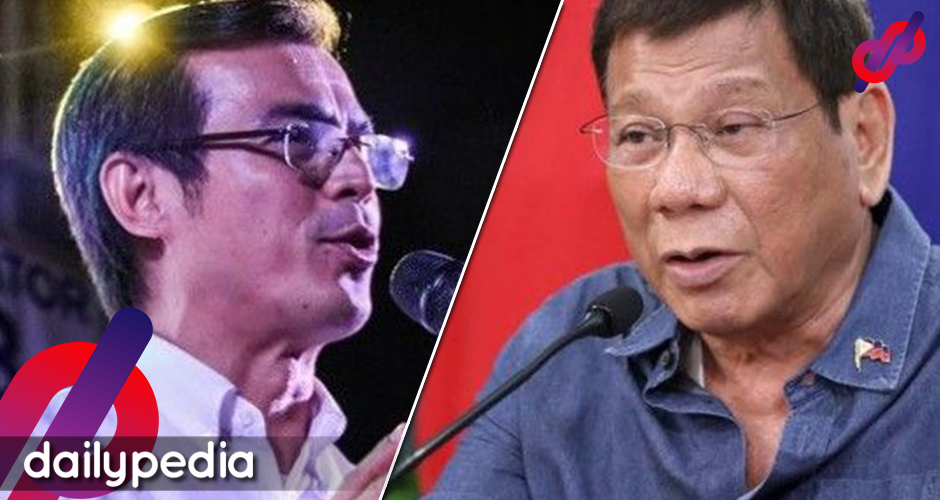 During an interview in his visit to Lapu-Lapu City, Moreno said he'd willingly include Pres. Rodrigo Duterte in his Senate slate.
"I'm going to vote for him personally. I'm going to endorse him, hopefully, kung papayag siya, I'll be honored," he shared.
"Nakuha ko nga siyang iboto, e 'di ko pa ba siya makuhang i-adopt " he added.
The presidential aspirant also believes that Duterte would do good as a senator, noting that the latter has contributed to the establishment of the Malolos-Clark Railway project and National Vaccination Days.
Duterte as a legislator from 1998 to 2001 was notorious for being absent, only appearing in 58% of House sessions.
For now, Moreno only has Marawi civic leader Samira Gutoc, education entrepreneur Carl Balita, and former Quezon City official and television personality Jopet Sison in his slate and has yet to speak to Duterte about being adopted.
"I would love him to be part of the Senate slate as a guest candidate, simply because he no longer has a presidential candidate. Senator Bong Go withdrew so it's in line with our belief. But for now, let us not jump the gun, I don't want to preempt the President," he said.
Aksyon Demokratiko, Moreno's party, has backed his support for Duterte, explaining that it is not part of the "opposition."
Moreno consulted his party, Aksyon Demokratiko, about his welcoming Duterte in the party's slate, party chairman Ernest Ramel told Rappler.
"We stand by with the pronouncement of our party president and standard-bearer," said party chairman Ernest Ramel.
"Aksyon is centrist and is not an opposition party and we believe that there are current administration policies worth continuing and we also see what need to be improved on or discontinued," he added.
Netizens weren't too surprised with Moreno's support for Duterte as they've speculated it, for quite some time that he has always been one with the Administration.
I guess by now it's clear that Mayor Isko Moreno Domagoso is not the opposition candidate he initially purported himself to be. https://t.co/HRgRR97o7t

— Ben Bernabe (@yogawithben) December 6, 2021
pero hindi nagtagal lumabas din ang tunay na kulay https://t.co/8O0dLFyLLf

— Kriz Gazmen (@krizgazmen) December 6, 2021
Isko Moreno supporting Duterte is a tragedy of desperation. Old school ang pagiging trapo. Tragic because tokhang in Manila proliferates under his administration. Desperate because he expects his endorsement will translate to grassroots support. #DuterteWakasanNa

— Lean Porquia #ResistTheFascist (@IanMakabayan) December 6, 2021
It also seems Aksyon Demokratiko has now been corrupted.
Oh my god binaboy niyo yung pinaghirapan at pinaglaban ni Raul Roco!!! https://t.co/dwufV7ndMX

— Justin Dizon #LeniKiko2022 (@iamjustindizon) December 6, 2021
I seriously hope the senatoriables, local candidates, and members of the party consider jumping ship from the trainwreck that is Aksyon Demokratiko.

Another case of a party coopted and bastardized. 🥲 https://t.co/7Zc6Hm0bzi

— RJ Naguit 🌹 (@docrjnaguit) December 6, 2021
Moreno has said before that he is against career politicians but his pro-Duterte stance says otherwise.
https://twitter.com/juanelyas/status/1467696134843863041?s=20
His slate could also be a mess since Gutoc isn't really Duterte's biggest fan.
https://twitter.com/PinoyAkoBlog/status/1467677273394659328?s=20
This is the presidential candidate of the party to which Vico Sotto and Samira Gutoc belong? Seems like their political careers might be tainted or trashed by Moreno's flip flop. Not that he cares, I suppose. Cynically speaking. https://t.co/zh1qXmVy5I

— JoeAm (@societyofhonor) December 6, 2021