ABS-CBN's global reach continues to expand in Africa through new shows capturing the hearts of its viewers across the continent.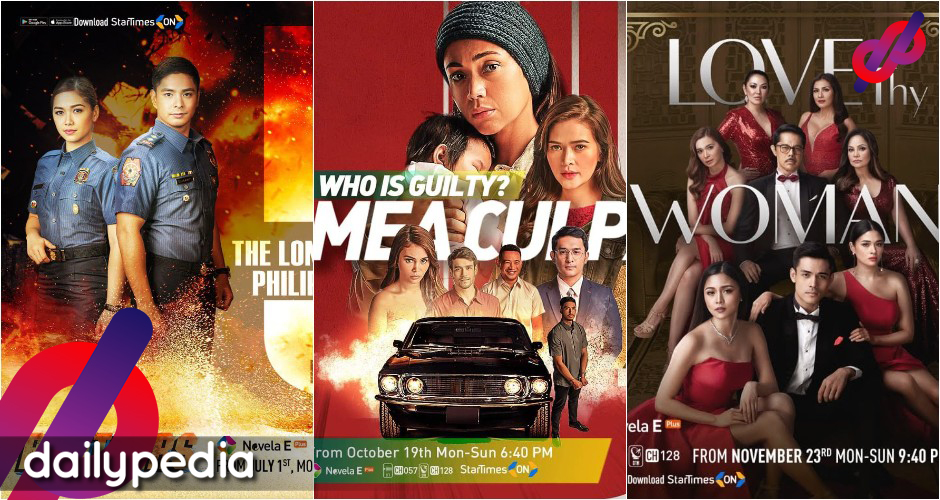 After Wild Flower, Sandugo, The Killer Bride, FPJ's Ang Probinsyano, and The General's Daughter, earlier this year, two more Kapamilya programs continue to enthrall the world's second-largest continent.
ABS-CBN has long maintained a strong presence in African television, where Kapamilya dramas, including Pangako Sa 'Yo (2001), Be Careful with My Heart (2012), became household favorites in the past decade.
🔥 Dana Wong wants her husband back! What will she do to get back the heart of the man she loves?🔥

Don't miss the premiere of Love Thy Woman on November 23rd at 6:40pm on ST Novela E Plus & StarTimes ON App 📲https://t.co/rZyMN2zAch#LoveThyWoman #StarTimesGhana #StarTimes pic.twitter.com/56dCBOVCEY

— StarTimes Ghana (@startimesghana) November 22, 2021
This year, two more beloved ABS-CBN series made their way into the African households, as the continent's biggest cable TV provider, Star Times delivers Sino Ang May Sala?: Mea Culpa and Love Thy Woman to its subscribers in more than 40 countries in the region. 
Star Times maintains a strong presence in key African countries, including Kenya, Uganda, Nigeria, Tanzania, and Rwanda, where many Kapamilya stars have developed strong fanbases.
🔥🔥Cardo is found guilty and sentenced to life in prison! 😣

Tune in tonight for Episode 146 of #Brothers on ST Novela E Plus (Ch. 57/128) at 8:50 pm for more !

>>Stream your favorite telenovelas on StarTimes ON: https://t.co/N0FPqDdF43 #StarTimesTelenovelas #CocoMartin pic.twitter.com/onD3vTvf66

— StarTimes Kenya 🇰🇪 (@StarTimesKenya) November 23, 2021
FPJ's Ang Probinsyano, which started airing through Star Times in July, this year, is an emerging favorite. 
To market the action-drama series–it has a different title as Brothers to the region. It airs from Mondays to Sundays. The new series–Love Thy Woman that just began airing on Monday, November 23. 
Love Thy Woman was aired on ABS-CBN from February to September last year and was among the few Kapamilya dramas to continue airing amid ABS-CBN's shutdown. Sadly, the LizQuen-starrer–Make It With You, and family drama–Pamilya 'Ko, however, were both axed after ABS-CBN's franchise application got denied by Congress.
Mea Culpa Ep.34 Tonight 🔥

On ST Novela E Plus Ch. 57/128 at 9:40 PM.

Enjoying this interesting telenovela? Catch the next Episode of Mea Culpa tonight!

>>Top up 2 months subscription and get 2 months free upgrade on the next higher bouquet!#StarTimeShows pic.twitter.com/Pagpeyj7lV

— StarTimes Kenya 🇰🇪 (@StarTimesKenya) November 21, 2021
Alongside Love Thy Woman, Sino Ang May Sala?: Mea Culpa remained among the most-watched Asian content on Star Times. 
Starring Jodi Sta.Maria, Bela Padilla, Kit Thompson, Ivana Alawi, Tony Labrusca, Sandino Martin, Mea Culpa follows neophyte lawyers who got involved in a car accident. Love Thy Woman, on the other hand, follows a rivalry between half-sisters, Jia Wong (Kim Chiu) and Dana Wong (Yam Concepcion), and the clash between their respective families.
More Kapamilya programs are expected to make waves across the continent in the coming months after ABS-CBN sold distribution rights of 14 more titles last year to African distributors. 
ABS-CBN has so far sold more than 50,000 hours of Filipino content to its international partners worldwide. Since it departed from free television, however, the media giant has set its sights on digital platforms and international distribution to create new and more sustainable revenue streams.