Politicians of Malabon City left people disgusted after they used Mary the Blessed Virgin to fuel their campaign.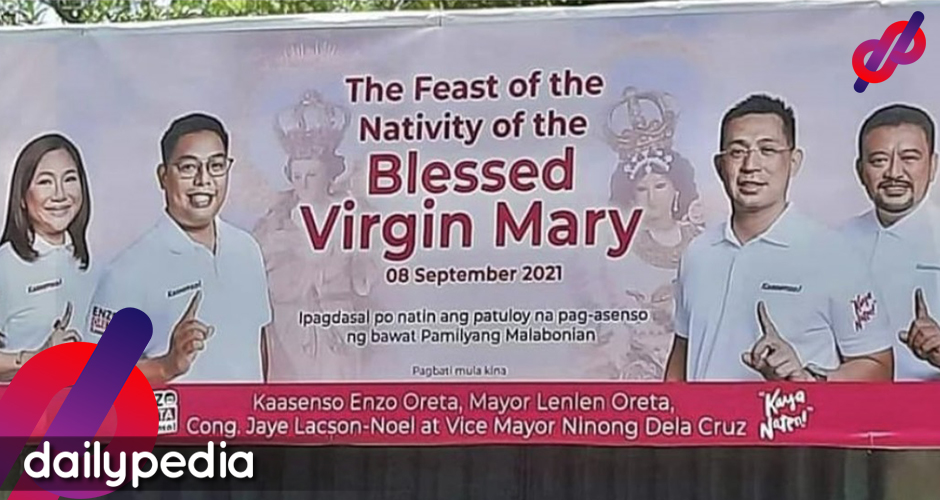 In a tarpaulin greeting the Catholic faithful for the Feast of the Nativity, Malabon officials Coun. Enzo Oreta, Mayor Lenlen Oreta, Cong. Jaye Lacson-Noel, and Vice Mayor Ninong dela Cruz are seen holding up a hand sign while smiling.
Father Fiel Pareja was one of those who saw the stunt as unacceptable.
"I am speechless?" Pareja said, adding in a follow-up post. "Again, why?" he tweeted.
Apparently, the tarpaulin was put up two days before the Sept. 8 Catholic feast.
https://twitter.com/padrefiel/status/1434687011827290115?s=20
The move was the lowest thing netizens have seen in a while, with some calling it "trapo."
Yung birthday mo pero ginawa ka nalang background tapos naka grayscale pa. Awit sayo Malabon! https://t.co/69ngqH8HWm

— ALT Ali ㄱ둨 ㅇㅁ퍙 (@impunity_panty) September 6, 2021
baka malabon yarn https://t.co/YSKfO1viFn

— /ririyuh (@wiobcycy) September 6, 2021
https://twitter.com/keniyown/status/1434781499920826369?s=20
https://twitter.com/jhulianuhhh/status/1434780576209199104?s=20
https://twitter.com/riku_maki/status/1434778555246800897?s=20
ganyan yang mga yan sa malabon taon taon pukingina https://t.co/w95PAblI1p

— revcloud ☁️ (@edrichjs) September 6, 2021
MALABON BOOM BOOM U CAN DO BETTER https://t.co/ftJXU5PWKx

— rosales emer (@engineerEMERSON) September 6, 2021
https://twitter.com/itsjeisel/status/1434782439096799236?s=20