President Rodrigo Duterte poked fun at a certain mayor for his past "bikini photos" while telling Filipinos to think twice before voting.
He also described the local chief executive as trained to be a "call boy" during his recent national address.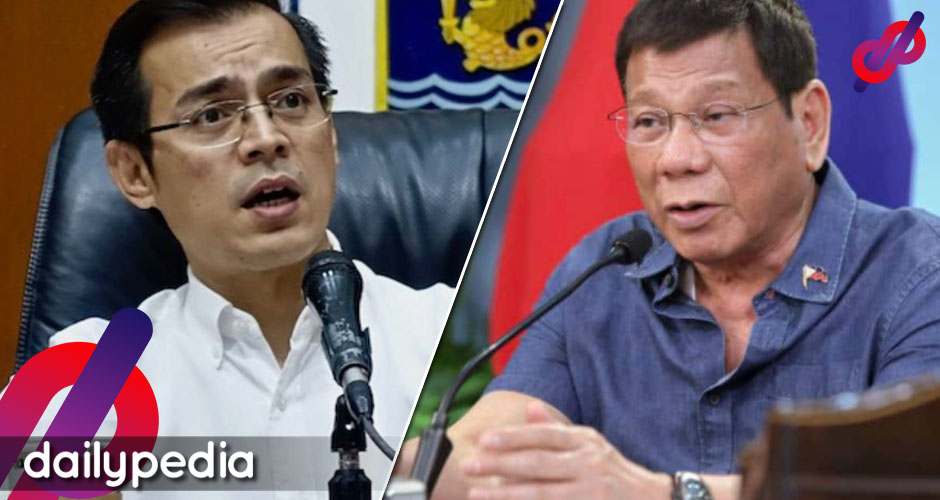 "Nakita ko nga sa Facebook kanina lahat ng naka-bikini ang g*g* tapos meron isang picture pa dun sinisilip niya iyong ari niya. Iyan ang gusto nyo? Ang training parang call boy. Naghuhubad sa picture, naka-bikini, tapos 'yung garter tinatanggal niya," Duterte said.
He also compared the certain mayor to musician and Duterte critic Jim Paredes who had a leaked sex tape go viral in 2019.
"Iyan ang training ng presidente—maghubad at magpapicture at magsilip, magyabang sa kanilang ari kagaya ni Paredes."
The President also mentioned the mayor's alleged disorganized cash aid distribution process and accused him of not taking accountability for the mess.
"And you know it has happened several times. He has blamed many people other than himself."
Though President Duterte didn't mention any names, Manila Mayor Isko Moreno has been known for having sexy roles in movies during his showbiz career. Some films Moreno starred in contained steamy scenes with a partner.
Netizens immediately rushed to Moreno's defense, saying that Duterte was throwing dirt against the mayor because he saw that the latter could threaten his daughter's Presidential run.
Duterte hits Manila Mayor Isko Moreno's past as a sexy actor, a job he did when he was dirt poor.
Moreno has since blossomed into an educated man w street-style leadership that works. He's been figuring in surveys that threaten the prospects of Duterte's daughter in 2022 polls. https://t.co/LjiuRzgc9Q

— Lala Rimando (@lalarimando) August 10, 2021
"Ungkatan ng past?"
A Twitter user compared the mayor's sexy photos to the President's past issues, including when he admitted to molesting one of his family's maids when he was still a teenager.
https://twitter.com/krizzy_kalerqui/status/1424953454368153602
In 2018, Duterte made headlines all over the world after he recalled that he made a confession to a priest about his actions. He said that he entered the maid's room while she was still sleeping and tried touching her private part.
https://twitter.com/jjyneee/status/1425317675589279747
is he the same guy who admitted to sexually assaulting his nanny? and he's mad rn for a few sexy pictures? https://t.co/sfFzPmdoC2

— mia ☁️ (@cherrykrtsk) August 10, 2021
Another pointed out that Duterte chose to mention the photos rather than lending his time to matters related to the country's COVID response.
people of the ph: may delta variant? pandemya?
du/30: https://t.co/bc7gE4KkEb

— abrar (@abhataman) August 10, 2021
*In the middle of a pandemic*

Duterte: but look at his bikinis tho https://t.co/tkMISdTjcg

— Apel (@lhanzantolin) August 10, 2021
"Threatened" is the adjective that some used to describe the President's actions.
The sound of a threatened old man.

Between you and Isko, I will vote for Isko without a doubt. https://t.co/4Sbp599MLf

— noellisimo (@noellisimo) August 10, 2021
While others poked fun at Duterte's interest in Moreno's sexy photos.
https://twitter.com/True_Blu26/status/1425095048262213642
While Duterte accused Moreno of having a disorderly distribution of goods, the Department of Interior and Local Government (DILG) and Department of Social Welfare and Development recognized the latter's timely distribution of cash aid and Social Pension to senior citizens.
When asked if President Rodrigo Duterte was alluding to Manila as the lone NCR city that was "disorganized" in distributing cash aid, Manila Mayor @IskoMoreno set these city accolades to reporters as his response. pic.twitter.com/Hg6vytlPcC

— Kat Domingo (@_katrinadomingo) August 9, 2021
Duterte insisted that he only saw one city in Metro Manila having a disorganized distribution.
"There's only one city in Metro Manila, I saw in TV the disorder and chaos prevailing whenever may mga pamana, kung ano."