On Wednesday, the StaySafe application used for contact tracing has "almost no impact," said Health Secretary Francisco Duque III.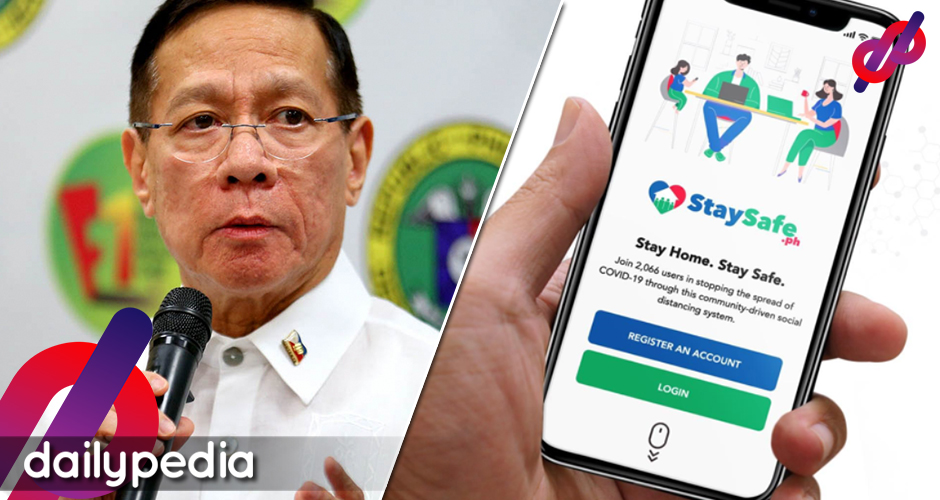 Duque told the Senate Blue Ribbon Committee that the app isn't so effective when Sen. Pia Cayetano brought up its limitations.
"In truth and in fact, the StaySafe app is merely a digital log of 'yung nakasulat sa parang logbook na papel. That's all it does. It's in our imagination that it is interconnected with the national government's tracking system or the local government's tracking system because it is not. So all it is is a log of who went in and out," Cayetano said.
"Now who is tracking that? Who is going to alert that establishment if somebody is positive? Who is going to trace back when somebody is positive in the local government kung saan siya nagpunta (and where they went)? There is really no system that is doing that," she added.
She noted that the application "is not going to do anything for you" unless the "gaps" are filled.
"It's just a log that individual establishments have," she stressed.
Duque said that the Department of Information and Communications Technology (DICT) "should really make the effort to explain" the app's benefits.
"Alam ko po dito, noong inadopt na 'yan ng national government, naka-connect 'yan sa ating COVID Kaya, 'yung data repository system ng DOH. Kasi doon malalaman kung sino 'yung mga nagpositive tapos sino 'yung mga exposed. But it was March pa the last time we had an update," Duque said.
"We will echo the concerns to the DICT during the next IATF," he assured.
Netizens couldn't believe that it is only now that the app's ineffectiveness has been made clear.
https://twitter.com/DrTonyLeachon/status/1430497883824877575?s=20
In our province, we do not use this app. I bet there are not many who know this app, rather we use the QR code generated from google form developed by one of our state colleges. Only a few of the establishments I know implement the said Stay Safe app.

— Bob Reader (@whenbobreads) August 25, 2021
https://twitter.com/PJHiz/status/1430551015720251395?s=20
imagine ilang milyon ginastos sa paggwa ng App n walang silbi? sing presyo rin siguro to ng 700k na low-tech na computer n binibili nila

— ThunderPusa (@cyianite) August 25, 2021
Doc, we all know Duque is just a fall guy. The blame should pointed at people in higher positions. Especially, the one where the buck should stop.

— Robert Beltran (@Robert__Beltran) August 25, 2021
Walang kwenta mga contact tracing app doc. Kung gaano ka inutil si duque ganoon din ka inutil mga tracing app. May staysafe na at may tracing app din na exclusive sa agency namin. Twice already that I became a close contact, wala namang nag alert sa akin, mano mano tracing parin.

— Name cannot be blank (@suppresseddt) August 25, 2021
https://twitter.com/ToniSpeakEasy/status/1430519692653850633?s=20