Tagalog-speaking doctor and YouTuber Adam Smith, also known as Doc Adam, argued with a netizen accusing him of "Pinoy Baiting" or using the culture and language as bait to make Filipinos watch his content.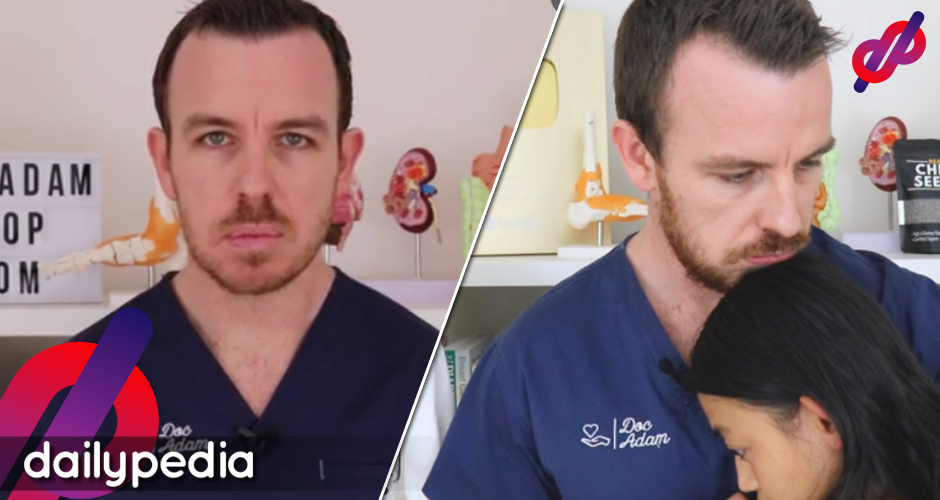 Amid the heat of content creator Nas Daily's controversy involving the world-renowned traditional tattoo artist Whang-Od, other foreigners who produce mainly Philippine-centric content were called out and accused of using the country purely for their benefit. One of which is Doc Adam, who uploads health-related topics in Tagalog.
An argument between the doctor and a netizen started when the latter questioned Doc Adam's video regarding Nas Daily and his academy's issue.
"Anong connect ni Doc Adam sa Nas Daily controversy?" the netizen asked before asking foreign YouTubers to stop.
pinoy baiting isnt just exploiting culture or poverty, it's also using pinoy-related content for clout which u are obviously doing. ur tagalog isnt even cute, mega cringe. lol

— Wulfff (@wulfff11) August 5, 2021
The Australian answered that he only made the video because netizens were dragging him for being a foreigner that makes content aimed at the Filipino audience. He added that he explained everything in his video and hoped that people would watch it first before making any judgment.
Why I made a video? Cause I'm being dragged in to this controversy dahil I'm also a foreigner doing videos about the Philippines. I explained this in the video. Maybe watch it first bago mag-comment https://t.co/3uMIwU63E5

— Doc Adam (@docadamsmith) August 5, 2021
Doc Adam answered back and said that he's only allowed to cover health-related topics just because he's a doctor.
"Last time I checked may free speech and I can do anything I want on my platform."
The netizen replied and recalled the doctor's confession that he has never set foot in the Philippines as he lives in Australia. It was also mentioned that he only learned Tagalog because his partner is Filipino.
He quickly debunked the assumption that he has never once visited the Philippines before.
I've set foot in the Philippines may times. Maybe get your eyes/ear checked para di ka naguguluhan https://t.co/ogFILQeKvV

— Doc Adam (@docadamsmith) August 5, 2021
The netizen further claimed that "Pinoy baiting" isn't only those exploiting the culture of poverty, but also the usage of Filipino content for "clout."
Doc Adam answered back by saying that people can mock him of anything but his Tagalog skills as he has worked hard for it in the past five years and is continuing to do so.
I have spent 5 years learning Tagalog and until now I still have a tutor. Tapakan mo na lahat, wag lang ang pagtatagalog ko cause I work very hard to be fluent at it. #trolloftheday https://t.co/F0cP4OdSHH

— Doc Adam (@docadamsmith) August 6, 2021
The content creator asked a Twitter user if it is still considered "Pinoy baiting" if the content highlights the negative things about the country, as the latter said that foreigners often get attract Filipino audiences as they have a "thirst for global validation."
What about showing the bad things about the country? Is that considered anti-pinoy baiting? Asking for a friend. https://t.co/D9ReDqfcRn

— Doc Adam (@docadamsmith) August 7, 2021
He also answered back a Facebook post claiming that he should've tried to understand oriental medicine, a tradition in the country for centuries. Smith stated that those types of things are "not culture or tradition" but "exploitation."
Weight loss coffees, fake cancer cures, vitamins and drinks claiming to fix any disease is not culture or tradition. They are exploitation of people who lack the critical thinking skills to understand they are bull shit. pic.twitter.com/cdq4eKwaBU

— Doc Adam (@docadamsmith) August 7, 2021
Doc Adam has been making YouTube content for more than three years, focusing on medical content to help Filipinos gain knowledge regarding their body. The YouTuber also posts his opinions on various topics and reaction videos to viral posts online.
Nas Daily's controversy started on August 4 when Whang-Od's grand-niece Grace Palicas called out his academy's traditional tattooing course a "scam" as it promised to "reveal all the ritual, tools, and methods for making traditional tattoos. The class comes with the price of Php750.
"My grandmother did not sign any contract with Nas Daily to do any academy. Some people are taking advantage of our culture. Please help us stop this disrespect to the legacy of Apo Whang Od and the Butbot Tribe," Palicas wrote in the Facebook group Tattooed by Apo Whang-Od.
Palicas was one of the few people chosen by Whang-Od herself to pass on the art of traditional tattoo.
In a separate post, which has been deleted, she expressed her frustrations about exploiting the tradition.
"I know you have good intentions of sharing our culture with the next generation. However, our village concern is that some people are profiting and exploiting our art and culture."
In a statement released a day after the issue broke out, Nas Academy insisted that they were not scamming anyone as Whang-Od gave them the consent to do the classes.
"We approached Whang-Od because just like you, we love her. We love her traditions and are inspired by her. We wanted to share her culture for future generations to appreciate and respect the ancient Kalinga tradition of mambabatok. So we pitched her family the idea of creating Whang-Od Academy. She and her family present both loved this idea and have worked WITH US to build it, with Whang-Od teaching herself," it read.
It named Whang-Od's niece Estella Palangdao as the one who translated the contract and witnessed when the artist pressed her thumbprint on it. Attached to the post was a video of the narrative.
Whang-Od's page on Nas Academy's website has since been deleted.