A food delivery driver received P45,000 in cash from BTS fans, better known as the A.R.M.Y or simply ARMY, after praising them for putting money in his pockets by constantly ordering the BTS meal from McDonald's.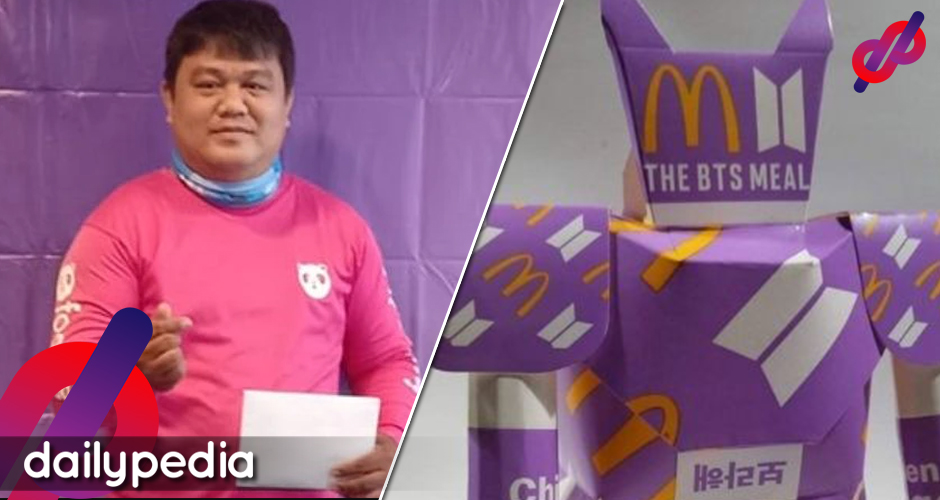 The fast-food chain has a meal dedicated to the Korean boy band which sells for P260. It includes Chicken Mcnuggets, a medium Coke, and medium fries.
And Food Panda delivery driver Benjamin Baetiong, who was once a tricycle driver prior to the pandemic, went on Facebook and thanked all the people who kept on ordering the meal.
"Lakas ng BTS meal ngaun," he said on Facebook.
"Umaarangkada na.. kme mga Foodpanda rides.. masayang dedeliver sa inyo ang bts meal.. kya mga bts fans.. dyn.. gogogogo na order na kyo," he added.
One member of the Tea Squad, a relatively new ARMY group, saw Benjamin's post and decided to raise money for him.
In an interview on ANCX, a member said he fell in love with BTS because of the band's advocacy which is "to love ourselves and to be better every day."
BTS in 2017 entered into a partnership United Nations Children's Fund (UNICEF) to promote an anti-violence campaign.
The fundraiser was a pretty big deal for Benjamin who admitted that he actually needed some cash.
He revealed that medical bills were killing them following his father's experience with stroke.
"No'ng nakita nila post ko, natuwa po sila sa akin, at nag-PM sila na magpopondo daw sila," Benjamin told ANCX.
"Sabi nila maagang pamasko raw po 'yon. Para po sa papa ko 'to, pang gastos sa mga gamot at dito na rin sa bahay." he added.
He couldn't be more grateful as he once again went to social media to express his joy.
"Super Salamat sa lahat ng BTS fans at ARMY. Super ty ty ty talaga."
Kit also said that the initiative was just them practicing BTS advocacies.
"I think that people deserve to also know this side of the K-pop stan world.
"That we are more than just fangirls. Also, I believe that if someone is really deserving of help, then we should help the best way we can and know-how," he said.
While Food Panda delivery riders are praising BTS fans, Grab Philippines has suspended their drivers for homophobic remarks against ARMY.
The ARMY recently called out Grab after its drivers called them gay.
— Grab Philippines (@grabph) June 17, 2021
"Our delivery partners continue to provide significant services for our kababayans during these trying times. We hope that our consumers will not let the actions of a few select individuals affect the livelihoods of the many delivery partners who rely on the Grab platform to support their families," the company said.