The UPLB Writers' Club goes online in its sixth installment of PANDIWA: a two-day regional writing congress, aiming to hone the writing prowess of its delegates and reiterate their duty in society's struggle for equality.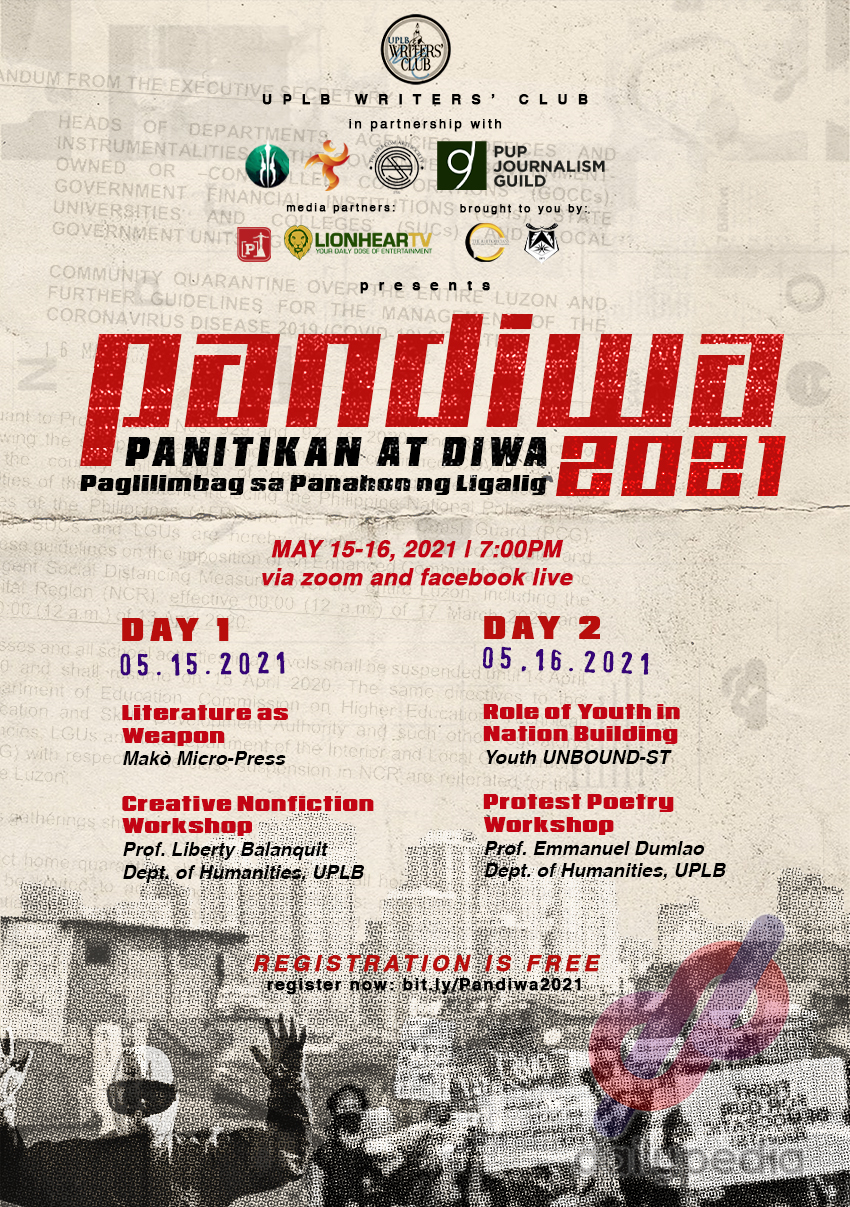 PANDIWA: Paglilimbag sa Panahon ng Ligalig is this year's induction of several lectures and workshops that situate literature as an instrument in responding to contemporary pressing issues, such as the COVID-19 pandemic. Timely and essential, sessions will tackle literature as a weapon, the role of youth in nation building, nonfiction writing, and poetry writing. A cultural presentation shall conclude each day of the event.
In partnership with an assemblage of writers and enthusiasts from Southern Tagalog's diverse secondary and tertiary schools, PANDIWA will be conducted via Zoom meeting on May 15-16, 2021 from 7:00pm to 10:00pm. The upcoming congress will be composed of discussions in a newfound virtual setup, empowering young Filipino writers amidst the pandemic's challenges.
Speakers from Makó Micro-Press and Youth UNBOUND-Southern Tagalog will grace this year's installation, along with professors Emmanuel Dumlao and Liberty Balanquit. Past installations have been met with the presence of Dr. Bienvinido Lumbera, Vim Nadera, as well as the university's very own estimable professors.
Interested? Take part in this free online event! Register through bit.ly/Pandiwa2021 — the last day of signing up is on May 11, 11:59pm.
For inquiries, you may contact the organizers through their email ([email protected]) or through text (Toni Dimaano – 09161316236). Stay tuned with the latest updates at The UPLB Writers' Club's Facebook/Twitter/Instagram Accounts: @uplbwritersclub.
See you at #PANDIWA2021!
The UPLB Writers' Club is a non-profit organization established in the University of the Philippines Los Baños, consisting of young writers and literary enthusiasts who pursue literary art inclined to positive social change, dissuading art for art's sake.