Frankie Pangilinan denied that she cut the lines in Makati City to get herself vaccinated against COVID-19.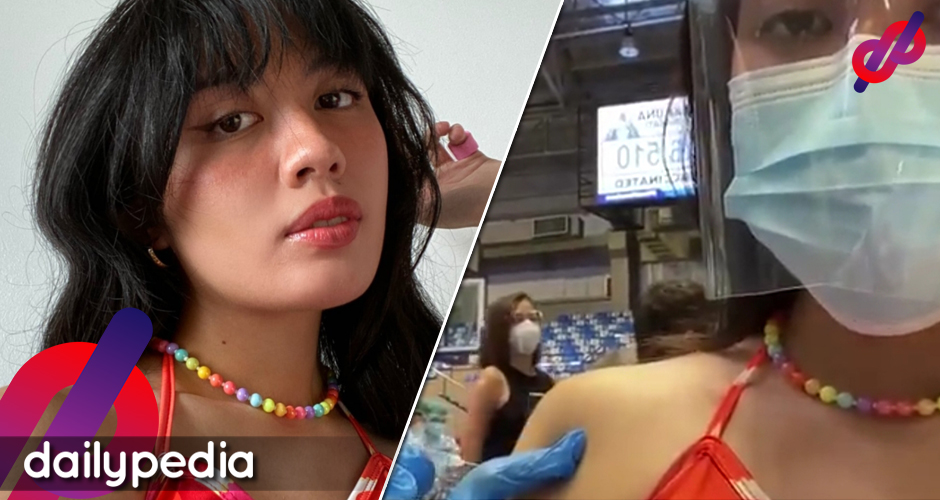 "I didn't want to make this a big deal but have y'all ever thought maybe people have health issues you don't know about?" she wrote on her Tweet last May 24.
She stated that she didn't cut the line as she already got a text from the local government unit of Makati City saying that she's already qualified to get a shot. So she did as it's the "responsible" thing to do and that her lighthearted caption in her initial post was "misconstructed".
Pangilinan urged everyone to get vaccinated as it's also for everyone's safety.
i hope you're all safe and healthy. and if you qualify, PLEASE get vaccinated not only for ur protection but for those around u.

— nakakieinis (@kakiep83) May 24, 2021
Netizens backed her up and said that people don't really understand the prioritization when it comes to getting the vaccine.
It only proves that people still don't understand which category/prioritization they belong in getting the vaccine. You having asthma means you have a comorbidity that falls you in A3 category so it's not that unusual for you to get vaccinated already.

— 🆃🆁🅸🆇 (@trix_xirt) May 24, 2021
"I know you have asthma. Just don't mind them," a Twitter user named Gigi wrote.
I believe you and I know you have asthma. Just don't mind them. You registered and you are qualified under A3. I know a lot who got vaccinated eveb if they are not qualified. I know you won't do that.

— Gigi V. (@gigi_czarny) May 24, 2021
On May 20, Pangilinan uploaded a video of her getting vaccinated which fueled people's assumption that she cut the line for her dose.
when i got an asthma attack mid-PE in middle school and everybody made fun of me i swore i would get back at them one day and here we are pic.twitter.com/09wM2iNtBP

— nakakieinis (@kakiep83) May 20, 2021
A netizen said that she even got her dose before some senior citizens who are supposed to be listed higher in the prioritization list.
Ang galing mo naman, nauna. pa magpabakuna sa mga senior citizen na hindi pa natatawagan para mabakunahan. Nakakahiya naman sa iyo.

— yoyoyo (@rcrt1430) May 22, 2021
Another compared Pangilinan's decisions to his own saying that he never used his illness to "selfishly" get vaccinated as there are others who are all more vulnerable.
I never use my previous hypertension feeling A3 to selfishly get vaccinated ahead of many Filipinos truly vulnerable to #COVID19#COVID19VaccinePH is SCARCE & many A1 A2 & REAL severe A3 AREN'T vaccinated yet

I wait for my turn in B/C grp

Why can't you @kakiep83 Mark Fernandez

— TMX (@moviechaser2021) May 21, 2021
Someone described her as a "hypocrite" as she's a known critic of the government, yet she got herself vaccinated. The person also bashed her physical appearance.
Ipokrita..ang galing magbatikos sa govt.pero nagpa vaccine din pla..noaka inggrata..haba ng baba este kapal ng mukha😀😀

— shan jho (@jho_shan) May 22, 2021
"Wala parin bang ginagawa ang gobyerno?"
Wala pa din bang ginagawa ang gobyerno cyst? Just asking

— Madumb Leyni #1Sambayag #BayagniBoletAngGusto (@LeniBoleta) May 21, 2021
"She loves to tweet sanctimonious rants but uses her privilege whenever the need calls for it. You don't have a comorbidity, you have connections," a netizen accused Pangilinan.
She loves to tweet sanctimonous rants but uses her privilege whenever the need calls for it. You dont have comorbidity, u have connections. Youre the daughter of Sharon. Regular pinoys cant even get a med cert for a simple asthma para lang magpabakuna.

— Blue (@marcpadz) May 25, 2021
Pangilinan admitted that she had her initial qualms about going to get vaccinated as she thought about those who might qualify better but the goal is for herd immunity. She added that she won't post a video on a public platform if she ever cut in line.