Two doctors have gone viral on social media platform–facebook for what seemed to be a back-and-forth talk about COVID-19, particularly how the government has handled the pandemic.
Both of their arguments are down-the-middle, though Dr. Ron, a physiotherapist and the owner of Activelife Chicago Physical Therapy clinics took the side of the skeptic.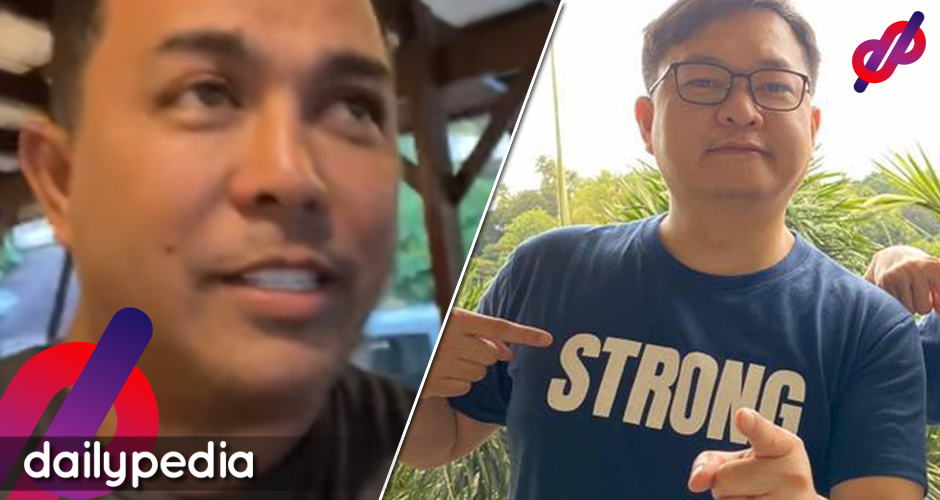 His "opponent"—had this been a debate—is Dr. Richard Mata, a pediatrician and motivational speaker.
According to Dr. Ron, the country's situation in the global pandemic isn't caused by the pandemic, but rather by select doctors, medical professionals, and other businessmen who want to profit out of it.
It came off from his first video where he claimrd that medical professionals were diagnosing their patients with COVID-19, all to "make money off of the pandemic."
He said he has heard of cases wherein a doctor would blatantly tell an indigent patient to agree to declare their condition as COVID-19 if it was remotely close—all to get more money from the Philippine Health Insurance Corporation (PhilHealth).
He presented as proof the case of eight officials in PhilHealth Central Visayas (PhilHealth 7), who allegedly failed to identify false COVID-19 claims from two hospitals: Chong Hua Hospital and Perpetual Succour Hospital, both located in Cebu City.
Using this as a basis, he claimed that there are more healthcare professionals—hospital workers, government doctors, etc.—who do the same: manipulate COVID-19 cases to [both] increase the case count and make money off of the government.
He also said outside of healthcare workers, those in the business of healthcare are also making money off of the pandemic.
"Ang mga businesses na kumikita ngayon ay mga suppliers ng medical equipment gaya ng masks at alcohol."
He also fired back at what he said are faulty protocols and regulations being implemented as part of the country's COVID-19 response.
He complained about his travels being restricted, saying "I can't go to Baguio because they require a negative RT-PCR test result. If I want to go to Iloilo, I need a barangay health certificate. Why would I want to get one from them [barangay officials]? Are they health experts?"
He also complained about contact tracers "having full control" on which establishments can be opened or closed.
"Ipinapasara ng COVID contact tracer ang mga establishments na may 'positive' case. Hindrance ito sa mga clinics and businesses gaya ng sa Baguio City."
He would also take a swipe at the government's policy on forced quarantine without testing. 
"Quarantine doesn't make sense," said Dr. Ron, who says it's better to test someone suspected of COVID-19 instead of assuming they've got COVID-19.
The real issues, however, rise when he presented a few questions to his "detractors"—AdvocateMD, a facebook group that serves as a forum for doctors, and Chronicles of M.D., a doctor who is also a blogger.
He had five questions that would be answered by Dr. Mata: 
(1) What is the guarantee that COVID-19 resistance will be gained after getting vaccinated? 
(2) Why most of the indigent population do not have COVID-19? 
(3) Prove that his claim of doctors making money off of the pandemic is false. 
(4) The two-week quarantine leads to "recovery"? 
(5) What do healthcare professionals stand to lose once testing stops?
Dr. Mata went at each question with both facts and personal experience.
"No one ever guaranteed 100% efficacy for any vaccine ever made," Mata said in Filipino, referring not just to vaccines for COVID-19 but also vaccines made before COVID-19.
"It helps us reduce the chances of getting the disease, but more importantly it assures us that COVID-19 cases would not be severe enough to require intensive care," Mata said.
According to Dr. Mata, if people were to follow Dr. Ron's logic, then no one should ever get vaccinated for other diseases that now have vaccines like polio, smallpox, or measles.
He would then hit Dr. Ron for implying that the country's COVID-19 outbreak is manufactured and "fake", using chickenpox as an example.
"If, as a kid, your school had a chickenpox outbreak and you weren't affected, would you then say it was a fake outbreak? No, right?" said Dr. Mata.
He then related this to Dr. Ron's claim that beggars on the streets never caught COVID-19.
"Beggars have not gotten COVID-19 because no one invites them over for dinner or to a party. No one ever goes out on the streets and hugs every beggar they see," said Dr. Mata.
He also asked Dr. Ron to visit ICUs in hospitals to see the actual state of the country's COVID-19 situation, pointing out how people are not only dying outside of hospitals but also how ICUs dedicated to COVID-19 are now at full capacity.
He, however, agree with Dr. Ron that there are scrupulous doctors, hospital staffers, and government employees.
But he said these are "isolated cases", even comparing them to recent cases of trigger-happy, off-duty cops.
He also pointed out that it's not the doctors in hospitals themselves "faking" COVID-19 test results if they were indeed manipulating the numbers—it would be the pathologists in testing facilities.
Dr. Mata, however, sounded indignant after he got a question about how viruses behave.
When Dr. Ron asked if viruses were self-limiting, he would answer with a resounding yes. 
"Viruses are self-limiting, pero make sure na buhay ka before matapos yung infection."
Both doctors, however, have likely been referring to illnesses caused by viruses being self-limiting and not the virus itself.
Dr. Mata added, "May mga nagiging severe ang case kaya kailangan mag-quarantine (for two weeks) at kaya nagiging issue."
He ended by answering Dr. Ron's questions with the last, most controversial question on testing.
Dr. Mata said he agrees with Dr. Ron that testing is not needed—if no one had died of COVID-19, that is. 
"Kung hanggang ward lang ang COVID-19, then yes we should stop the tests," said Dr. Mata.
"Kaso, napupuno kasi ang ICU ng mga COVID-19 patients. Hindi po mapipigilan (ang pagdami) niyan kung walang testing… ayaw nating ma-overwhelm ang healthcare system kaya tayo nagte-test," he added.
Both doctors have their detractors, with those critical of Dr. Mata saying he can say what he has because he's a Dabaweño. 
As for Dr. Ron, his critics say he's not a medical doctor but a physiotherapist. 
Both doctors have credentials in talking about the pandemic, but neither of their opinions should be taken as fact or final.
Dr. Mata is a practicing physician, but his specialty is pediatrics—a doctor for children. He's also a motivational speaker, which means he knows what to say and how to say it.
Meanwhile, Dr. Ron is not just a physiotherapist, he's also a businessman; as we mentioned, he is the owner of the Activelife Chicago Physical Therapy line of clinics. He's talking as a healthcare professional, but most of his arguments come from his background as a businessman.
Whatever both doctors said, Dailypedia made sure that readers must take their statements with a grain of salt.
The points they raised, however, make a lot of sense.
The Duterte administration has been dropping the ball more and more on its COVID-19 response, even as cases drop from over 9,000 on March 30, 2021 to just over 6,000 today, March 31.
Metro Manila and nearby provinces are back to the uber-strict enhanced community quarantine (ECQ), which has caused not just a halt in movement but also confusion amongst the many LGUs affected.