Names like Mark Anthony Fernandez and the first five mayors summoned by the DILG have managed to "cut in line" and get vaccinated. Netizens start to react unfavorably toward the Government.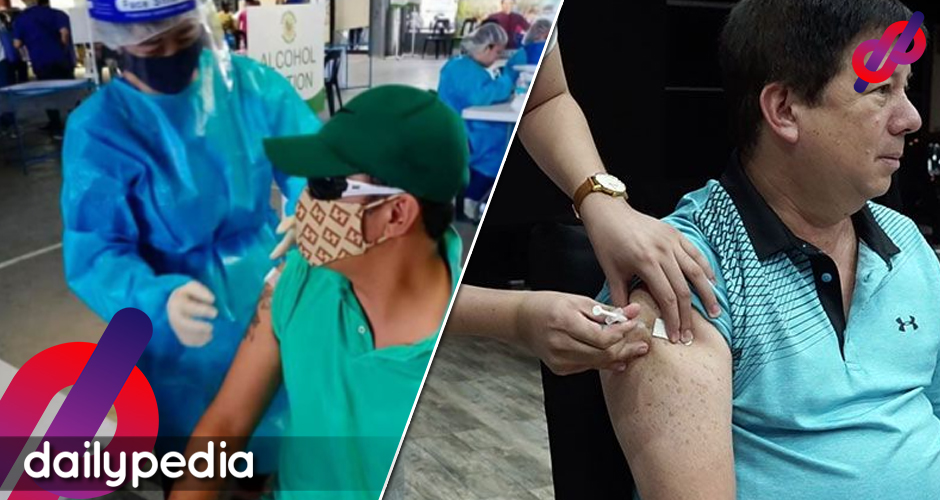 Presidential Spokesperson Harry Roque confirmed a "quick substitution list." It happens when health workers do not show up or refuse to get vaccinated. It is to ensure that vaccine doses will not go to waste.
The Palace confirms there's a "quick substitution list" in case health workers were a no-show or refused to get vaccinated to make sure the jabs won't go to waste. pic.twitter.com/4Tg98Fv61l

— ABS-CBN News (@ABSCBNNews) March 25, 2021
Roque described the list as "persons who can receive the vaccine if a health worker does not arrive or does not accept the vaccine" during a Laging Handa media briefing on March 25.
"Hindi ko lang po alam kung sino ang dapat na nasa quick substitution list," he said.
Roque, in a complete 180-degree turn, warned that the country will risk losing millions of vaccine doses from the COVAX facility should these "cutsies" keep happening.
Netizens were not happy with Roque's "quick substitution list" remark, saying the list should not even exist…
NO. quick substitution lists shouldn't even exist right now. priority number 1 are HCW. there are HCW's who didn't even get jabbed coz may sumingit. this quick sub list should only be in effect if ALL HCW's are already vaccinated. https://t.co/8Wy18U5qyS

— Eleanor (@_maxineeleanor) March 25, 2021
That's stupid as hell kasi why not just adjust the line forward??? Not substitute useless selfish mfs in the slot parang gago naman do u even know how lines work??????? https://t.co/AwbMvb2I8g

— What pain, what sadness (@illonsa) March 25, 2021
Only a fraction of the whole medical frontliner population has been vaccinated. If a health worker fails/refuses to get his vaccine, give his share to others in the first priority group before moving on to the next group

The 'quick substitution list' is illogical and ridiculous!

— Quo Warrantine (@quantumeruit) March 25, 2021
… especially with incriminating posts from local government units, like this one from Parañaque City.
You're really telling us that EVERY OTHER FRONTLINER you mentioned in this post was not available or had already been vaccinated?

And why was a non-HCW included in the quick substitution list? Aren't all AstraZeneca vaccines supposedly for HCWs only? https://t.co/vpCVebXmO0 pic.twitter.com/NkV7Px8jj7

— Abbey (@_abbeylieve) March 24, 2021
One Netizen even thought what Roque was saying was a joke.
https://twitter.com/aldrengranada/status/1374966777197723650
A Netizen would link the quick substitution list to why people like Mark Anthony Fernandez get inoculated ahead of healthcare workers.
Fact: Mark Anthony Fernandez got inoculated because Malacañang confirms there is a 'quick substitution list' that allows non-HCWs to get COVID-19 vaccine if a HCW doesn't arrive or refuses a vaccine. #ShameOnYou #ctto @serrano_rene @supernegatrona @ToniSpeakEasy @rryyyaaaannnn pic.twitter.com/JbuobQlPrv

— Tea Sommelier #RegisterToVote #1Sambayan (@BIENsays) March 25, 2021
Other Netizens asked that the list be available to the public, saying that the secret is out anyway.
Hindi alam kung sino..walang plano? Hindi plinano? O hindi ka kasama sa pag plano? At kung me quick substitution list, bakit hindi isinapubliko? Ngayon nyo idadahilan yan kasi me mga kaalyado kayong nanguna

— Lulu (@polkaparachute) March 25, 2021
https://twitter.com/kelanocyte/status/1374953301259689986
Journalist Atom Araullo even went as far as saying the eligibility of people on this list should be clarified and vetted, "Otherwise, it's just a fancy term for a VIP backdoor."
The eligibility of those in the "quick substitution list" should be clarified and vetted, otherwise it's just a fancy term for a VIP back door. https://t.co/BZB1ekXMan

— Atom Araullo (@atomaraullo) March 25, 2021
ABS-CBN News' Jeff Canoy jokingly asked how to get on the said list and its guidelines, too.
Legit Qs: What is a "quick substitution list" and how do you get on that list and what is the policy/guidelines on this and did the public get the memo on this

— Jeff Canoy (@jeffcanoy) March 25, 2021
The worst part, though, is that the Department of Interior and Local Government (DILG) is completely unaware of the existence of the quick substitution list, as confirmed by Interior Usec. RJ Echieverri, in an interview with One News.
JUST IN | Interior Usec. RJ Echiverri on #TheBigStory admits he hasn't seen the vaccine 'substitution' list yet. Palace spokesman Harry Roque earlier explained the list contains names of people who may be given doses if healthcare workers refuse them. pic.twitter.com/d5CSHO52qT

— ONE News PH (@onenewsph) March 25, 2021
The list, however, seems to be out with local government units, as both Marikina Mayor Marcy Teodoro and Parañaque Mayor Edwin Olivarez confirmed its existence.
Marikina Mayor Marcy Teodoro explains the purpose of the 'quick substitution' list for COVID-19 vaccines, which Interior Usec. RJ Echiverri admitted he has yet to see.

Parañaque Mayor Edwin Olivarez earlier said actor Mark Anthony Fernandez was in the substitution list. pic.twitter.com/H3SZtqH0sE

— ONE News PH (@onenewsph) March 25, 2021
As for the country losing its slot with COVAX, journalist JC Punongbayan says he is already worried.
https://twitter.com/jcpunongbayan/status/1374948449330720768
Roque can also be placed-on-the-spot for the statement he made on January 11.
During this media briefing, Roque said healthcare workers who refuse to take Sinovac's COVID-19 vaccine would have to sign a waiver and be sent to the bottom of the current priority list before they can get their turn.
To date, the priority list is still in Priority Group A, which includes frontline workers in health facilities, senior citizens, persons with comorbidities, frontline personnel in the 'essential' sectors, and the indigent population.