The government plans to give the Filipino seniors the Sinovac Biotech COVID-19 vaccine despite the Food and Drug Administration's (FDA) recommendations regarding the usage of the China-based vaccine.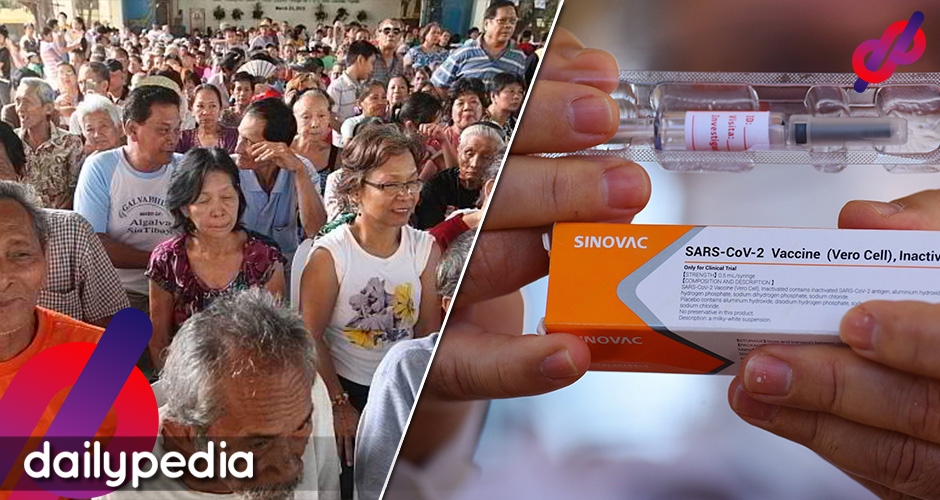 Secretary Carlito Galvez Jr. stated that they're eyeing on Sinovac when asked about which vaccine will they give to the elderly. He added that it has shown "very limited" adverse effects and low wastage at the two vials injected.
"Titingnan natin iyong possibility na talagang iyong Sinovac din po," the chief implementer of the National Task Force Against COVID-19 said.
"Sa masterlist po natin ng seniors, meron po tayong 4 to 9 million. Ang nakikita po talaga natin, titingnan po natin 'yung possibility na talagang 'yung Sinovac… Nakita po natin 'yung Sinovac very limited 'yung side effect and nakita natin wala gaanong wastage."
On February 23, the FDA granted the emergency use authorization to the Sinovac vaccine but did not recommend it for front-line workers and the elderly due to its level of efficacy.
According to FDA chief Eric Domingo, it is "not the best" for health workers and seniors as data showed that the vaccine is only 50.4 percent effective in the high-risk groups.
"According to our experts, [Sinovac's] vaccine is not the best vaccine for them," Domingo said in a news briefing.
"That's better than nothing, but the recommendation of our experts is this is not the best vaccine for them."
It is said that senior citizens will get their COVID shots after health workers who are expected to be done in April. The government stated that it's "most likely" that the shots for the elderly will be finished in May.
PNP gives AstraZeneca to the police force.
On the other hand, the Philippine National Police has begun giving AstraZeneca shots to it its members on May 15.
In a press release, the PNP stated that it has secured 700 doses of the vaccine which can administer 350 personnel. According to Police Lt. Gen. Guillermo Eleazar, the elderly health care workers will be the top priority, however, the rollout will only be for those based in Metro Manila due to the limited quantities.
"We will prioritize the remaining health care workers, including the non-medical staff of our hospital and isolation facilities," Eleazar said.
He added that 80% of all the PNP personnel are willing to be vaccinated against the virus.