It seems the recently-launched 1Sambayan is facing stiff "competition" online as supporters of President Rodrigo Duterte mount an attack on twitter and facebook.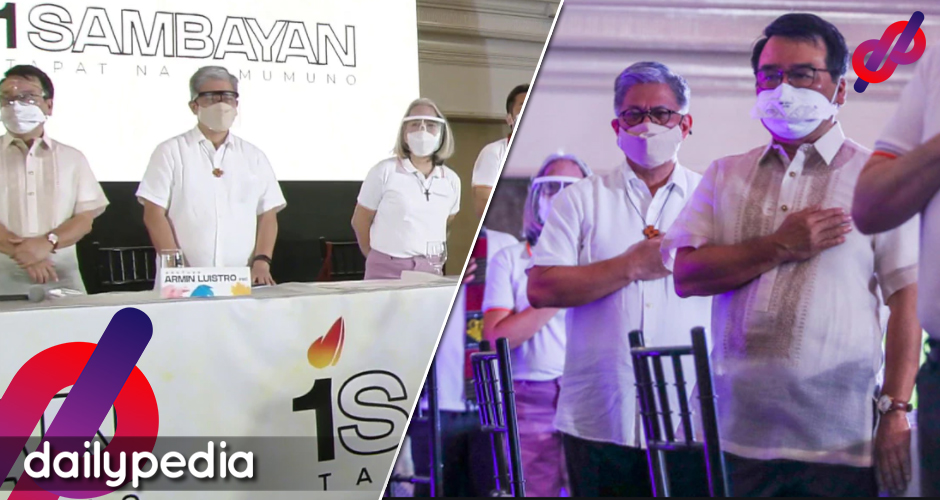 Posts with the #1Sambayag, a play on the new coalition's name, are now trying to confuse would-be supporters of the opposition in an apparent race against time for the 2022 national elections.
The hashtag has remained one of twitter's trending topics, with over 3,300 tweets as of writing.
Netizens are being split as far as showing support for the new coalition led by its convenor, retired Supreme Court Associate Justice Antonio Carpio, who shared their initial choices for a 2022 Presidential run on March 18.
Those in favor capitalized on Duterte supporters' hashtag as a counter-attack. #1Sambayag with a commonly used Filipino insult as another hashtag #Lambayag.
I'd choose #1Sambayag any day over Duterte #Lambayag

— L'attitude (@_knottyboy) March 19, 2021
One Netizen has even called out the Duterte administration for placing the country under a "plague" ever since the former Davao mayor took the Presidency in 2016.
#1Sambayag? I don't give a damn care however they call it. All I know is that the Philippines has been under plague since the Duterte regime took the reins. It's time #1Sambayan, the Filipino people, replaced it!

— Juan Diego (@iamjuandiego225) March 19, 2021
Another Netizen pointed out how the usual supporters are now migrating towards what most people see as a more "progressive" platform, only to fail to gather support.
https://twitter.com/iamburgifierce/status/1372773588923682816
Other Netizens pointed out how none of the people who have both used the hashtag and are supportive of the President has offered any solid rebuttal to the oppositions' group.
#1Sambayag is trending, and with the numerous tweets concerning it, none of them can even criticize the opposition properly.

None are even able to create a proper defense against the opposition's main attacking points: Duterte's Submission to China and his failed Covid response

— Pseudointellectual (@staphplease1234) March 19, 2021
Here are a few samples of what Netizens say about bad excuses for criticisms, whose main point revolves around how opposition candidates lost in the 2019 midterm elections.
#1Sambayag Is 1Sampayan a pathetic coalition of jaundiced losers, pinko propagandists, political butterflies, shameless opportunists, little brown amboys & assorted hangers-on?

👇 👇 👇

Yes Yes Yes pic.twitter.com/Rp9GVOctmZ

— Piter de Vries | FÜCK🖕NATO/EU/NEOCON CHICKENHAWKS (@TleilaxuMentat) March 19, 2021
They lost in 2016. They will lose again in 2022 #1Sambayag

— Wumaoboo (@supremdotxSMP) March 19, 2021
https://twitter.com/httpenggoy/status/1372780913327628290
One supporter, however, expressed a point that seemed to be neutral until you read between the lines and see that it is more in support of the 'Duterte Way.'
#1Sambayag is a coalition that rejects those who oppose them, favors oligarchy, hates infrastructures and chooses politics over the welfare of the Filipino people.

Never again!

— bobochannel (@bobochannel2) March 19, 2021
Why form a united opposition?
According to this report from Rappler, the new anti-Duterte coalition that launched on March 18, said a united opposition is the only way to 'win against the authoritarian forces of the Duterte Regime'.
"We have discussed this, again and again, and this is the understanding of everybody: That unless we are united, we cannot win in 2022," Carpio said on Thursday.
He also stressed how the supposed opposition, whose numbers have been steadily growing, will 'become a minority' if they refuse to unite for 2022.
1Sambayan brings together a group of vocal opposition personalities and Duterte dissenters, which includes Carpio, also has former Ombudsman Conchita Carpio-Morales, former foreign affairs secretary Albert Del Rosario, and former Bayan Muna Representative Neri Colmenares at the helm.
Other convenors include La Sallian Brother Armin Luistro, retired rear admiral Rommel Jude Ong, lawyer Howie Calleja, former Negros Occidental governor Lito Coscolluela, former Commission on Audit Commissioner Heidi Mendoza, Partido Manggagawa chair Renato Magtubo, and Rickie Xavier.
The newly-formed coalition looks to screen potential candidates they will support in the 2022 national elections.
According to the convenors, one of their main considerations is whether or not a potential candidate is an "enabler" of the current rule of Duterte—which includes Davao City Mayor and Presidential daughter Sara Duterte and Senator Manny Pacquiao, two of the more "winnable" frontrunners for a 2022 Presidential run.
To date, 1Sambayan has named five potential candidates they will endorse for a 2022 Presidential run: Vice President Leni Robredo, Senators Nancy Binay, and Grace Poe, Manila Mayor Isko Moreno, and former Senator Antonio Trillanes IV.
1Sambayan is not the first time the opposition tried their hand at 'launching an attack' as Duterte's supporters have called it.
In 2019, opposition candidates would form the Opposition Coalition to try and win eight seats in the Senate. None of the candidates, which included the likes of Benigno "Bam" Aquino IV, Chel Diokno, and Samira Gutoc would win a single seat in the 2019 election.
As for #1Sambayag, it looks like the hashtag has been quite neutral, at least as far as those showing support for and against 1Sambayan are concerned.