As the President's own security detail and cabinet go under fire for its questionable medical decisions, Metro Manila's mayors are once again stepping up.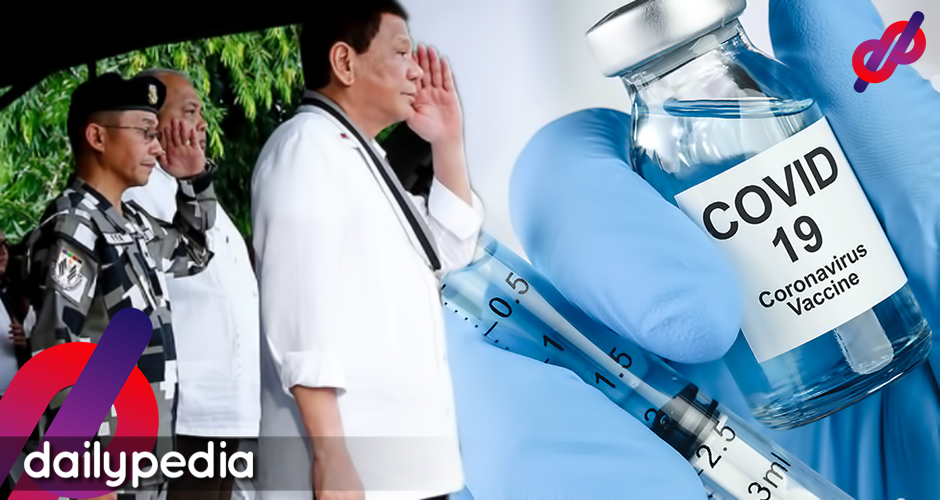 On January 4, Makati Mayor Abby Binay revealed her city's plans to get Makatizens protected against COVID-19 for free.
Makati Mayor Abby Binay says the city government is allotting a P1-billion budget for the free COVID-19 vaccines of all Makati residents once the vaccine is available for mass use. | via @maracepeda pic.twitter.com/NGm3PZo86i

— Rappler (@rapplerdotcom) January 4, 2021
Speaking to reporters, Binay said the city is already in talks with vaccine czar Carlito Galvez Jr. and the IATF to "finalize details of the purchase and mass vaccination."
Makati has set aside P1 billion that will be approved once they get the green light from the IATF.
"This is our number one priority for 2021. I want each and every Makatizen to receive both doses of the coronavirus vaccine for free to protect them and their families against the virus," Binay told reporters.
Netizens have, of course, reacted with mixed responses to Makati's plans.
While most lauded the mayor for being proactive,
magandang nangyari ngaun dahil tamad, kurakot makachina ang admin ni pduts nagsstep up ang mga LGU.. now if ang LGU mo kurakot na tamad pa kawawa ka https://t.co/USlxlR9j8U

— Saint Denise (@SaintDenise4) January 4, 2021
https://twitter.com/pilosopokwatro/status/1345951118908563456
… a lot of netizens have pointed out how Makati is treating itself as an island.
I'm happy na magkakaroon na kami ng free vaccines, pero paano naman yung mga mahihirap na lungsod na nasa mga provinces at inside Metro Manila? https://t.co/y4lmET4aps

— Paulriah (@JP_Toledo1101) January 4, 2021
I'm happy that we're getting free vaccines pero bakit LGUs na lang ang kumikilos? Asan na yung magjowang sina Duterte at Bong Go? Kanya kanya na lang ba? Pano yung mga mahihirap na lungsod? https://t.co/zf9RXZM1L6

— WL (@ahhwenz) January 4, 2021
This is why poorer provinces hate on 'Imperial Manila'. Pro-federalism latched on it. https://t.co/Pe22iQh19g

— opinenions (@opinenions) January 4, 2021
Some have even pointed out how a portion of Makati's denizens can actually pay for the vaccine, and asked that the city simply donate their budget to programs that will facilitate mass vaccinations for the poor.
Many Makati residents can afford to pay for vaccination. How about donating part of this money to a program that would vaccinate poor people for free? https://t.co/94Gu30babi

— Ronan (@RonanInManila) January 4, 2021
Others chided their local leaders to "keep up" with Binay, to which at least four have already laid out plans.
In an interview with ANC, Manila Mayor Isko Moreno said his city has already allocated P250 million for the purchase of vaccines from Pfizer and AstraZeneca, with room to go to P1 billion.
Manila Mayor Isko Moreno said the city government has allocated P250 million for the purchase of #COVID19 vaccines from Pfizer and AstraZeneca, adding that the budget could go up to P1 billion. pic.twitter.com/dpxgKXFrQs

— ABS-CBN News Channel (@ANCALERTS) January 4, 2021
He added that the city has also put up a website where Manila residents can register to avail of the free vaccine.
San Juan City followed suit, with Mayor Francis Zamora announcing the start of registrations for their residents on Monday, January 4, to be held at health centers in each of the city's barangays.
LOOK: San Juan City Mayor Francis Zamora announces the start of registration for residents who are willing to get vaccinated against COVID-19. He says the LGU will provide residents with free COVID-19 vaccines once it arrives and approved for use in the country. | @MBCasinas pic.twitter.com/1IbiEvndbX

— Manila Bulletin News (@manilabulletin) January 4, 2021
P50 million of San Juan City's funds will be allocated towards the purchase of vaccines.
Valenzuela City Mayor Rex Gatchalian, meanwhile, said it has allocated P150-million budget to get its residents vaccinated.
The Valenzuela City government announced that it allocated a P150-million budget to purchase COVID-19 vaccines that will be administered for free to residents of the city. | @MBMinkaTiangco

— Manila Bulletin News (@manilabulletin) January 4, 2021
Pasig City has allocated P300 million to purchase COVID-19 vaccines.
Pasig City Mayor Vico Sotto on Monday said that the city government has allotted P300 million to procure COVID-19 vaccines for its constituents. https://t.co/8PeDpvEoNy pic.twitter.com/OeKhIFC8jk

— Inquirer (@inquirerdotnet) January 4, 2021
Other cities and municipalities have allocated between P20 million and P170 million for COVID-19 vaccines, including Pateros, Muntinlupa City, Malabon City, and Caloocan City, which has set aside a whopping P500 million.
Quezon City, the largest city in the country by land area, has anted up P1 billion to purchase not just vaccines but other consumables like PPEs and syringes.
Quezon City Mayor Joy Belmonte: P1b initial allocation for the purchase of the vaccines, as well as consumables like PPEs, syringes, etc pending approval by the Sangguniang Panlungsod. @gmanews

— Tina PanganibanPerez (@tinapperez) January 4, 2021
These plans, however, might go down the drain if these local government units do not coordinate with the IATF.
In a statement, the Department of Health (DOH) said LGUs cannot yet procure their own COVID-19 vaccines, and that they "need them to work with the national government."
DOH says LGUs cannot yet procure their own COVID-19 vaccines; urges them to work with national government. | @shecrisostomo

— The Philippine Star (@PhilippineStar) January 4, 2021
Netizens were quick to point out how ironic this statement was after the stunt that the Presidential Security Group (PSG) pulled before the end of 2020.
Time and time again, the PH govt is being spineless. Duterte admin can't even promptly provide free & safe Covid vaccines for Filipino health workers and poor communities. Naunahan pa tayo ng iilan (sa PSG) at ng mga dayuhan. #VaccineForAllFilipinosNow https://t.co/yYIOKMlTo6

— Rauf Sissay (@raufsissay) January 4, 2021
The PSG has recently gone under fire for allegedly smuggling doses of a still-unidentified vaccine from Sinopharm and inoculating its personnel without the aid of health care workers.
For its part, Malacañang welcomed the questionable move by the PSG, even if it meant "sacrificing their lives" to protect the President.
Presidential Spokesperson Harry Roque would, however, assure that those involved in smuggling doses of the Chinese-made vaccine would face the consequences of their actions.