When a parent deals with the death of a child, the grief is usually immeasurable. The level of grief you display doesn't really change, especially with one as highly publicized as the death of 23-year-old flight attendant Christine Angelica Dacera.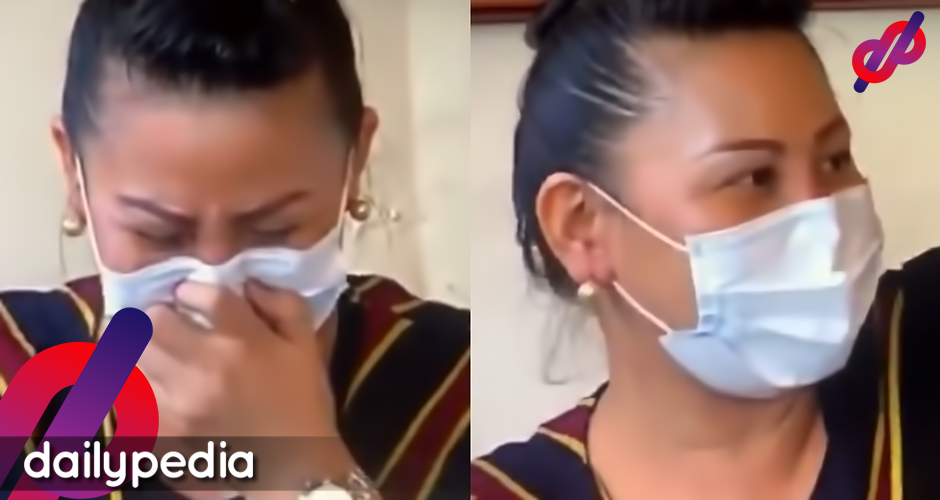 Sharon Dacera, the mother of Christine, may have forgotten about that during a recent press conference.
A viral clip has spread across social media wherein the elder Dacera can be seen bawling after delivering a statement—only to cut the waterworks immediately after.
Have u ever seen anything like this? pic.twitter.com/XnnXwsYXuc

— Christopher Lao 劉 (@iamchrislao) January 7, 2021
Netizens poked fun at how quickly the supposed grieving mother recovered from her outburst—from crying her eyes out to calm, cool, collected, and ready to answer questions from the press.
Between memes and unapologetic reactions to her switching gears, netizens couldn't get enough of the transition from outburst to calm.
Some have even compared her to another grieving mother who went through a similar ordeal: Thelma Chiong.
THELMA CHIONG AND SHARON DACERA

ARE THEY REALLY GRIEVING TO THE ILL FATE OF THEIR DAUGHTERS???

I DON'T THINK SO. pic.twitter.com/TWC1jmCJFW

— #StreamEvermoreDeluxe (@nnamdosan) January 7, 2021
Chiong is the mother of Marijoy and Jaqueline Chiong, who suffered a similar fate to Christine. Thelma, however, made headlines back in the day for supposedly laughing when asked about her daughters.
Others have also pointed out how Dacera seems to be leaning towards the administration, placing particular trust in President Rodrigo Duterte.
Filed under: "Bakit sa mga kaibigan nakipag New Year si Christine?" pic.twitter.com/g55jD1KVl6

— BrujaDeputaAdmlnisTraitor (@BrujaDelDemonio) January 7, 2021
I empathize w/Ms. Sharon Dacera's grief & call for justice over the death of her daughter. But to invoke her Tatay's "kamay na bakal" to punish suspects even though the case of her daughter is unclear, dangerously tells me the mindset of Tatay's worshipers: enablers of injustice.

— Henry Francis B. Espiritu (@HenryFrancisBE1) January 8, 2021
Her "Eh 'di wow, wow, wow!" reaction to the Makati Prosecutor's office asking for the release of the suspects has since been immortalized alongside an image of her from the same interview.
Netizens have, of course, pieced together a theory as to why she said this.
It all makes sense now.. 👊🏻 pic.twitter.com/7cX3NFKxXH

— Jett Pe (@jettpe) January 7, 2021
I know Christine's mom is a grieving mom who just lost her daughter but there's something really off about her.

sinabihan nya ng "EDI WOW" yung suspects na nag-plead ng innocence tapos yung acting vid niya na eme sabay nag-shout out kay digong, go, sinas at yap, ok ka lang te?

— Renz Saavedra ✨ #OustDu𓆉 (@SirRenzSaavedra) January 7, 2021
Some have even taken it a step further, alleging she might be in it to try and secure a death benefit.
https://twitter.com/queenoflequeens/status/1347540214353256454
There were those who would come to the defense of the grieving mother as Christine's death is fairly recent, as well as highly publicized.
'Tong mga "influencers" na 'to lakas i-brand sarili nila na "progressive" pero sobrang insensitive sa grief ng isang ina tapos sasabihin lang nila sorry, delete, tas uulitin lang nila mali nila. Paulit-ulit na lang. Kung progresibo kayo isabuhay n'yo mga pagbabago sa buhay niyo.

— Josiah Antonio (@josiahvantonio) January 8, 2021
I don't understand what's going on with Sharon Dacera nor do I know shit about how people cope with grief but would it kill you not to make jokes and memes about her? Mahirap ba yon? Have some fucking decency.

— Ganyu believe in magic (@pleaseneill) January 8, 2021
While Sharon's reactions might be questionable, no one can definitively say if she is part of a larger conspiracy.
It's the same with the death of Christine—no one can definitively say what happened to her until investigators complete their task.