President Rodrigo Duterte was slammed on Tuesday by a student group and a human rights alliance for accusing left-wing organizations of being fronts of communist rebels.
Karapatan, a non-governmental organization, said Duterte officials from the government's anti-insurgency task force "must be held accountable for their brazen commission and encouragement of human rights violations and war crimes."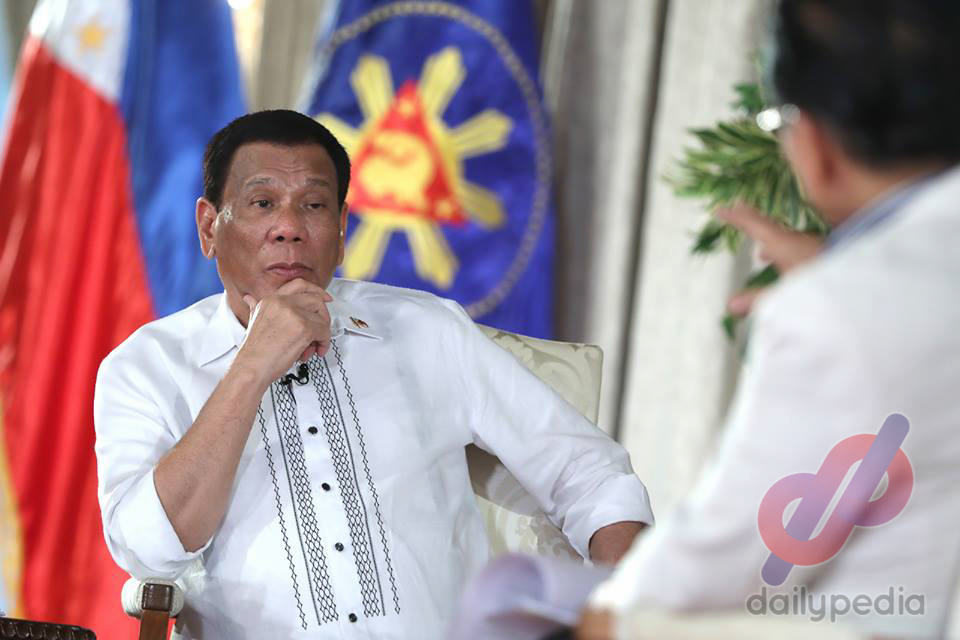 "These forms of political repression and attacks against dissenters must stop," Karapatan said.
Duterte on Monday said alleged that the Makabayan Bloc of the House of Representatives, Bayan, and Gabriela were acting as fronts for the Communist Party of the Philippines and its negotiating arm, the National Democratic Front of the Philippines.
Duterte said that a "grand conspiracy" against the government consists of the said groups.
Duterte's branding of left-wing groups as "terrorists" and "communist fronts" is the definition of the government's red-tagging policy which has been said to have played a part on extrajudicial killings, illegal arrests and detentions, and other various human rights violations.
This "pattern of violations" has also been condemned by the Philippine Commission on Human Rights along with other United Nations independent experts.
Meanwhile, the League of Filipino Students (LFS) sees Duterte as the "number one red-tagger" and the "red-tagger in chief" who encourages authority in red-tagging people as communist members or fronts.
"May dugo sa mga kamay ni Duterte at siya ang sisihin at may pananagutan sa lahat ng paglabag sa karapatang-pantao at war crimes dahil sa kanyang mga utos!" LFS spokesperson James Carwyn Candila said in a statement.
DUTERTE, RED-TAGGER-IN-CHIEF!

"May dugo sa mga kamay ni Duterte. Siya ang sisihin at may pananagutan sa lahat ng paglabag sa karapatang-pantao at war crimes dahil sa kanyang mga utos!"

READ: https://t.co/6dpcXlEXVs#NoToRedTagging pic.twitter.com/XlPXR4qYlh

— League of Filipino Students (@LFSPhilippines) December 1, 2020
Duterte and the "rotten system" have caused a lot of problems, said Candila.
The LFS wants left-leaning groups to have a sit down with the government with the purpose of making peace.
When Duterte transitioned into presidency, he started off with talks of peace negotiations but everything went south and in 2017 he labeled the CPP and its armed wing New People's Army as terrorist organizations.
However, for the groups to be officially labeled as such, a court declaration is required which has been pending since 2018 with a Manila court.
People wished Duterte would have the same courage in exposing corrupt lawmakers.
The red-tagger-in-chief bravely accused the Makabayan representatives as Communist fronts in his late night speech.

Sana ganun din siya katapang mag expose ng listahan ng mga korap na congressman. 🤷🏻‍♂️

— Lean Porquia #ResistTheFascist (@IanMakabayan) November 30, 2020
A lot of people agree that Duterte might as well be the number one red-tagger in the country.
How will red-tagging stop if the President himself red-tags organizations and public officials on TV?

The military and police take the words of the President as orders. Duterte is the number one red-tagger.#NoToRedTagging

— Raoul Manuel (@iamRaoulManuel) December 1, 2020
ACT Teachers Partylist Rep. France Castro also believes Duterte encourages the military and police to red-tag individuals.
Castro: Patunay lang ito na si Pres Duterte ang hari ng red-tagger. At siya yung nagpapalakas ng loob dito sa mga militar, mga PNP at iba pang mga sektor ng national security forces para doon sa ginagawa nila na patuloy na red-tagging

— Mara Cepeda (@maracepeda) December 1, 2020
President Duterte is the number one recruiter and also a red-tagger? bITCH 👏 PICK 👏 ELAINE! https://t.co/Wa16bcloDn

— aj ✨ STREAM PLEASE BE MINE✨ (@ajnvrro) December 1, 2020
Si Duterte mismo ang red-tagger in chief. Di na nagkasya sa pag-uutos at pagpondo. Sa bibig na nya mismo lumalabas ang kasinungalingan at malisyosong akusasyon.

— Jerome Adonis ✊ (@KaJeromeAdonis) November 30, 2020
Some believe the administration is just blowing up the issue as a cover up of its failures.
The unending red-tagging towards the dissidents is their way of diverting everyone's attention. In this case they'll be able to hide the misfortune and failure of the Duterte administration.

It is their harborage for they can no longer argufy their arguments.

— nikko #OustDuterteNow #DefendPressFreedom (@nikkooosakuragi) December 1, 2020
https://twitter.com/ChuicyLemon/status/1333776631270260743?s=20
Wala kang kwenta, Duterte. Hindi daw Red-tagging, identifying daw! THAT IS ABUSE OF POWER ESPECIALLY WITH THE ANTI-TERROR LAW! WALA KANG KWENTA! PASISTA!#OUSTDUTERTENOW

— Mmmh | You | lottie | WE ARE EGGS (@exo_reveries) December 1, 2020
Ang inyong ginagawa ang lalong nagmumulat at nagpapalawak ng pwersa ng masang lumalaban para sa karapatan ng bawat Pilipino! Walang mali sa paglaban; may mali kaya lumalaban ang mga mamamayan! Itigil ang red-tagging! Tugunan ang panawagan ng mga mamamayan! Oust Duterte NOW!

— KABATAAN PARTYLIST PUP-College of Communication (@kabataan_pupcoc) December 1, 2020
However, in his latest late night appearance, Duterte denied red-tagging the said groups and instead was just "identifying" them.
"Itong mga legal fronts ng komunista, lahat 'yan Makabayan, Bayan, they are all legal fronts, Gabriela. Hindi 'yan sila — we are not red-tagging you. We are identifying you as members in a grand conspiracy comprising all the legal fronts that you have organized headed by NDF tapos 'yung — sagol ang New People's Army, NDF at Communist Party of the Philippines," he said.
Also on Tuesday, Senate President Vicente Sotto III expressed doubt on having a legislation passed which seeks to have red-tagging considered a criminal act.
Sotto advised people who are mistaken of having association with the the Communist Party of the Philippines-New People's Army-National Democratic Front (CPP-NPA-NDF) to just file libel complaints against those who accuse them.
"I think, why don't you just file a libel case? Because if we criminalize red-tagging, we also have to criminalize fascist-tagging," Sotto said during a Senate hearing conducted by the committee on national defense and security.
"For the record, just so you may think about that, instead of having Congress discuss it and file a bill criminalizing red-tagging, which at this point would be very difficult to do, I think so," he added.
Bayan Muna chairperson Neri Colmenares responded saying red-tagging has a special distinction because the government uses resources to do it.
"Iba ang red-tagging sa ordinary expressions naman ng mamamayan. Nabanggit nga kanina ng CHR (Commission on Human Rights), ang red-tagging ay paggamit ng government funds, public funds, government resources… to vilify other people," he said.
"Hindi siya kapareho ng sa level ng freedom of expression kasi dito ang puwedeng defense lang palagi nila as government officials is good faith, 'Eh public duty namin, good faith ito.' Kaya ang ordinaryong tao will have to hurdle that. Good faith 'yan sasabihin ninyo pero klaro naman ang malice," he added.
Sotto made it clear that filing libel complaints is not limited to ordinary citizens, government officials are also vulnerable.
National Security Adviser Hermogenes Esperon explained once again that authorities do not really do red-tagging as it was CPP founding chairman Joma Sison who named the front organizations of the communist rebels.
Sison denied the allegation, saying that the military spliced the video of his speech to make look like he did such thing.
The Senate panel adjourned the inquiry on red-tagging after three hearings.