It would seem as though the Philippine Health Insurance Corporation's (PhilHealth) internal problems are far from over, even as 2020 winds down to a close.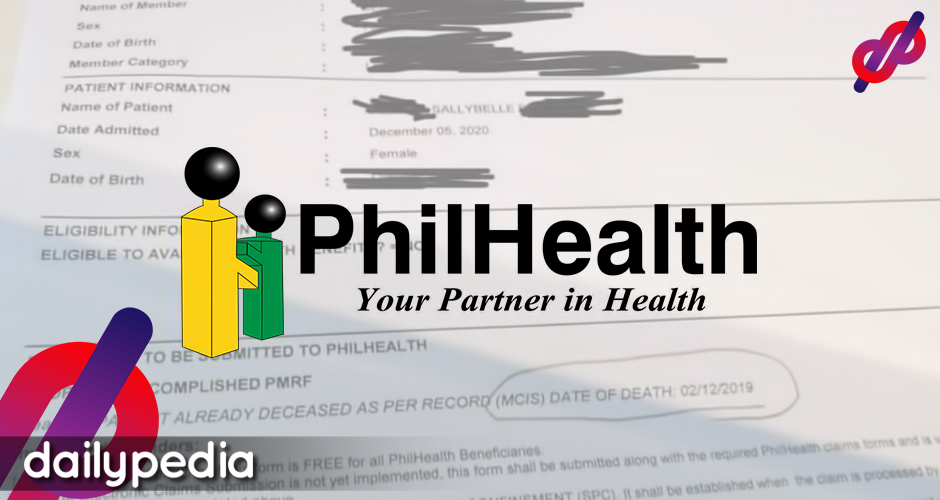 In a now-viral post, a Facebook user shared how he was denied his PhilHealth claim because his mother supposedly died more than a year ago—even if she is still very much alive.
Imagine the horror when Geejay Baylon found out that his mother, whom he says is currently scheduled for an operation, was declared dead on February 2, 2019, "as per record (MCIS)".
Baylon could not even write a usual long-form post on social media possibly from indignation. His only words to PhilHealth were "pinatay ninyo ang Mommy ko para magnakaw ng pera?"
The post has been shared over 6,000 times on Facebook and has garnered nearly 6,000 reactions as of writing.
Twitter would see Baylon's post get more traction, as shared by user @dumidyeypee.
Hindi na natin pinaguusapan ang corruption sa PhilHealth tapos may mga ganito pa. Ang sahol. pic.twitter.com/LEDyWzPeS5

— JP  (@dumidyeypee) December 6, 2020
He has also attempted to access PhilHealth's e-registration website, to no avail.
Anyone tried accessing their site? Their e-registration system is under maintenance lol pic.twitter.com/liztFHuAdw

— JP  (@dumidyeypee) December 6, 2020
The post seems to have opened up a can of worms on Twitter, with users sharing their experiences and opinions about the state insurer.
@attyharryroque @AttyLarrygadon dapat ung pagiging pabibo nyu dito ung binubuhos! Di ung inuubos nyu sa mga walang kawenta kwentang bagay. At pang babastos kay VP

— Rykiel (@DScreechOwl) December 7, 2020
Grabe, may ganitong case din sa PhilHeallth branch na pinuntahan ko kanina. Hindi talaga maasahan ang ahensyang to, ang susungit pa ng mga tao niyo @teamphilhealth, hard working mga sis? 🙄 https://t.co/kQad0TnAe8

— MacdelaLlana (@gotMACed) December 7, 2020
https://twitter.com/kishabcd/status/1335875295555985410
One netizen even brought up how this looked like an old trick: taking out an SSS loan under your name without your consent.
I remember back in the day that there's something similar modus in SSS – someone taking out a salary loan using your name. I know someone who was a victim of this modus.

I hope Philhealth has an answer to this. I hope Senate resumes its investigations into Philhealth. https://t.co/Nz98zCkk0O

— Ar brrrt brrrt Czarsaparilla Bernardo (@ArbetBernardo) December 7, 2020
Some have even called for the removal of mandatory contributions to PhilHealth for salaried employees.
Sana may option mga employee na hindi na maghulog sa philhealth kasi may mga medicard at health insuance na naman ata, nagdodoble eh tapos nanakawin lang amp 😔 https://t.co/hZje1uJPib

— LA (@heheherq) December 7, 2020
It also brought back a lot of pent up anger at how the state insurer has performed during the pandemic.
Perhaps the highest-profile case of corruption seen during President Rodrigo Duterte's term is the P15-billion PhilHealth mafia debacle, which has resulted in either the resignation or retirement of the state insurer's top brass.
This includes its former CEO and Duterte appointee Ricardo Morales, who now faces a number of cases from investigations done by a task force led by the Department of Justice.
PhilHealth has also been at odds with the Philippine Red Cross (PHRC) for not paying its near-P1 billion debt. PHRC has been carrying a significant chunk of COVID-19 testing for the country since the pandemic hit, having done at least 25% of the tests the country has done to date.
This would also not be the first time PhilHealth would wind up in the news for mishaps in their member's records.
Just last week, news of a lady who received a notice from PhilHealth saying the state insurer paid P18,000 in hospital and professional fees for her in 2019 when she wasn't even hospitalized that year.
In August, a senior citizen was rendered speechless when the state insurer declared him dead in 2016, even as he was still alive this year.