Netizen and transpinay Alexis Hart Garcia posted two clips of a woman simply referred to as "Aling Susan" berating her for simply being gay.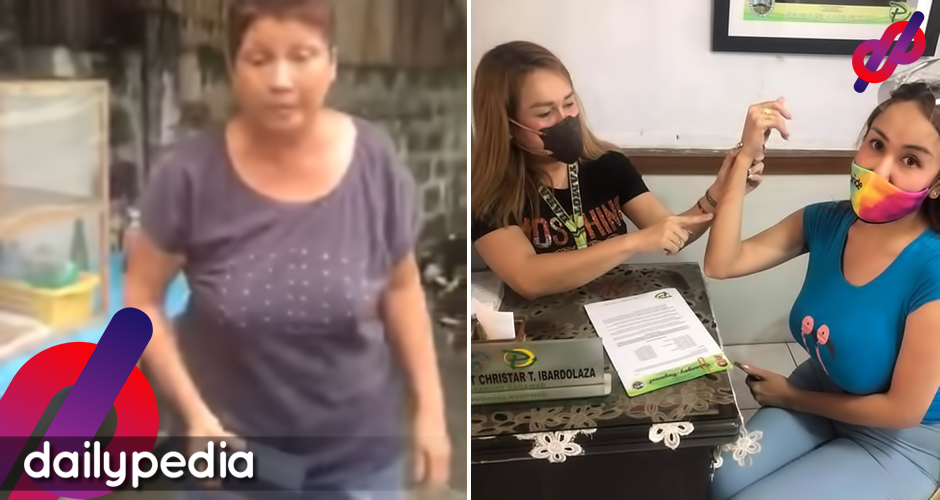 According to Garcia, the physical and verbal shown in the viral post happened on November 5 at Maries Village 2, Barangay Mayamot, Antipolo City.
In the two video clips posted, the old lady was seen hurling a rock the size of her hand at Garcia for walking by her property. Aling Susan said Garcia was "not welcome in Maries Village" because she was gay.
The succeeding two-minute, 39-second clip would see an extended conversation between Garcia, Aling Susan, and another man not shown on camera who had taken Garcia's side.
Both Garcia and the man were not allowed to pass through the street Aling Susan was supposedly marking as her "private property", even as both the man and Garcia were residents of Maries Village 2.
Aling Susan went as far as hitting Garcia with what appears to be a wooden box just to drive her away from her "private village".
Alexis would file a formal complaint with officials of Brgy. Mayamot with the help of one of her friends, Councilor Vincent Christar Ibardolaza—who goes by Kristine Ibardolaza on social media.
In a live interview on Raffy Tulfo in Action, both Alexis and Ibardolaza said this was not the first time Aling Susan would do something so despicable to someone just because they were gay.
According to Ibardolaza, even she has experienced discrimination from Aling Susan long before she was elected to public office—and she was Aling Susan's neighbor for many years.
"Kami naman pong sa hanay ng mga transgender, pinalaki po kami ng aming mga magulang na may respeto sa babae, lalo na sa matatanda," Ibardolaza said.
When asked about Garcia's complaint, Ibardolaza said the first hearing—which they hope Aling Susan will attend to clear the air—will take place on November 11. Should she fail to show up, the complaint will then be escalated as a Certificate to File Action.
In the interview, Garcia also said she was willing to bring Aling Susan to court with possible cases of slander by deed and grave threat, both punishable by prison time under the Revised Penal Code.
Slander by deed is punishable by arresto mayor or 1 month and 1 day to 6 months imprisonment. Grave threat, on the other hand, depends on the crime being used to threaten.
In Garcia's case, it can be considered a threat to murder since she alleged that Aling Susan wanted to shoot her with a gun. Taking that into consideration, Aling Susan could be put in jail for as long as 12 years under prison mayor and temporary disqualification.
Netizens have also shown support for Garcia, telling her and Kagawad Ibardolaza to continue to fight for their rights as Filipino citizens.
Garcia's case also brought to light one of the bills still being tackled in the 18th Congress: House Bill 09095 or the Anti-Discrimination Bill of 2020. The ADB, as it is now fondly known, has gained support from everyone—from the average Juan and Maria to celebrities and politicians.
Even the Pope has expressed a need to have a law that will legally protect the rights of same-sex couples.
One question remains unanswered, owing to the fact that this Aling Susan has probably gone into hiding: why would an old lady, who called herself a "born-again Christian", slander someone simply for their sexual orientation, gender identification, and expression?