When is the time to sit down and listen to actual experts instead of listening to your own echo? Most people would say it's the moment the experts start sharing data and studies.
But that is not the case for the Department of Environment and Natural Resources (DENR) Undersecretary Benny Antiporda.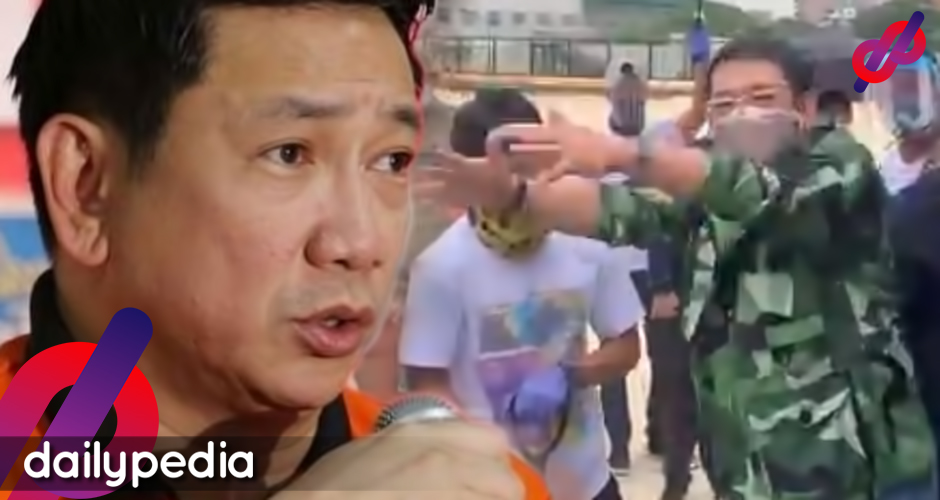 DENR Usec Antiporda did not mince words after being called out by experts from the University of the Philippines (UP), particularly the Marine Science Institute (MSI).
In a live interview with state-run PTV 4, Antiporda called scientists from UP MSI 'bayaran' or paid, referring to how the DENR has been paying its scientists every time the environment bureau consults with them.
"Services the government asks from UP should be rendered free, yet UP scientists ask for fees every time we consult with them," said Antiporda. He punctuated his statements by saying UP's marine scientists did not have a right to criticize the DENR's Manila Bay Rehabilitation project because they were nothing more than "paid hacks".
"Hindi niyo karapatan batikusin ito dahil bayaran kayo. Uulit-ulitin ko po, bayaran kayo."
Those last two sentences did not sit well with netizens, as he hurled the statement not just towards UP marine scientists but UP graduates in general.
Case in point: these statements from journalists—some of whom were graduates of UP.
Hiyang-hiya naman kaming mga taga-UP. Pati na kaming mga dating senate reporters. Di ba, @dspyrey marfil? https://t.co/gZqWSvdYma

— Lynda Jumilla-Abalos (@lyndajumilla) October 14, 2020
I can't even https://t.co/TOIF7HiyB8

— Jeff Canoy (@jeffcanoy) October 14, 2020
Some even joked that UP graduates who worked for the government should not ask for salaries. Did he somehow forget that Malacañang's mouthpiece, Presidential Spokesperson Harry Roque, is a graduate AND a former faculty member of UP?
Dapat pala lahat ng mga UP alumni na nagtatrabaho sa gobyerno wag magpasingil lol https://t.co/ZOlb77K3so

— jules guiang 🇵🇭 (@JULESguiang) October 14, 2020
Netizens, including celebrities and journalists, also linked Antiporda's media antics to today's low standards of public service.
Bakit ganito na ang kalidad ng mga nasa pamahalaan ngayon?

— bituin escalante (@gobituin) October 14, 2020
Grabe umabot na tayo sa punto na mala-troll na ang pagsagot ng isang government appointee sa recommendation ng academe? Nakakahiya. pic.twitter.com/kiBxsRQwqh

— jules guiang 🇵🇭 (@JULESguiang) October 14, 2020
https://twitter.com/chasingrach/status/1316274880854126592?s=21
Benny Antiporda is the face of blind, uncompromising incompetence, of unscientific decision making, of being a total, absolute tool. I just had to get it out there. I'm logging of socmed for the rest of the day thanks to this guy.

— TheCovidian (@jovian_lizard) October 14, 2020
This is an insult. Remember that most govt officials like Benny Antiporda should be ashamed bc they lack the knowledge and even the credentials to be in a governmental position, for example-an undersecretary of DENR, yet they are being paid like someone who obtained such degrees. https://t.co/SD6roFdEaO

— Alexander Padilla Jr (@alextrvgnt) October 14, 2020
Washed out? Antiporda says no
Apart from calling UP scientists paid hacks, he also told them to essentially get off his case, even as scientists from UP MSI, Institute of Biology,  and Institute of Environmental Science and Meteorology have issued statements that gave suggestions to the DENR spokesperson despite containing criticism.
Case in point: the persistent comments from both environmental experts and netizens that dolomite beach was being washed out.
"None of it (crushed dolomite) was washed out. Instead, two to three inches of black sand were washed in on top of the crushed dolomite," Antiporda said. He also said while nourished areas like beachfronts are supposed to be taken care of, the DENR had no authority to do it just yet because "they are still under the jurisdiction of the contractor."
This also struck a chord with netizens, who wasted no time at poking fun at Antiporda's statements, using everything from song titles to simply commenting how comedic Antiporda's statement was.
The Emancipation of Dolomite. https://t.co/CTFKj7EBj4

— Agot Isidro (@agot_isidro) October 14, 2020
tawang tawa ako sa wash out 🙅🏻‍♂️ wash in 💁🏻‍♂️

— kakie (@kakiep83) October 14, 2020
https://twitter.com/pinoyakoblog/status/1316243585667272706?s=21
It also seems that Antiporda is not entirely aware of how research works, even as he claimed he himself has "done studies" on the supposed half a billion pesos the DENR has "paid" UP scientists to do research for the DENR.
In response to DENR Usec. Benny Antiporda's recent comments, UP MSI's scientific advice and technical inputs have always been free BUT the budget for experiments should be shouldered by the client. https://t.co/XlQ4SV4NcA

— Roentgen (@ronaldgem) October 14, 2020
Antiporda likewise asked the Commission on Audit to look into where the payments to UP have gone, seeing as they had no "infrastructure or anything else to show for it."
In response, UP MSI debunked Antiporda's claim of P500 million in research fees from 2016 until today—fees which mainly go to conducting experiments using advanced equipment, usage of which has never been free of charge.
A statement released by UPMSI said the institute has been given a total of P364,073,909.40 over the past decade—a figure significantly less than Antiporda's claim. The amount went towards DENR-supported projects that dealt with assessments done to the National Integrated Protected Areas Systems sites.
"This amount covered the cost of scientific research and investigation, from the use of laboratories and research equipment and facilities to field work and support to research assistants," the statement said.
UPMSI also welcomed Antiporda's challenge to be audited. "UPMSI welcomes being audited by the Commission on Audit at any time. This is only appropriate for any government office or agency."
Lawmaker, Sec. Cimatu 'to the rescue'
Antiporda's statements were inevitably raised during the budget deliberations being held for DENR's chunk of the 2021 national budget.
A report from ABS-CBN News said Aklan 2nd District Rep. Teodorico Haresco, Jr., who stood as DENR's sponsor for its 2021 budget, said the "misunderstanding" and "mistake" was being addressed.
"I am sure Sec. Cimatu did not mean the mistake and accepts the wrong with the scientific community, and I have the full personal assurance of Sec. Cimatu they will discuss extensively with the scientific community, especially the University of the Philippines," Haresco said during the hearing.
Bayan Muna Rep. Carlos Zarate also condemned Antiporda's statements and has asked DENR Sec. Roy Cimatu to both apologize and do more than simply reprimand Antiporda.
The DENR could not commit to Zarate's call for an apology, but Haresco did say he was informed by Sec. Cimatu that he will personally talk to Antiporda and resolve the issue.
Benny Antiporda, a former member of the Subic Bay Metropolitan Authority board, has since apologized to UP MSI through its director, Laura David, in an interview done over ANC.
Antiporda was appointed DENR undersecretary by President Rodrigo Duterte in April 2018.