Looks like it is still 100% a go for the supposed rehabilitation of that stretch of beach along Roxas Boulevard as the Department of Environment and Natural Resources (DENR) insists it will push through with its version of the Manila Bay Rehabilitation project.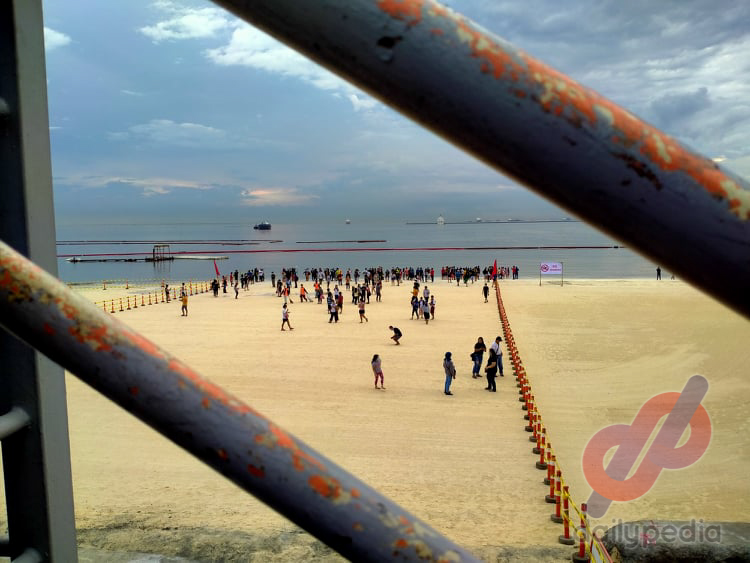 This comes even as the DENR itself has proclaimed that its artificial white sand project at the shores of Manila Bay has been reduced by at least 10 percent.
DENR Usec. Jonas Leones, however, said the beach is "merely experiencing a bout of discoloration" according to a report from GMA News. He claimed that the black sand that used to be at the stretch of Roxas Boulevard was being washed over their artificial white sand.
Leones also said it's good that they experienced this problem early on, as they will now be able to appropriately plan the next steps they will take. "Later on, lalagyan pa rin namin ng dolomite pati sa tubig para at least kapag lumakas yung wave, hindi na black sand yung dadalhin ng tubig. White sand na," he added.
This, of course, was met with a lot of disdain from netizens, who resorted to cursing…
https://twitter.com/itsjustaglitch/status/1320743006153052161
Shutanginis talaga!Yung buong bundok na ang ilipat nyo sa Manila Bay para hindi na kayo mahirapang maghakot ng dolomite.Nung nagsabog ng katangahan hakot award siguro tong nasa DENR.

— Spongebad Squidweird (@GeminiEuphoria) October 27, 2020
… confusion…
Hala. Totoong quote 'to? While I was reading at first akala ko joke lang.

— qamrl2018 (@qamrl2018) October 26, 2020
https://twitter.com/nag_lang/status/1321069440776036355
Ser, hindi po tumutubo ulit mga bundok sa Cebu

— Marnie Woods (@dailydoseofcare) October 26, 2020
HAHAHHAHAHAHAHAHAHAHA

JOKE BA TO????

SBHN MO

SALAMAT SHOPPEE!!!!!

SHOTACAYO

— kramerkramer (@noypi_vs_pinoy) October 26, 2020
… and memes.
https://twitter.com/rayymorgenstern/status/1320907545418977281
Manila bay: pic.twitter.com/wFVhe9IG2D

— 'skie (@OscarDelaHopia) October 27, 2020
— Jason (@call_me_jas0n) October 26, 2020
— Ina Niyong Lahat Sa Langit (@InangReynaMo) October 27, 2020
https://twitter.com/tonispeakeasy/status/1321035425562140672
— Bern The Gemini (@prodeeboy) October 26, 2020
Apart from not sounding like they come from the DENR, officials like Leones—and earlier, Usec. Benny Antiporda—look like they have dug themselves into a hole that they now refuse to want to get out of.
People from all over the country questioned the almost P400 million budget allocated towards what was seen as nothing but a cosmetic fix to a bigger problem.
Even Education Sec. Leonor Briones has weighed in, saying the Department of Education would have been able to do so much more with DENR's Manila Bay budget—like providing better access to its blended learning modules and giving teachers a better chance of conducting blended learning classes.
The Department of Health has also raised questions regarding the DENR's claims that the crushed dolomite they used is safe for humans, seeing as it could have adverse effects on our respiratory system.
Environmentalists, on the other hand, have pointed out how the artificial white sand will only be washed away—to which Antiporda said it was never washed away. Black sand was merely washed inland and the waves left it on top of their artificial white sand.
DENR's artificial white sand project was also an apparent slap to the face of one of the studies they commissioned using taxpayer's money.
The study, released in phases during the latter part of 2018, suggested planting mangroves instead of merely dumping crushed rocks along Roxas Boulevard—something which the DENR has vehemently refused to do as it "will disrupt the unimpeded view of the Manila Bay sunset."