Looks like someone wants to hold on to their prime seat at the House of Representatives as a birthday gift.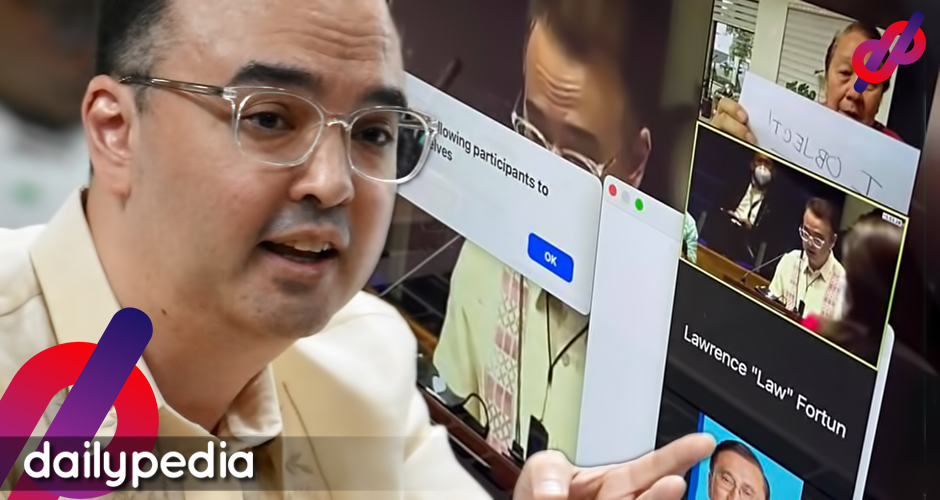 Buhay Partylist Representative Lito Atienza has called out incumbent House Speaker Alan Peter Cayetano for not allowing any objections to him calling for the suspension of deliberations on the 2021 National Budget.
Atienza called Cayetano's motion a move of a man who is "desperately hanging on". "He has just publicly confirmed that he is losing ground that's why he did it."
He said Cayetano "didn't care about Constitutional integrity" in declaring a long vacation for the House of Representatives. "Ginulo niya lahat and he violated all the rules of the House. Many of us were objecting at the top of our voices but again, we were muted on Zoom and all our objections were thrown out the window."
A report published on MB.com.ph shows the extent of Cayetano's alleged disregard for House Rules—even as he invoked Section 55 of the House rules. Cayetano and the house majority apparently passed House Bill (HB) 7727 or the 2021 General Appropriations Bill on its second reading even as the House lacked a quorum—the minimum number of members required for a deliberative assembly.
Senate President Vicente Sotto III has also called out the House leadership for "disregarding the request priority of the President." "There is no way we can finish the budget if it is not submitted to us before the mandated break after October 14. Do not blame us," he said in a message to GMA News.
Is Cayetano desperate?
As far as amendments go on HB 7727, Cayetano came up with something that looks like a pandemic-only procedure: a technical working group.
A GMA News report listed the following lawmakers as members of the technical working group established by Cayetano: Majority Leader Martin Romualdez, Deputy Speaker Luis Raymund Villafuerte, Committee on Appropriations chair Eric Yap, and Representatives Jonathan Sy-Alvarado, Junie Cua, Henry Oaminal, Joey Salceda, Stella Quimbo, Mike Defensor, Manix Dalipe, Teodorico Haresco Jr., Elpidio Barzaga Jr., and Aileen Ermita-Buhain.
"I know many of you want to ask questions here, but many of you feel you'll ask questions here and your constituents will say buti congressman ko congresswoman ko nakapagtanong pero wala namang resulta. Subukan natin technical working group this time," said Cayetano during his speech to suspend deliberations on the 2021 National Budget.
Oddly enough, he delivered his speech while in the middle of deliberations for the 2021 budget of the Department of Environment and Natural Resources. "Subukan natin dahil pandemic naman. Maybe this time, instead of Congress versus the departments, it will be Congress with the departments in fighting poverty and corruption in this pandemic," he added.
According to the report from GMA News, congressmen have until November 5 to submit committee and individual amendments to HB 7727. Congress will then resume on November 17–a full month after the deadline for Cayetano's term sharing deal with would-be House Speaker candidate and Marinduque Representative Lord Allan Velasco.
Netizens furious at APC
Netizens have always been critical of Cayetano who is known for being a political butterfly. That, alongside his many attempts to seize power in the House, was highlighted in how netizens reacted to his recent move.
Fair warning, a lot of expletives will follow.
Wow APC just hijacked our 2021 national budget. Aside from causing delays, without plenary debates, we the people were stripped off with our chance to scrutinize our money!

Shame on you, APC! https://t.co/Ib6eprfSzd

— Jules Guiang (@JULESguiang) October 6, 2020
https://twitter.com/helmut_md/status/1313449805499174912
"Where all think alike, no one thinks very much."

– Walter Lippormann#BuildBackBetter https://t.co/OrYMBfMZKc

— thecolorofred (@masyou) October 6, 2020
Fuck you Alan Peter Cayetano. You fucking loser. https://t.co/CuxI6PlZ5A

— 生豆 (@rb_rawbean) October 6, 2020
The lengths people go to cling to power. Shame!! https://t.co/wyjk6Yll5J

— Fonso #JunkTerrorLawNow (@fonso__) October 6, 2020
I hope and pray that senate our only saving grace scrutinize our money well. Those insertions and lumpsums budget should be removed and make sure it will be itemized as per law. APC is busy calling each crocs to make sure he has their votes, pathetic! https://t.co/uZXnxfObaJ

— James Cedric Lim (@JamesCedricLim) October 6, 2020
I guess the House will just succumb to Allan-Alan feud same as they have succumbed to Duterte. https://t.co/Kc4gE6PmjA

— Fortify (@fourth28) October 6, 2020
Mukang mauulit ang Automatic Reappropriation ah. Ganid talaga sa kapangyarihan yung isa https://t.co/TKzBywwvJY

— ACC (@anthonycbsg) October 6, 2020
sacrificing further hearings to make way for your fight over the speakership????? https://t.co/AbpI8fErRy

— joy is frustrated (@siomaos) October 6, 2020
So inuna ni Cayetano yung away nila ni Velasco kaysa icontinue yung debate tungkol sa budget…

PETTY AF. https://t.co/kO3Kku9yiS

— Ele Gealogo (@Elemenopi11) October 6, 2020
these fucktards disregarded our right to scrutinize how they're going to fucking spend our money. Fuck you chicken little. Fuck your interests. https://t.co/ChciPUUx6x

— Hans Bautista (@hansgbautista) October 6, 2020
Whether this is a power move on the part of Cayetano to retain his post remains to be seen.
He has previously said Velasco could take over the house speakership on September 30 after offering to resign but said Velasco "does not have the vote" of the majority.
He and his allies have also gone out of their way to berate Velasco and ensure Cayetano stays in power, notably during a meeting with the President prior to Cayetano's offer to resign.