A student from Guimaras can't help but burst into tears after he found three big rocks inside a box and not his laptop purchase.
They have reported the incident to the proper authorities. 
As easy as it is to buy things online, one of the greatest risks of online shopping is the people who know nothing better but to fool others or worse, take away their money.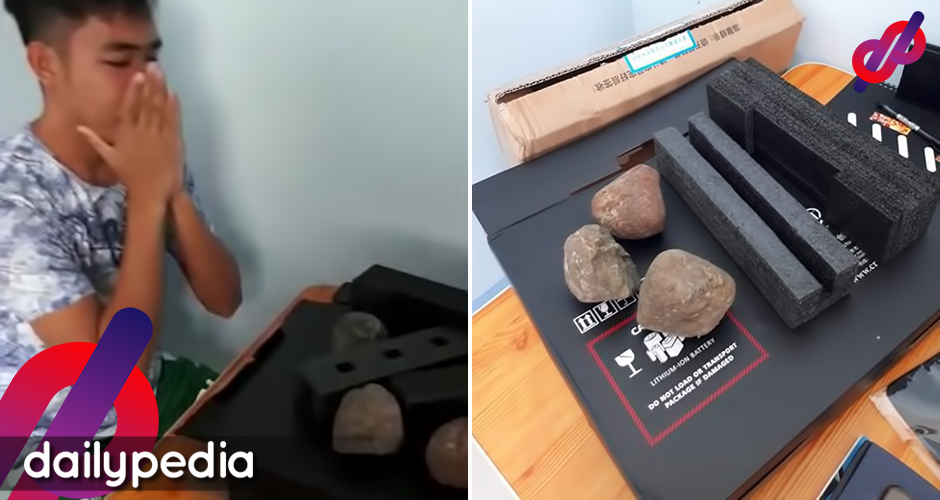 This is what happened to a college student from Guimaras. Arthur Baylon can't help but burst into tears as he paid Php24,000 for a laptop, only to receive three rocks instead.
The third year Bachelor of Science in Hospitality Management student said that he was extremely disappointed by what happened as he worked hard helping his father who is a fisherman so that they can earn money, save up, and buy him a laptop which he will need for school.
He then found a laptop from a well-known online store and paid Php22,499 for the item. The student got excited as he received a discount from the seller, platform, and shipping.
Arthur was confident with his purchase as the platform was quite popular in the country. But when the package arrived, he was shocked to find that instead of a laptop in the box, there were only a few plastic pieces and three rocks inside.
He was so shocked that he couldn't help but cry.
When he complained about the item, the seller claimed that they really sent a laptop to him but it must've been taken during the transit to Arthur.
In the end, the seller refunded Arthur's money but the student still reported the incident to local authorities to find out who was responsible for taking the actual laptop away.