Protesters who support the petitioners of the Anti-Terrorism Act of 2020 were dispersed by police on Monday for allegedly violating social distancing guidelines.
The protesters were gathered outside the Supreme Court (SC) until authorities came in and asked them to leave. They later held a short program that wasn't met with any resistance.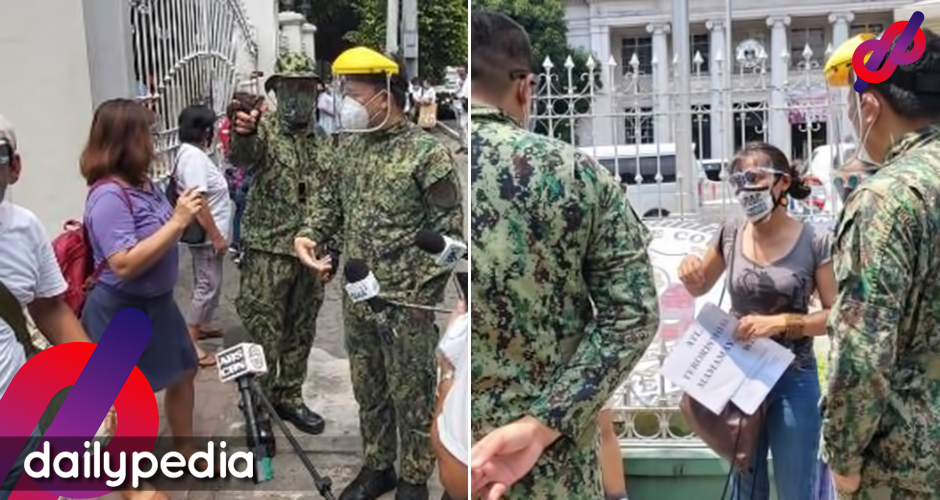 Atty. Virginia Suarez, who is the legal counsel of the 27 women petitioners against the law, said that the protesters' "tarpaulins were taken and were forced to leave."
She added that the protesters were actually practicing physical distancing, but "the police confiscated the tarp at pinapaalis kaya nagkagulo. But it ended well naman."
But the new police commander for Ermita in Manila, Lt. Col. Alex Daniel, said that the petitioners "all of a sudden held a rally. They were close to each other. There was violation of social distancing."
He noted that some weren't wearing any face shields. Daniel pointed out that the holding of rallies wasn't allowed at the onset of the nationwide lockdown.
"Actually we have long been strict. Only sometimes, like in the Baywalk, it was sudden and action was delayed due to the surge of people but all groupings here in Manila are acted upon by the police," Daniel said.
Netizens did not like this, and called out the government's double standards since this followed the fake white sand beach opening at the Manila Baywalk, where the authorities initially failed to prevent overcrowding.
right, because they really care about social distancing rules. https://t.co/BxO2pgFwAo

— ᴷᶦⁿⁿᵒ #OustDuterte #JunkTerrorLaw (@OnnikCT) September 21, 2020
Luh. 🤣🤣🤣 https://t.co/4vbH9yCTvJ pic.twitter.com/qoRS6lpgA4

— PinoyAkoBlog (@PinoyAkoBlog) September 21, 2020
Selective treatment! What about those who gathered in the dolomites? Where were you then? https://t.co/IdDGTH4IpU

— Jon Callueng (@thejoncallueng) September 21, 2020
https://twitter.com/MiaMagdalena/status/1307553297633435649?s=20
A netizen also gave a reminder that jeepney drivers were previously arrested for protesting against the temporary jeepney ban, but those who attended the white sand beach opening did not get punished even after they clearly violated physical distancing protocols.
Remember them? Sila yung anim na jeepney drivers na hinuli ng gobyerno at ikinulong ng ilang linggo dahil nagrally para ibalik ang pasada. Ngayon, hinikayat ng gobyerno ang libo-libong tao magpunta sa Manila Bay"white sand" w/o health protocols. 🤦🏻‍♀️ https://t.co/yvPja8kGzn pic.twitter.com/Jp7CbpToWe

— 𝐌𝐢𝐬𝐬 𝐊𝐫𝐢𝐳𝐳𝐲 (@krizzy_kalerqui) September 20, 2020
PA MEASURE-MEASURE PA NG DISTANCE SA MRT TAPOS PAG SA MANILA BAY PWEDE DIKIT-DIKIT???? NAKAKAPIKON!!!!!!!!!!!!

— Lordpoor (@ribsrep) September 20, 2020