Netizens slammed authorities for allowing the overcrowding along Roxas Boulevard.
This was after the man-made "white sand beach" was opened to the public. 
After getting flak for disregarding social distancing guidelines around Manila Bay's "white sand beach", authorities have temporarily banned photography of the area and barricaded the baywalk.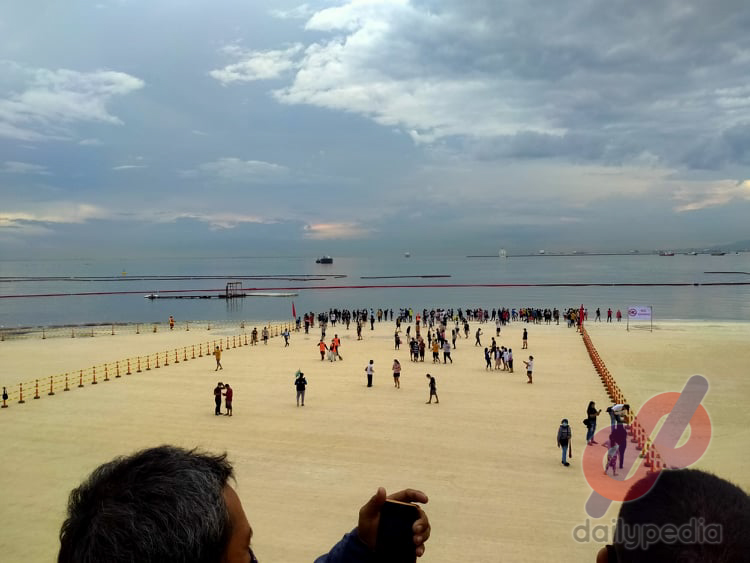 Policemen were then deployed to the areas visited by hundreds of curious onlookers last weekend to prevent people from visiting the place.
People are still allowed to use the infamous footbridge but are not allowed to stop and take a photo of the view or get closer to the site.
Netizens then reacted saying that the situation could've been prevented in the first place.
I know how it could have been prevented:

– not this government but pros
– no Isko Moreno, a miniature pinscher

You know why a tourism magnet is called magnet, right? Fckng idiots!https://t.co/99BmlNAwPB

— Symbol aka Duterte Watchdog (@DuterteWatchdog) September 20, 2020
One of the social distancing guidelines doesn't allow mass gatherings which is one of the reasons why rallies are discouraged. However, it was violated during a Department of Environment and Natural Resources program at the Manila Bay.
https://twitter.com/ichinisan31/status/1307184155143225344
@IskoMoreno Mayor, why open this to the public? Look at what is happening. The threat of the virus is far from over yet the people crowd in Manila Bay w/out proper distancing. 🤦🏼‍♀️🤦🏼‍♀️🤦🏼‍♀️ https://t.co/AzjSYxIReT

— **J** (@j_tc27) September 20, 2020
They then called-out Manila Mayor Isko Moreno for allowing the situation to take place.
ISKO MORENO: Mga sementeryo sa Maynila, sarado ngayong Undas upang maiwasan ang hawaan ng nkmamatay na coronavirus.

But after a few days;

ISKO: Bakit ntin pipigilan ang mga taong gustong saksihan ang pagbabago ng Manila Bay. Di nyo na kelangang pumunta sa Copacabana sa Brazil. pic.twitter.com/FkiwwTbPjM

— Leisbeth Recto (@leisbeth_recto) September 20, 2020
this may be a covid9 super spreader. the huge crowd going to Manila Bay most probably are from Manila City residents. let's see if there will be a surge in covid19 infection in 2 to 4 weeks in Manila City. @IskoMoreno https://t.co/bJ4vVy7fuz

— WhatAWasteofAdMoney (@wawam) September 21, 2020
I lost my inch of hope for Yorme Isko Moreno as strong contender for the Presidenital seat all because of this White Sand craziness in Manila Bay

— AEs of Manila (@AdvertisingAEs) September 19, 2020
Moreno then asked DENR to barricade the area after the overcrowding that occurred.
"Pakiusap ko lang sa mamamayan, gustuhin man nating makita 'yung Manila Bay white sands, e siguro may iba pa namang panahon," he said.
"I already asked DENR to close 'yung bakod dahil hard hat pa, may construction pang nagaganap."
He added that it's enough that people shared and saw it in social media and that Filipinos must remember that COVID-19 still exists.
"Naalala ko pa rin meron pang pandemya. Meron pa akong pangamba, panganib sa lungsod ng Maynila."
Another netizen said that if the "no social distancing" measure is allowed, then Manila should just go back to normal.
So many people 😱 and NO SOCIAL DISTANCING just to see the white sand at Manila Bay 🤦‍♂️ Oh the police? Physically there 😏. Yorme @IskoMoreno is this for real? If the answer is YES, then let's go back to normal na

— Yhuan Otinauj (@YhuanB) September 19, 2020
The Manila Bay artificial white sand beach opened last September 19. It caused traffic to slow down as people occupied up to two lanes of Roxas Boulevard to catch a glimpse of the "white sand".