Filipino Nurses United (FNU) called President Rodrigo Duterte's recent remark about nurses 'irrational' and an "evasion of responsibility," on Tuesday.
In a taped speech on Sunday, Duterte recommended nurses transition into becoming police officers if they want to get paid more.
"Enter the police force. The salary is higher. If you remain a nurse outside, you only get about 8, 9, 10 [thousand pesos]."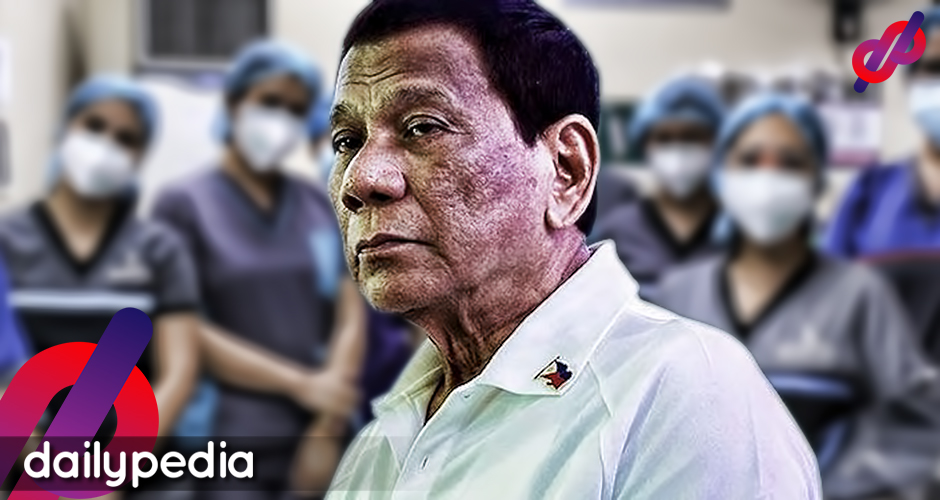 Filipino Nurses United president Maristela Abenojar said that Filipino nurses have long yearned for an increase in their salary.
"Ang agad na reaksyon namin d'yan ay isa 'yang evasion sa responsibility ng ating pamahalaan kasi ang amin pong sahod ay matagal na naming isinisigaw na dapat taasan," she said.
Duterte increased the pay for the police force and soldiers during his early years as the incumbent.
"Iyong sinasabi n'yong challenge na mag-pulis na lang kami, hindi po ba ninyo nakita na kung mayroong sumagot at tumupad sa inyong challenge at sila'y mag-pulis, sinong maiiwan sa mga ospital? Hindi po iyon rational," she told ANC.
Abenojar pointed out that 70 percent of the entire Philippine health care workforce consists of nurses but those who work in private hospitals only get paid P10,000 a month most of the time.
Nurses at public hospitals however are now receiving at least P32,000 after waiting for 18 years. This happened recently after the budget department issued a circular that implemented a 2002 law that raised their salary grade.
But the circular has a provision demoting some 48,000 nurses in what the budget department called "change in nomenclature," said Abenojar.
The FNU asked for answers twice on different occasions but received none because the agency was functioning only with a skeletal force, she said.
Abenojar added that Duterte should be "objective" when it comes to health workers' demands, such as fair wages, priority in testing for the novel coronavirus tests, safety gear, and hiring or additional frontliners for the pandemic.
"Pangulong Duterte, hindi naman po namin ito hinihingi bilang isang self-serving interest. Ang panawagan nga po namin keep us alive, kaming mga health workers, so we can save lives.
"Kung kami po ang magkakasakit at kami ang mamamatay, sino pa ang mag-aalaga sa ating mga pasyente?" she said.
Duterte acknowledged the appeal of health workers to have stricter quarantine measures in Metro Manila to halt the surge of COVID-19 cases.
Abenojar can only hope that the government uses the 2-week MECQ to focus "more on health and medical interventions."
Netizens didn't really like Duterte's remarks, and most just want him to resign due to his incompetency.
No words but #OustDuterte https://t.co/7hfh32NIEK

— nicko (@nekokonut22) August 3, 2020
I am so proud of myself i never voted for this man😠

Want higher pay? Join the police force, Duterte tells nurses https://t.co/TCuGBeqLRh

— divine 🎀🌷🌸🇵🇭 (@dtapec63) August 4, 2020
https://twitter.com/andy_leesunho/status/1290090470639431681?s=20
Duterte urges health workers to join a semi-criminal organization (PNP) in order to get a salary they can live on decently. Philippines 2020.

I wonder who else will step forward to insult the people who risk their lives in the crisis. https://t.co/OJarPMJxFt

— Symbol, formerly known as Duterte Watchdog 🇺🇦 (@DuterteWatchdog) August 2, 2020
Many think his comment was just simply stupid.
https://twitter.com/grazxiii/status/1290184398952833024?s=20
how can someone be insensitive towards a job that's so risky? Kuwang pa diay gyapon na gihimo nila ila best to stop the cases from growing?? All they asked for is a higher salary tapos ingnan rag maypag mu-join silag police force?

— zannè (@zyiannee) August 3, 2020
Galing lang sa bunganga ni Roque na na-hurt daw ang presidente nya.

He only trying to difuse Duterte's toxic statements.

When Duterte said nurses should join the police force to get higher pay, he meant every word. https://t.co/IOT38UoQcv

— ███ (@NievBuscayno) August 3, 2020
https://twitter.com/gilliaanv/status/1290280325394792451?s=20
This is duterte's plan:

Get all nurses working as police to the PICC, give them 2 days training and then get them to work as Health Care Workers – to work 24 hours per day!

*** So BRILLIANT! This is an idea that only a DDS mind can think of! #OustDu𓆉 na lang kaya!

— Laurene II (@RenHu2) August 3, 2020
I have a better suggestion: Try boxing. You are gonna be billionaires like Manny Pacquiao.

Duterte to nurses: Enter police force, get higher wages https://t.co/DzrKJZgFon

— Arturo F. Badajos,Jr (@JoeLazir) August 2, 2020