Fructoso Mabatid of Barangay Kamputhaw, Cebu City passed away on May 30, 2020 but still received a notification from the city government saying that he had fully recovered from COVID-19.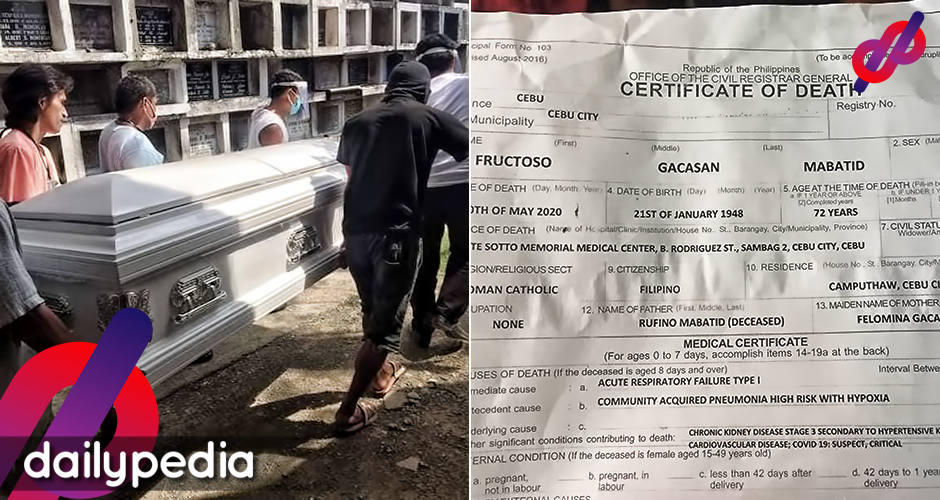 "This is to certify that Fructoso Gacasan Mabatid, a resident of Kamputhaw, Cebu City, has completed the mandatory quarantine period of a Covid 19 case. As per Covid 19 protocol: Department Memorandum no.2020-0229 'Revised criteria for Discharged and Recovered for Covid 19 cases,' the patient is declared as CLINICALLY RECOVERED," the certification read, dated July 3 but was delivered to Mabatid's family on July 11.
Mabatid's granddaughter, Stephanie said that the entire family was surprised because they have his death certificate, which says he died of acute respiratory failure type 1.
Mabatid was brought to the hospital on May 28 after experiencing difficulty breathing and fever two days prior. He died at the Vicente Sotto Memorial Medical Center at the age of 72 years old after two other hospitals refused to admit him.
He was buried immediately in the morning of May 30.
"Giingnan mis doctor nga namatay na akong lolo, but dili na namo siya makita kay nasagol na ra ba siya sa mga naay COVID and basin positive sad siya so kinahanglan ilubong dayon. Wa gani mi kaduol kay dili pwede. Gilubong siya sa Carreta," Stephanie told The Freeman, a newspaper in Cebu.
(The doctor told us he died but we could not see him because he was with other patients who had COVID. He may have been infected so he had to be buried right away. We were not able to go near him. He was buried in Carreta.)
Stephanie, along with 19 other people had to be tested and isolated. None of them tested positive for COVID-19 but weren't allowed to work until they received their results on June 15.
Mabatid's swab test was never released which really confused the family when they got the certification.
"Maayo gud unta kung buhi gyud akong lolo. Ang problema, asa na siya karon? (It would have been good if my grandfather was really alive, but where is he now?)" Stephanie said.
It was then reported that there was some inconsistency in the city's records. A representative of the barangay and the City Health Department have since apologized. Mabatid was then confirmed deceased.
The city was urged to do a better job next time. Mabatid's family also asked the city to understand the words they used on social media due to the mix up.
"Sorry pud ninyo kung naa mi na storya nga bati kay di lalim sa among naagian ron pero kasabot mi ninyo kay dili lalim inyo trabaho pero mao unta ni inyo lection nga dili gyud mo pa dali dali og print out kung dili ninyo i-verify daan kay lisod kaayo sa part namo nga mag-expect na sad mi balik nga buhi pa among lolo, kay wala biya gyud mi na kakita sukad na-admit siya nya nalubong siya dayon," Stephanie said.
(We are sorry if we said anything bad because what we went through wasn't easy… we understand that your work is not easy but we hope this will be a lesson for you to verify ahead because it was not easy on our part to be expecting that he may have been still alive… we never saw him up to when he was buried.)
"Thank you sa inyo pag-ari og nangayo namo og sorry namo, at least mahimotang na gyud mi sa among huna-huna nga wala na gyud among Lolo," Stephanie said.
(Thank you for coming to us and for apologizing. At least, we will be at peace knowing he had truly moved on.)
Last, July 6, the City Health Department announced on Facebook that it will no longer be posting daily updates on COVID-19 cases in the city while data with other health departments are still being synchronized.