Dogongan village in Daet, Camarines Norte held what it seems like a graduation ceremony or a graduation shoot.
The students were asked to pass on a single face mask throughout the said event that garnered consternation among netizens that was then brought up to the Provincial Office of the Department of Education.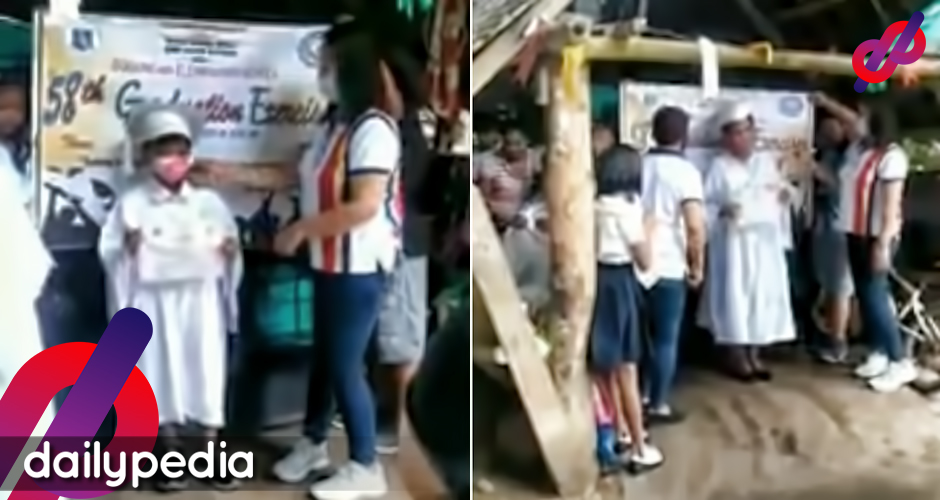 Footage from the alleged ceremony went viral as a boy was asked to remove his face mask and pass it on to the next graduate.
The face mask then was passed on to the third boy waiting in line.
The tarpaulin in the background showed "Daet North District, Dogongan Elementary School, 58th Graduation Exercise, June 10, 2020, at 8:30 am".
An unnamed source then confirmed that the mask sharing really happened.
The footage got some medical frontliners and netizens worried so they forwarded the video to the provincial office of the Department of Education since the ceremony breached protocols and put the students' health at risk.
The Department of Education posted statements that they allow schools to decide on graduation rites amid the pandemic but, they also then gave out guidelines and protocols for the schools to follow.
DepEd traced the people in the video and asked the school's principal to explain the incident.
As per the initial investigation, a source said the video was not from the actual commencement exercise. The source also stated that the graduation ceremonies were held way before and the video was taken from their pictorial.
As to when the video was taken, it is still under investigation. The video that was posted on social media was shared on Sunday but it was taken down by the one who originally posted it.
The Bicol Region specifically Daet has no new cases of COVID-19 and has been placed under General Community Quarantine since June 1.