Chemistry teacher Moumita B. in Pune, India earned the praise of online users after she uploaded a video of her teaching her class online through her phone that was mounted on a makeshift tripod.
Twitter user Pishu Mon shared photos of Pune and her resourcefulness which gained her even more attention.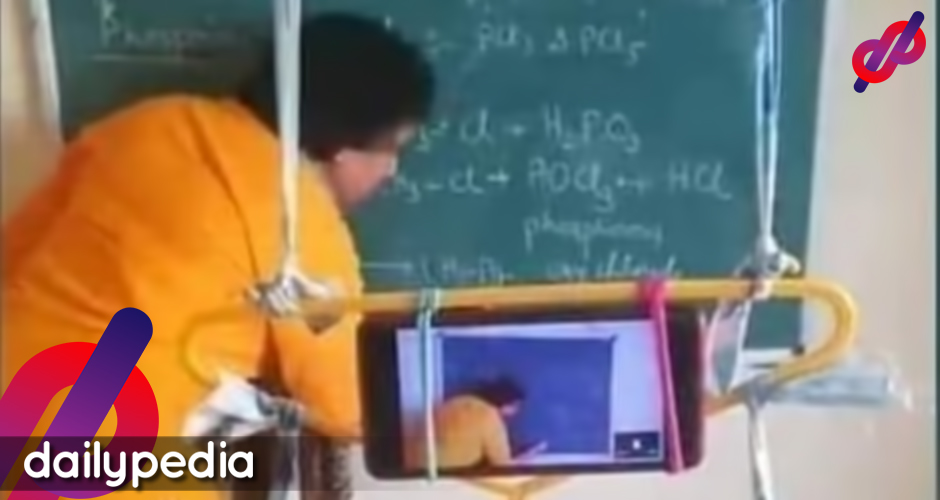 Teachers in India don't really make much and a tripod is just a little too expensive, so Pune used her creativity to continue teaching her students. She created a makeshift tripod with the use of a clothes hanger and cloth strips attached to a chair.
She captioned her video "As I didn't have any tripod so I made an Indian Gugad for taking online classes from my home".
I don't know where or who. But this picture made my day. A teacher setting up their online class with available resources. ❤️ There is so much passion in this picture makes me overwhelmed. #COVID19India pic.twitter.com/88C7PBdSEW

— Pishu Mon (@PishuMon) June 9, 2020
Meanwhile in the Philippines, the Department of Education (DepEd) announced that classes may not resume unless a vaccine for COVID-19 is created. President Rodrigo Duterte concurred, saying he will not risk the lives of students and teachers for education.
Education Secretary Leonor Briones stated that online classes would resume at the end of August which raised concerns over children who do not have internet access.
On the other hand, Teachers' Dignity Coalition (TDC) National Chairperson Benjo Basas said that the group is batting January 2021 as the official resumption of classes.
"The President's statement only confirms his initial assessment on the matter,"
"At first he says that he won't allow congestion in schools that pertains to physical or face to face classes [and] now he doubts the DepEd's capacity to facilitate blended or distance learning," said Basas referencing Duterte's doubts on resuming classes.
TDC thinks that the DepEd should prepare more on the matter.
"The President, thus may be serious in his 'no vaccine, no classes' stand – whether virtual or physical," Basas said. "Should the president decide to postpone the scheduled August classes, the DepEd will have time for a better-prepared schooling," he added.
Briones also said previously that there will be no face to face interactions in terms of lecturing when schools open in August.
"We can still provide learning opportunities to our students, without requiring them to come to school, through blended and distance learning," she said. "The blended/distance learning approach will be consistent with the President's preference that we do not send our children to school until it is safe to do so,"
"We're offering the parents to have a choice, at least they have a choice because we cannot just wait and wait for the solution," she said. "We're giving alternatives and the choice has to made by the parents themselves," she added.