Beauty queen maker and makeup artist Gio Flores, a pioneer of local pageant camp Kagandahang Flores (KF), told ABS-CBN News he has started a longganisa business due to the problems brought about by COVID-19.
KF was supposed to have its "breakthrough year" before the crisis hit, leaving Flores and his staff jobless which would make it hard for them to support their respective families.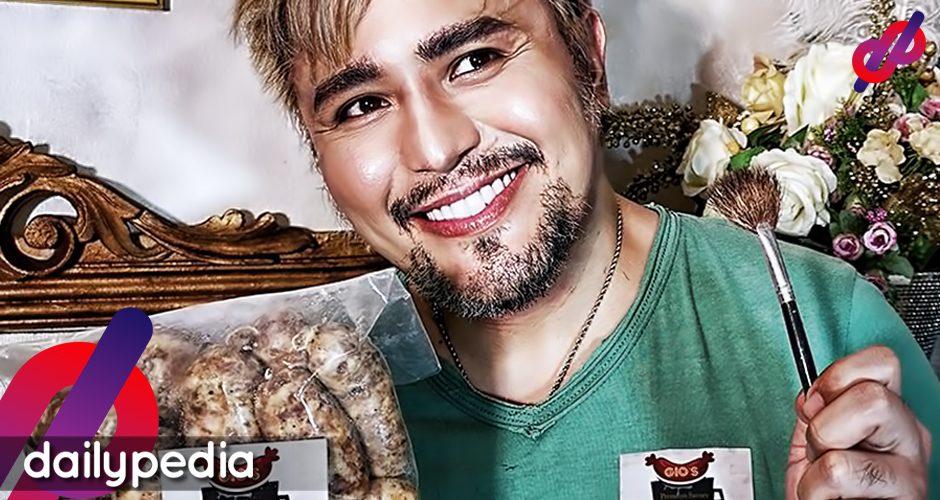 "No one was spared. I have lost work and all projects such as weddings, shoots, and pageants were canceled. Kagandahang Flores and the pageant aspirants under our auspice weren't spared as well since most local pageants have postponed their activities," he said in an interview.
"This pandemic has certainly affected me, mentally, emotionally, and financially. But the fighter in me said, 'I had to stand my ground,'" he added.
Flores comes from a family "that cooks really well" and has made food his passion. He learned from his mother who studied at Le Cordon Bleu in Paris and from his past travels as well.
Flores could already prepare desserts such as leche flan, biko, and puto at a young age, and would even help out preparing dishes in his town's annual fiesta.
His idea of starting a longganisa business came about when he was forced to cook his own food to save money.
"One morning, I woke up full of optimism. I had my home-cooked longganisa for breakfast," he recalled. "I instantly thought of making more longganisas and have my friends try it."
"The next day, 12th of May, I ordered 20 kilos of raw materials online, which was quite overwhelming, and started making the first batch of Gio's Premium Savoury Garlic Longganisa," he continued, proudly saying that his products use "prime quality or Triple A pork" and have no extenders or preservatives.
In addition to his cooking skills, he utilized his knowledge of restaurant management. Flores worked as a service quality restaurant manager, marketing manager, and regional line trainer for a fastfood giant for eight years before taking makeup courses in the US.
"I made sure that cleanliness and sanitation is observed and implemented at all times in our workplace," he said.
Gio's Longganisa is sold at P390 a kilo with at 14 to 18 big pieces in each pack. His product promises to offer "a garlicky, spicy, tangy, and salty taste with a distinct aroma," that can be consumed with rice or mixed with other ingredients.
His business is doing great so far and hopes that his longganisa will continue selling at this rate which he considers impressive.
"Brand sales have soared to over 100 kilos daily after the first week! I could not thank everyone enough for their invaluable support. It's just a small, humble business but it is made of dreams and passion that keep all of us going," he said.
Flores is looking to put up a "test kitchen" to "encourage people like me to road test their food businesses with very minimal investment."
This initiative will allow small entrepreneurs to "have a feel of the market." given that will have a complete kitchen and dining area.
"This opportunity allows people to start running small businesses and try the market without compromising their finances, given the tough times that we are into," he explained. "Everything basic is included in the rent, which can be weekly and monthly depending on how long one wishes to test the market to make a business decision on how to proceed."
"This business has been kind to me as it has saved me by providing for my needs during the most difficult time of my life. It has also offered a decent source of income for my team and their families. I do not imagine it to change once everything has gone back to normal." he added.
The beauty queens under KF will be given "action plans" to address their needs through online training classes.
The online activities they do are similar to that of Miss Philippines Earth, which held virtual competitions recently.
His cousin and KF co-founder, Rodgil, has been directing virtual pageants.
"We at KF will be responsive to the times… We will continue with our main objective which is to be able to mold and train girls to become national and international beauty queens… We are embracing the new norm, we are currently developing online modules, and we are doing online training with our girls for Bb. Pilipinas and Miss Philippines Earth," he said.
"Our camp is quite a large facility so face-to-face training is still possible, but we will be observing strict quarantine and health protocols," he added.
"Hold on to your dream of becoming a beauty queen. The pandemic is just a temporary setback. Use this time to broaden your knowledge… and never lose focus on what you really want to be." Flores said when asked to give a message to beauty pageant contestants as the COVID-19 crisis continues.
The pandemic has really affected jobs to the point where people have resorted to doing different things to make money.
For instance, MPBL player Ronnie Matias is now selling his mother's 'special bagoong' and even delivers them himself after the pandemic forced the season to be suspended, leaving his family with no stream of income.
He sells other goods and other basketball players buy from him regularly.