President Rodrigo Duterte previously called the anti-terror bill urgent "in order to adequately and effectively contain the menace of terrorist acts for the preservation of national security and the promotion of general welfare" but that doesn't mean he will automatically sign it into law.
Presidential spokesperson Harry Roque said Duterte will review the measure's compliance to the Constitution.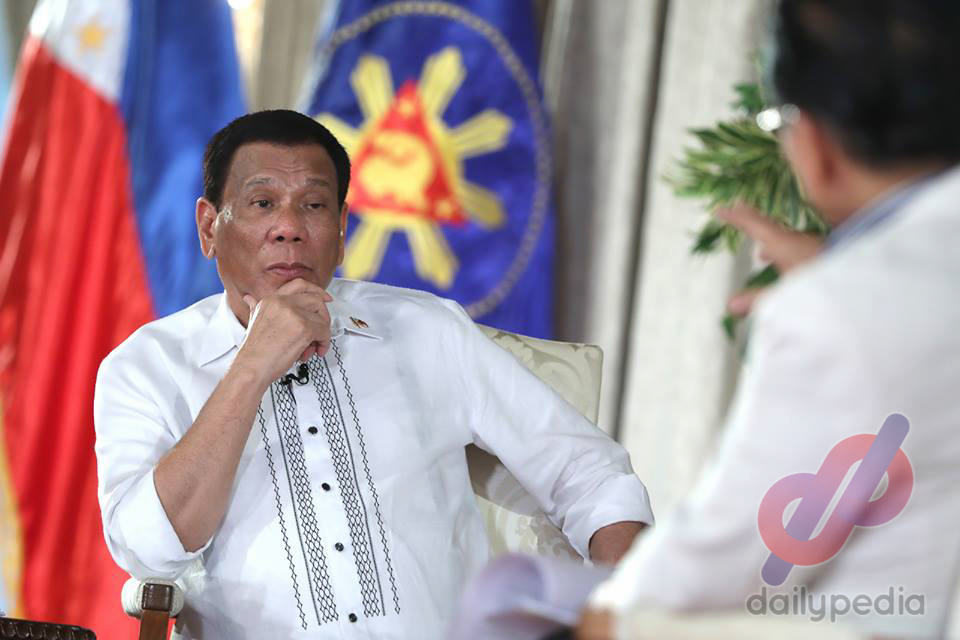 "Alam niyo, bagamat it's certified urgent, hindi naman po automatic na pipirmahan yan ng Presidente," Roque said during an online press briefing.
"That is still subject to final review by the President to ensure that it is compliant with our Constitution," he added.
The only thing the bill needs is the president's signature after the House of Representatives approved House Bill 6875 on the third and final hearing Wednesday. In addition, even if Duterte doesn't sign it, the bill will still be a law.
Critics, such as lawmakers say that the bill could be "abused" to crack down on dissenters.
Terrorism is described as any activity committed by any person who within or outside the Philippines, regardless of the stage of execution;
Engages in acts intended to cause death or serious bodily injury to any person, or endangers a person's life;
Engages in acts intended to cause extensive damage or destruction to a government or public facility, public place or private property:
Engages in acts intended to cause extensive interference with, damage or destruction to critical infrastructure;
Develops, manufactures, possesses, acquires, transports, supplies or uses weapons, explosives or of biological, nuclear, radiological or chemical weapons; and
Release of dangerous substances, or causing fire, floods or explosions.
The measure also describes terrorist activities as acts that "intimidate the general public or a segment thereof, create an atmosphere or spread a message of fear, to provoke or influence by intimidation the government or any of its international organization, or seriously destabilize or destroy the fundamental political, economic, or social structures of the country, or create a public emergency or seriously undermine public safety."
The anti-terror bill's criticism go beyond local celebrities as Taylor Swift and other international personalities have shared the petition to junk the bill on their social media accounts.
Please do not take away our voices our basic human rights!!!!

— Liza Soberano (@lizasoberano) June 2, 2020
Ano yung tamang paraan ng pag-rally ngayong GCQ? Gawin ko na bago ipasa yung anti-terror bill kasi kayang kaya na nila ako ikulong kong trip nila… 😂😂

— Enchong Dee (@enchongdee777) June 2, 2020
#JunkTerrorBillNOW #JunkTerrorBillNOW #JunkTerrorBillNOW

Only cowards are afraid of dissent. https://t.co/pHPoUDVFYU

— Agot Isidro (@agot_isidro) June 2, 2020
— Pia Alonzo Wurtzbach (@PiaWurtzbach) June 3, 2020
— Pia Alonzo Wurtzbach (@PiaWurtzbach) June 3, 2020
I'll be honest, I never really liked commenting about politics simply cos I felt like I didnt know enough. I wasnt confident enough to speak up… I also was never really a fan of tweeting (Im barely online here) but I realized that I need my voice back…and I need to use it.

— Pia Alonzo Wurtzbach (@PiaWurtzbach) June 3, 2020
Sa lahat ng nangyayari ngayon sa Pilipinas at sa mundo.. overwhelming. Diba? Parang di mo alam kung maiiyak ka o magagalit. Parang pakiramdam mo minsan powerless ka. Parang sasabog yung puso mo. Yung feeling na parang may gusto kang sabihin. May kailangan kang sabihin.

— Pia Alonzo Wurtzbach (@PiaWurtzbach) June 3, 2020
#JunkTerrorBill pic.twitter.com/qVHAnuXRiJ

— Catriona Gray (@catrionaelisa) June 3, 2020
There is so much happening in the world and in our nation right now, and I know alot of us want to just tune out because it all gets a bit overwhelming. But please, dont allow that to be the reason we revert into silence and turn a blind eye.

— Catriona Gray (@catrionaelisa) June 3, 2020
We need to stay engaged because this is where our voices count. So let's help each other by creating spaces that help us keep each other informed and help us understand what's going on.

— Catriona Gray (@catrionaelisa) June 3, 2020
I've taken the time to research and digest information and come to my own conclusions and I implore you all to do the same.

I'm not here to influence you to think a certain way, but I hope I can influence you to think for yourself.

— Catriona Gray (@catrionaelisa) June 3, 2020
About the Anti-Terror Bill. Read the full Senate Bill here: https://t.co/OZjsW402oV pic.twitter.com/nsCmkdzMH3

— Catriona Gray (@catrionaelisa) June 3, 2020
We cannot even trust the government with the Constitution. What makes anyone think that it can be trusted with the anti-terror bill?

— Gideon Lasco (@gideonlasco) June 3, 2020
I REALLY DON'T FUCKING UNDERSTAND HOW THEY HAVE THE TIME TO MAKE ANTI-TERRORISM BILL HAPPEN BUT CAN'T MAKE MASS TESTING HAPPEN? HOW THE FUCK IS THIS TERROR BILL GOING TO SOLVE THE CRISIS THAT WE'RE FACING?? TANGINANG GOBYERNO ANG SASAHOL NIYO #JUNKTERRORBILLNOW

— w. (@Ariesxwxsxv) June 3, 2020
Whether you're at home or out in the streets, #JunkTerrorBillNow pic.twitter.com/6ckl6qLWSL

— Roberto Jericho A. Seña (@Sentastic) June 4, 2020
Just within the safety of our home and art materials…#JUNKTERRORBILLNOW #RESISTASONE #ArtPH pic.twitter.com/IK8U7goGpv

— ✧・゚: * moonkeyk * :・゚✧ #JunkTerrorBill (@kunehoo17) June 4, 2020
No lockdown on rights. We have the right to peacefully assemble and air our grievances (while strictly observing health standards!!!) esp when the law is not applied even-handedly and weaponized against vocal dissenters and political opposition. #JunkTerrorBill #JunkTerrorBillNow pic.twitter.com/AF1w6FlewP

— Sarah Elago (@sarahelago) June 4, 2020
A stunning photo showing Filipinos practicing social distancing during a protest to #JunkTerrorBill #JUNKTERRORBILLNOW

Photo source:https://t.co/KT2uvCwMAT

Because Filipinos aren't undisciplined. They simply know what rules protect them and what do not.#COVIDー19 pic.twitter.com/vkmFwuOxVg

— 🎃🇵🇭🎄Muchy CHRISTMAS FERAL Mozzarella🎄🇵🇭 🎃 (@MotherMuchy) June 4, 2020
we will NOT be silenced#JUNKTERRORBILLNOW #OustYouKnowWho pic.twitter.com/sVL5SOJRPv

— a meowmeow (@sobsannix) June 4, 2020
the cutest baby doggies turned up too 💕 sushi the shiba inu and laya the maltese woof against terror bill‼️ #JUNKTERRORBILLNOW #MobPH 🐶 pic.twitter.com/oKXjjhcbwJ

— khundi panda simp account (@seelyan) June 4, 2020