On Tuesday, Senator Pia Cayetano called out a news reporter in a tweet due to an alleged misquote of her statement during the Senate's Health hearing.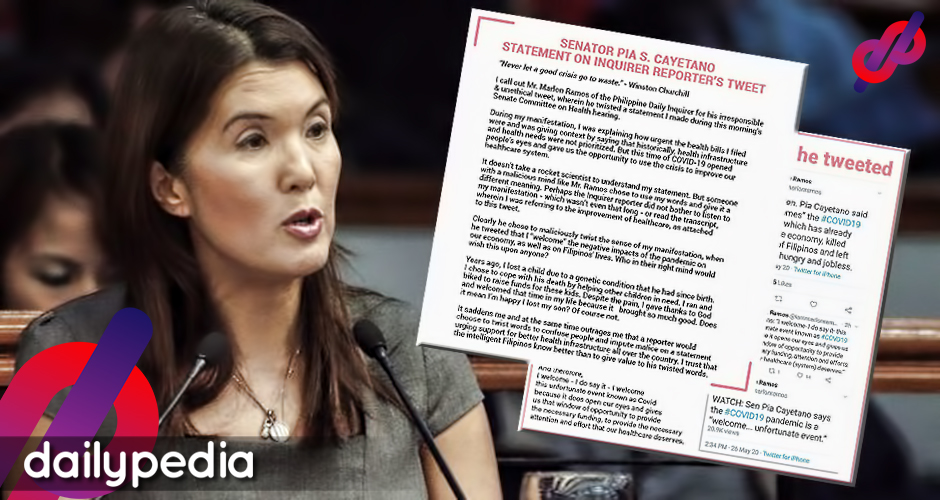 Cayetano pointed out Philippine Daily Inquirer reporter Marlon Ramos who tweeted her statements live during the senate hearing.
WATCH: Sen Pia Cayetano says the #COVID19 pandemic is a "welcome… unfortunate event." pic.twitter.com/IPA0HGimuo

— Marlon Ramos (@iammarlonramos) May 26, 2020
The senator said that she called out Ramos for "twisting" her statement in his tweets.
READ: My statement calling out @inquirerdotnet's reporter for his malicious & unethical tweets on my manifestation during today's @senatePH Committee on Health hearing. pic.twitter.com/dNtRDGkqoY

— pia cayetano (@piacayetano) May 26, 2020
"I call out Mr. Marlon Ramos of the Philippine Daily Inquirer for his irresponsible & unethical tweet, wherein he twisted the statement I made during this morning's Senate Committee on Health hearing," Cayetano said.
According to Cayetano, she was trying to explain the importance of the health bills she filed and how health infrastructure and health needs are not given priority.
"During my manifestation, I was explaining how urgent the health bills I filed were and was given context by saying that historically, health infrastructure and health needs were not prioritized," she said.
"But this time of COVID-19 opened people's eyes and gave us the opportunity to use the crisis to improve our healthcare system." the senator added.
Cayetano also said that the malicious mind of Ramos chose to use her words and put a different meaning to them.
She also speculated that the reporter did not even hear her statement or read the transcript.
She also shared her experience of losing a child years ago due to a birth defect.
The senator then expressed her hope for "intelligent" people to understand the real context of her statement.
"It saddens me and at the same time outrages me that a reporter would choose to twist words and confuse people and impute malice on a statement urging support for better health infrastructure all over the country. I trust that the intelligent Filipinos know better than to give value to his twisted words," she said.
Cayetano's tweet garnered various reactions from netizens.
1) You still said it.
2) We know you meant it positively… but you still don't say things like those, even if you feel it has brought positive changes, especially not now.
3) Not sure you're doing a good job anyway, with all your statements supporting this vile admin.

— DLS Pineda (@dlspineda) May 26, 2020
4) You even placed emphasis. You said, "I do say it" so, it's normal that the reporter quotes you there. C'mon, UP ka ba talaga? What a joke! Ang disappointing!!!

— DLS Pineda (@dlspineda) May 26, 2020
https://twitter.com/stillhassoul/status/1265264879797075968?s=20
https://twitter.com/eragon2024/status/1265417618199998464?s=20
Your words could have been expressed better! Why even include the word "Welcome"?

"It is an unfortunate event but it does open our eyes…" is one way pic.twitter.com/svymHI5k5w

— Siaps (@siaps9) May 26, 2020
No accountability. Blaming others for own mistakes. On brand with being a Cayetano.

— jayjayferro (@jayjayferro) May 26, 2020
This is YOU choosing the wrong words & blaming a journalist when YOUR wrong words make you look bad.Moral: choose words wisely

— ryan balisacan (@ryanbalisacan) May 26, 2020
Netizens defended Ramos saying that the news reporter only tweeted exactly what Cayetano said. They also said that there is no misinterpretation in Ramos's tweet.