Netizens from around the world sent messages of sympathy and kind words to the family of a Filipino frontliner in United Kingdom (UK), who died from complications related to coronavirus disease 2019 (COVID-19).
Ruben Muñoz Jr., an assistant nurse who served the National Health Service (NHS) for over a decade, died on April 17 after battling against COVID-19.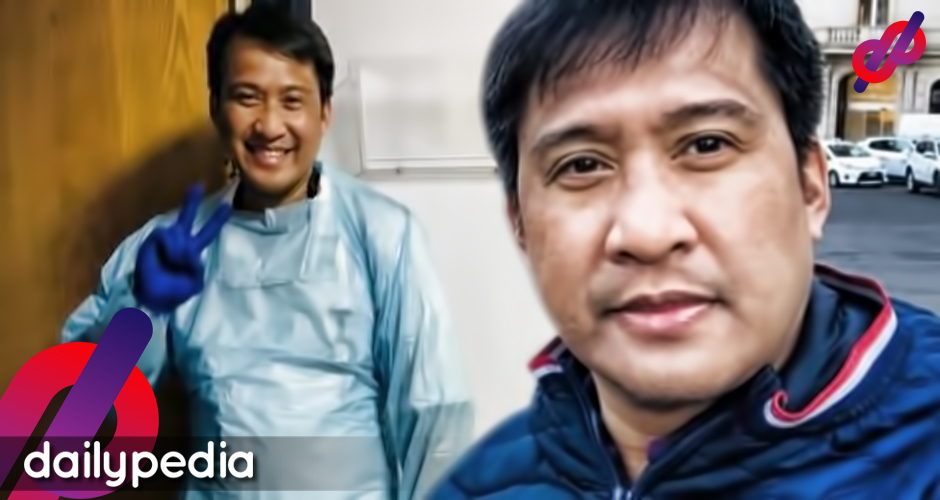 His colleagues at the NHS-East Surrey Hospital said he was a "dedicated healthcare worker" and "the Woodland ward will never be the same."
"He was one of the staff who selflessly helped to look after patients afflicted with COVID-19. Not all of you might know him but he was a very kind, funny, and hardworking person," Muñoz's colleagues said in a statement.
"Patients always liked him. He was a good son, a good husband for his wife, and a good father for his two children," they added.
Muñoz's colleagues have set up a fundraiser to raise money for his family to help cover the funeral costs.
The effort has raised more than £22,000 (or about P1.3 million) in less than a week, exceeding the £10,000 target.
"Rest in Paradise, Kuya Ruben! The Woodland Ward family will remember you forever!" his colleagues said.
His daughter, Patrice Antonette, said her
father "is and ever will be amazing."
"You are my hero, rest well dad. 🥺❤️," she tweeted.
https://twitter.com/fattrees/status/1251876328778932226?s=19
Many netizens all over the world, including American actress Patricia Arquette, have expressed their heartfelt condolences after reading her post.
I am so sorry. My heart is with your family.

— Patricia Arquette (@PattyArquette) April 21, 2020
Your dad was wonderful to work with. Kind, gentle and humble. We will all miss him terribly and send love and hugs to you and your family.

— Claire Rowley (@clairearowley) April 19, 2020
https://twitter.com/AzharMaj1985/status/1252010156788985860?s=19
Deepest condolences for the loss of your precious father. What a great man!

— Pamela (@PamelaTx2) April 22, 2020
So sorry Patrice for your devastating loss. Thanks to your dad x

— Dr Alex Gates (@dr_alex_gates) April 19, 2020
Absolutely horrible. So sorry for your loss.

— Mike Recine (@mikerecine) April 20, 2020
https://twitter.com/MJQP57/status/1252342598145994753?s=19
https://twitter.com/RedRadicals/status/1252047966208249856?s=19
It was honour to have worked with your dad. He was a lovely man – he will not be forgotten.

— Paras Jethwa (@parasjethwasurg) April 19, 2020
God damn it… tears sweet love. I'm so sorry. This is just horrible. Sending you some love and prayers from California.

— Carmen Lezeth Suarez (@carmenlezeth) April 20, 2020
We all owe him and his fellow workers our biggest thanks

So sorry for the loss of this lovely man

— leefer (@leefer3) April 20, 2020
Sorry for your loss. Your Dad was indeed a hero.

— Iheanacho Ugoala (@UgoalaIheanacho) April 21, 2020
So sorry! He's a hero! Sending you healing light

— Debs Matthews (@Debbieamatthews) April 22, 2020
https://twitter.com/GraemeKelly1/status/1252136335411945477?s=19
https://twitter.com/suzihands/status/1252440758948253698?s=19
He must have brought so much joy and care to so many. I'm so sorry for your loss. He is mourned by many. He is a hero.

— Swati Gaur (@GaurMd) April 19, 2020
The Philippine Embassy in London has already recorded 10 COVID-related deaths among Filipino frontliners who worked for the NHS, which is a publicly-funded healthcare system in England.
On Monday, the Department of Foreign Affairs (DFA) said around 23,300 Filipinos in the UK and Ireland are fighting on the frontlines in both countries' battles against the COVID-19 pandemic.
Latest figures from the DFA showed that a total of 990 overseas Filipinos in 42 countries have tested positive for the coronavirus.
Of that number, 584 Filipino patients are still undergoing treatment, while 263 have already been discharged from hospitals or have recovered.
So far, there are 143 fatalities recorded among Filipinos abroad.