Netizens stated that they should not do such as the funds they're using are the taxpayers' money.
An Anti-Epal Bill was filed last year to prohibit such things. 
In the time of the COVID-19 pandemic, cooperation and donations are needed more than ever.
As the government declared an enhanced community quarantine on the whole island of Luzon, many citizens are hoping for help from their local government unit (LGU) for sanitizing products and basic necessities.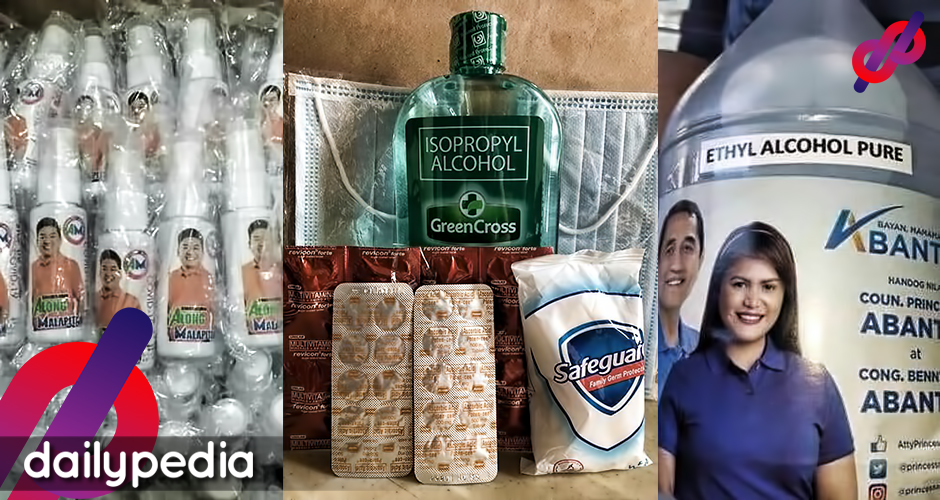 There are those LGUs who don't need to be reminded of what to do and how to govern. But there are also those who do their job just to campaign for themselves.
One example is a tweet from Quezon City Mayor Joy Belmonte. "I have decided to distribute these essential health items…" she wrote along with a photo of the health items she's giving away.
I have decided to distribute these essential health items to 100,000 of our indigent families beginning tomorrow. Bahay bahay po ang distribution para siguradong makarating sa kanila.#JoyParaSaBayan#KasamaKaSaPagunlad#KasamaLahatSaPagunlad pic.twitter.com/76hmrvuxf2

— Mayor Joy Belmonte (@officialqcmayor) March 15, 2020
Netizens began criticizing her and her decision to include the hashtag #JoyParaSaBayan in her tweet that many deemed was unnecessary.
https://twitter.com/MaamSyj/status/1239179883973971969
Thank you. Sana wala nang hashtag na may name. #Joy

— roberta2020 (@roberta20204) March 15, 2020
Pls don't use this crisis to promote yourself. These aren't your funds.

— Paola Viedor (@plvdr_) March 16, 2020
They also pointed out that she should not have had to "decide" to give out essentials as it is supposed to be her job to serve the public as mayor.
sorry pero parang di tama ang hashtag. per family or per family member? parang kulang if per family. maliit ba income ng city of stars mayor?

tsaka ang sama na you "have decided" in which it should be a prerogative. cencia na tlga, nakasmile pa po pix nyo.

— Think Logically (@tweet_logics) March 15, 2020
Hoy @officialqcmayor, anong "i have decided" pinagsasabi mo diyan? OBLIGASYON MONG MAGBIGAY NG ESSENTIALS BILANG MAYOR!!! Hindi namin utang na loob na nagdecide kang magpamigay ng goods, karapatan ng sambayanan yan

Hay nako, Joy nga pangalan mo pero di ka nakakatuwa!! https://t.co/ToV9ZLnfYS

— Gigi on YouTube (@gigiesguerra) March 16, 2020
Caloocan Congressman Along Malapitan was also called out for plastering his face on the bottles of alcohol they gave away.
Here's a monster. The epal-ness of Congressman Along Malapitan of Caloocan plastering his face on alcohol in the middle of a pandemic. [Photo from Eule Rico Bonganay] pic.twitter.com/SdSkiDRYjl

— Ian Rosales Casocot (@sandwichspy) March 16, 2020
Manila counselor Princess Abante and congressman Benny Abante were also caught including their names and faces on the gallons of alcohol distributed to the city's barangay halls.
On a scale of 1-1M, how EPAL can our politicians be?

Mahabagin!!! #Covid_19PH pic.twitter.com/TyjD2gVAuK

— BernieSpears (@spears_bernie) March 14, 2020
The Anti-Epal Bill
Last year, Surigao del Norte 2nd District Rep. Robert Ace Barbers filed the House Bill No. 71 or the "Anti-Epal Bill" which seeks to prohibit and penalize government officials who post their names and faces on government projects funded with taxpayers' money.
"Crediting individuals instead of the government on any public work, project, assistance or program is unethical and a manifestation of the nation's deeply troubling political patronage," Barbers stated.
"This system of political advertising also promotes corruption among our officials, sending a wrong sense of accomplishment among the citizens."