The coronavirus pandemic has quickly used up the supply of face masks available in the market today. Face masks are now scarce and are more expensive than ever before.
Luckily there are still people out there who do not care for making profits, and just do whatever they can to help others.
The LGBTQIA community in Usnai, Bgy. 173, Caloocan is helping out by making and giving away face masks for free to residents.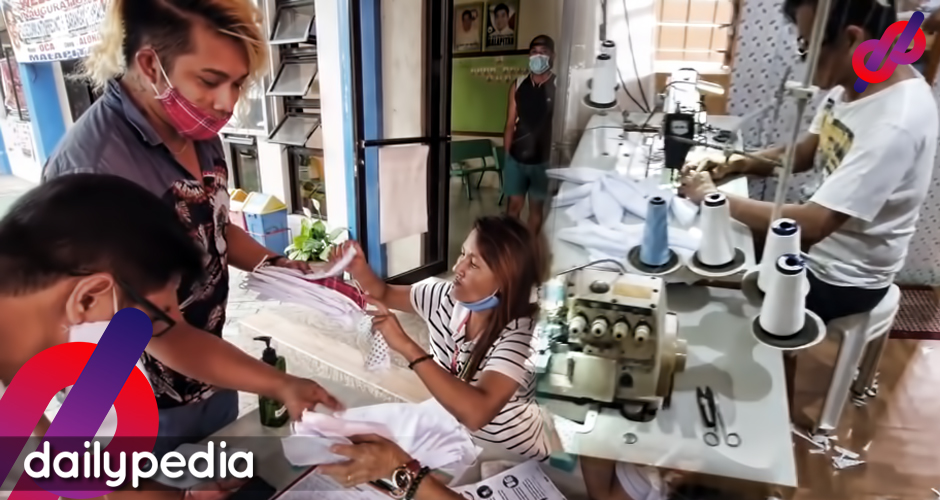 In a short video by ABS-CBN employee Nathan Perez, the community explained why they decided to do this kind of thing.
One member by the name of Dindo Paulo Condino decided to start sewing face masks because he thinks that it is the right thing to do. Dindo just wants to help, and all the materials needed are available to him.
"Ito parang personal ko lang na initiative. Dahil nga nauso ang virus, naisip ko na ano ba yung something na magagawa ko na kahit maliit na bagay eh pwede mong gawin. Kaya naisipan ko na gumawa nito. Meron naman akong makina, meron naman akong mga tela na sobra sobra dati."
"Sabi ko gagawa ako para dito sa community namin, kahit papaano," he added.
Arnel Majaba, who is another member of the group, was convinced by Dindo to start doing the same.
Jayson Givera also began sewing face masks for the same reason.
"Nakakatuwang isipin kasi na gumagawa ng ganito. Napakalaking tulong to para makaiwas yung aming kasamahan sa community naming na magkaroon [ng virus]."
The video shows people lining up to get their face masks, as Jayson was handing them out.
The President of Usnai, Delia Montero, thanked the LGTBQIA community for doing something so selfless.
Jayson urged other LGTBQIA members nationwide to also contribute to their respective communities.
"Walang imposible na pwede natin ibibigay na tulong. Pray lang po tayo na mabilisan mawala itong salot na virus na to. Mag tulong tulong tayo"
Dindo also said something similar. Those who have the resources to make a difference should just do it.
"Sana yung mga may kakayanan, may kayang gawin, kayang ishare, ishare natin."
Medtecs International Corp., the only face mask manufacturer in the Philippines has made a promise that it will increase production, given that there is a shortage of face masks in the country due to COVID-19.
In a text message, Department of Trade and Industry (DTI) Secretary Ramon Lopez said that the company will be producing 4 million face masks a month.
"On masks, [we] renegotiated with lone manufacturer Medtecs to increase supply to the Philippines from 1.6 million (pieces) a month to 4 million so we can increase replenishment for the drugstores."
The health workers and frontliners of the Department of Health and Red Cross will be the first people to be given the face masks. 2.5 million face masks will be bought from India and distributed to drug stores in the country.
A doctor from Jose R. Reyes Memorial Medical Center said that the nurses there are actually using their own money to buy face masks because of the shortage, and the hospital is just beside the Department of Health.
The health workers at Rizal Medical Center (RMC) in Pasig City, according to one medical student, are using their face masks during the entirety of their shift, which is not advisable as face masks should be replaced every four hours. It is reported that the Philippine General Hospital's (PGH) face mask supplier also failed to deliver 90,000 pieces.
The Department of Science and Technology (DOST) said that a partner company of theirs will be producing 500,000 face masks, and each is washable up to 50 times.
"DOST's Philippine Textile Research Institute (DOST – PTRI) in cooperation with the Taytay LGU and the private sector will produce 500,000 reusable face masks (up to 50 times)," said Science Secretary Fortunato de la Peña.
Face masks aren't the only things that are scarce. The DTI met with the manufacturers of basic necessities and prime commodities, as well as alcohol and disinfectant producers recently to discuss the scarcity of resources.
According to the DTI, the manufacturers claimed to have supplies only good for a month but promised to increase production.
Lopez said there are no reasons to worry as tons of supplies are coming very soon.
"Consumers need not worry as we have enough stocks of basic goods in the market. The DTI is working closely with the manufacturers and retailers to ensure a continued flow of supply in the market and reasonableness of prices of basic goods, including disinfectants."
Lopez also ordered supermarkets to implement a policy where only two bottles of alcohol can be sold per transaction, to avoid people from re-selling them at higher prices.
President Rodrigo Duterte has already put Luzon under an "enhanced community quarantine" that will last until April 12. Domestic air, land, and sea access have been cut off to prevent the spread of the virus. Classes and other jobs have been temporarily suspended. People are getting their temperatures at every checkpoint they pass by.
Robert Mendoza, president of the Alliance of Health Workers, is furious at the efforts of the community quarantine.
LGBTQ in Bgy. 173, Caloocan Makes and Gives Out Free Face Masks

Few nights ago, I saw a post of Bea Bhie regarding the efforts of the LGBTQ Community in their barangay. Gumagawa at namimigay sila ng libreng washable na face masks. And for me, it's worth a space on my wall. So, here's the story of our helpful friends in Usnai, Barangay 173, North Caloocan City.#LigtasPilipinas

Posted by Nathan Perez on Monday, March 16, 2020
"What we need is mass testing, more trained healthcare workers, and an increased health budget.
"Where is that promised budget? Even as COVID-19 cases keep climbing, our healthcare workers continue to work without proper protective gear. Who will take care of everyone else if health workers get sick?"
Mendoza said that there are nearly 50 health workers who have coronavirus symptoms.
Jollibee branches in Luzon are slowly closing.
"We are temporarily closing some stores in Luzon as a result of the enhanced community quarantine," said Jollibee.
The only services available will be drive-thrus, deliveries, and take-outs, for those branches that will remain open. Employees are advised to practice social distancing and sanitation.
The Philippine Amusement and Gaming Corporation (PAGCOR) ordered the temporary suspension of Philippine Offshore Gaming Operations (POGO) until April 14.
"The suspension was implemented to ensure the safety of all employees and to prevent the further spread of the coronavirus disease 2019 (COVID-19), which is now a global pandemic, according to the World Health Organization (WHO)," PAGCOR said.
"The skeletal workforce at POGO operating sites are no longer allowed."
As of this writing, 19 people in the country have died from the virus.