She claimed to have been offloaded and falsely diagnosed by the crew.
She stated that the situation is already being investigated by AirAsia.
A woman has filed a complaint about the ground crew of AirAsia Laguindingan.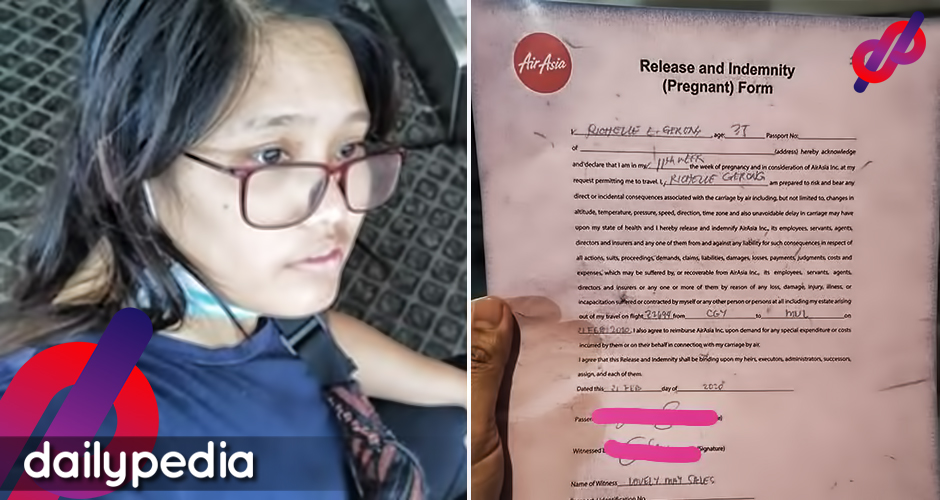 Three-months pregnant Richelle Gerong was on the way to Manila with her daughter for a medical test when she experienced a frustrating day at the airport.
She started off by saying that AirAsia's ground crew illegally offloaded her last February 21.
She and her daughter's boarding passes fell and a crew allegedly picked it up from the floor but did not return it to her.
"The BOARDING PASSES for me and my daughter were issued already (seats 3a and 3b) but were cunningly taken from me. Yes! in a cunning way kc the ground crew pretended to pick it up from the floor when I dropped it but did not return it to me. It's a BREACH OF CONTRACT, I later found out! Kaya pala kinuha at ayaw na ibigay!!!" she wrote.
Gerong then said that the employees also kept on ignoring her even though she has been asking for an explanation for nearly an hour.
She was also asking for help when it comes to carrying her luggage but the crew answered her back with a series of questions which made her share that she's traveling to Manila for a Lymphocytes Antibody Test.
"Your ground crew 'researched"'it and found out daw that they're T-Cells and Cancer Cells. I asked what about it? Then, she said that I was required to present medical cert bcz of my LYMPHOCYTES. Whhhaaattt?"
The passenger explained that lymphocytes are blood components, but the crew insisted that it's a medical condition that needed a medical certificate for flying.
"The term 'Cancer', 'Killing', 'Virus' from what your ground crew has researched might have scared her. YET, you can't decide without proper medical diagnosis. I told you I am NOT infectious and I am NOT dangerous to other passengers. Having LYMPHOCYTES is NORMAL. YOU DID NOT LISTEN. I felt discriminated because I have lymphocytes! I felt alienated for having a medical condition which does not have any proper medical diagnosis."
A non-existent disease called "Lymphocitis" was declared by the staff and assumed that it's a kind of inflammation. They then told Gerong that they will transfer her to the 2 PM flight instead if she presents a medical certificate for her lymphocytes. This led her to call her doctor in Manila and have her explain everything to the crew but they "did not listen".
The woman kept explaining that she had to be in Manila for her 8 am appointment because the lab tests only run every Friday but the ground crew ignored her pleas.
"You still placed me in the 2pm flight despite my plea. I cried and was really stressed as how can I possibly get my Lab tests done at 4pm and results before my doctor's appt. I told you this! YOU NEVER LISTENED."
They even threatened to call security on her and refused to give the names of the crew to her.
"I asked for the names of the ground crews who interpreted my condition as dangerous, contagious and infectious that I need a med cert to fly BUT you didn't want it. I asked for a written explanation BUT you said you wouldn't give. You turned your back on me numerous times. You avoided it numerous times, as well."
She was at the airport for nine hours and was not offered anything, not even water.
"It's traumatic for me to remember this event and as of this writing, I am trembling and shaking uncontrollably. Wala kayong awa sa buntis na may dalang 3 yo na bata!!!!"
In a comment, the netizen said that AirAsia already called her and told her that they are investigating the matter.
"Let's all hope for a FAIR and JUST result. Otherwise, let's see whether a legal ground is needed for this! Meanwhile, a customer representative of AirAsia Laguindingan commented on one of my posts and said OA lang daw ang post ko. That's very uncalled for. She is someone who represents the company yet without customer service personality," she wrote.