Exploitation is nothing new. Twitter user @pukindress shared a friend's photo that showed how much an average PUI's (Person under investigation) for COVID-19 hospital bill costs.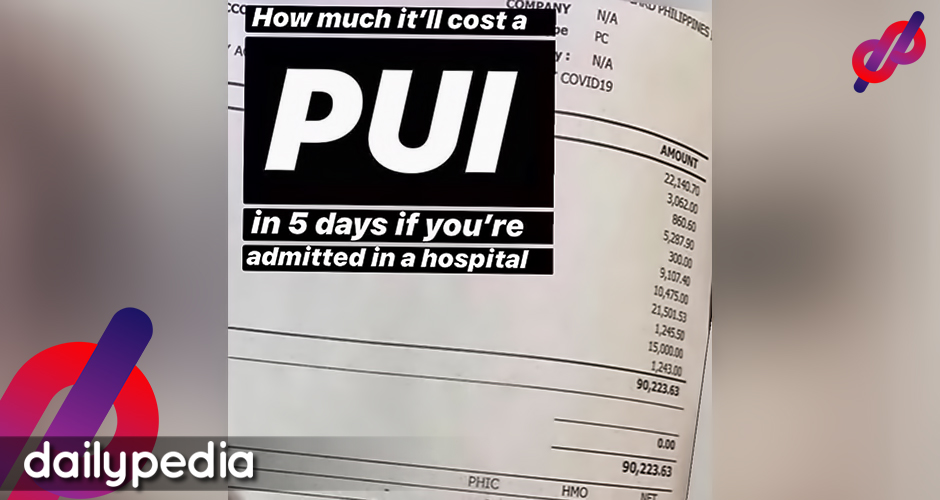 The photo shows a bill of ₱ 90,223.63 of a PUI who was only admitted for 5 days.
hello, i saw this from a friend's story and he says that some hospitals daw ay taking advantage of the pandemic? i mean, i'm no medical expert, but is this correct?

is this how it should be? it's almost 90k for a pui if you're admitted to a hospital. i don't sit well with this. pic.twitter.com/QRECZv8zUj

— babygirl (@pukindness) March 18, 2020
The friend said that their father waited for a good 6 hours, and was given 30 minutes of assistance. They were then asked to cash out thousands and were even charged for something that they did not even use or ask for.
i asked his permission to post this on here kasi hindi nga ata tama yung nangyayari… what's up uerm? how did this happen? pic.twitter.com/y7BAypKXMm

— babygirl (@pukindness) March 18, 2020
Netizens shared their thoughts on the matter.
I was admitted in a hospital once and yung bill ko for 2 days is 20+. Nasa ward pa ko niyan ah. So I guess nasa ganung range pag 5 days. Di ko alam kung kakayanin ba nating mga ordinaryong tao ma confine ng 14days kung ganito kalaki ang billing.

— Des Kitsch (@becomingdes) March 18, 2020
One netizen says that this is one of the reasons why some Filipinos do not want to get themselves checked out.
this is true. lalo na kasi private hosp ang uerm. and this is also why some Filipinos ayaw mag pa ckeck. pambili nga ng food wala, pa PUI pa kaya. the govt should shoulder these expenses :'(

— Ranielle (@ranvalenzuela) March 18, 2020
One netizen also asked why was the hospital charging for things that are known to be included during assessments.
Can I ask why they charge for gloves and other PPE? It's a hospital, it should be included? If for example the patient declines to pay for the PPE Etc knowing that they will be charged, what of the nurses and other medical personnel can they still treat that patient?

— Marriane Budiongan (@Marrianex) March 18, 2020
Another netizen claims that one of their relatives was charged 120,000 pesos after being admitted for the same duration.
My uncle was admitted recently in a private hospital in Manila for 5 days and 120k inabot namin halos so…

— hannieee (@hannahdeuls) March 18, 2020
Tinakpan pa Kita Naman na UERRMMC Yan lol. Anyway dapat nga libre na Yan Kasi pandemic like hello Kung ako me symptoms magtatago ako kesa magpaadmit Kung Alam Kong mapapagastos ako. Middle class pa ako niyan ha. Eh paano Yung no income ngayon Kasi walang work?

— N01 (@trixie_dauz) March 18, 2020
yan talaga kapalpakan ng healthcare system matagal na. kahit walang pandemic happening, ganyan kamahal ang private hospitals

— pat (@prlteves) March 18, 2020
Yes lalo na pag private hospital. When my lolo got hospitalized his room alone cost 5k per day. Di pa kasama doctors fee etc… gastos magksakit ☹

— . (@Faaayye) March 18, 2020
Connor Reed, who is one of the first British men to get infected, shared his experience of suffering from the disease. The coronavirus basically has stages to it, the first one would be the common cold. People do not take this stage seriously, but what this is where they can spread the virus to other people.
The second stage is getting flu like symptoms, but this only happens after one has recovered from the first stage.
"The problem with the coronavirus is you get better before you get worse.
"From the flu, I had massive ear problems, and also throat problems. I was coughing so much that my voice died. I sounded like a frog.
"In the stage where it was more like the flu, I felt like I'd been hit by a truck. It was debilitating."
Stage 3 was the most serious one, as those infected will be suffering from pneumonia.
"You have the cold, it gets better, you get the flu, it gets better, then it progresses to pneumonia, and this is where it was the scariest.
"From the flu. I got better again, and that's when I had pneumonia. The pneumonia stage was when I went to the hospital."
Reed couldn't move around with ease, as he would get tired quickly.
"It felt like you were breathing through one lung, through a paper bag. You just can't get that full breath.
"When I had pneumonia, that's the point where it was getting quite serious. It felt like I could only use half my lung capacity, and every breath I took wasn't enough and I just couldn't get enough air."
Given all those problems, one might think that getting diagnosed with the virus, and necessary treatment would be far more expensive than just being treated as a PUI.
Sabrina Corlette, a research professor at Georgetown University says people might become more hesitant at seeking treatment given the amount of money it would cost them.
"The problem is we have reams and reams of evidence that if people know they face hundreds or thousands of dollars in bills, they'll hesitate, they'll wait and see,"
The Kaiser Family Foundation estimates that a pneumonia hospitalization can cost you more than $20,000, or ₱1,000,000.
TIME Magazine recently published a story of a woman who received treatment for the virus and was charged $34,927.43.
Danni Askini says that she was surprised when given the hospital bill.
"I was pretty sticker-shocked. I personally don't know anybody who has that kind of money."
It is important to note that Askini came in seeking treatment uninsured. Plus there are 27 million Americans who do not have health insurance.
On March 11, Cabinet Secretary Karlo Nograles said Philhealth will be covering testing expenses for those seeking treatment from the virus.
"The last thing we want is for our citizens to worry about medical costs and expenses. Their only concern should be their well-being and the well-being of their families.
"The President recognizes that everyone in the country is concerned about COVID-19 (coronavirus disease 2019) and the threat this poses to the health and lives of our loved ones, especially vulnerable individuals like senior citizens,"
The government is now working on the distribution of testing kits.
"We are fast-tracking the deployment of these kits so these can be used at the soonest possible time. Per Dr. Destura of Manila Healthtek, the rapid diagnostic test kit for Covid-19 is set for field validation study, and that UP PGH and the National Institute for Health have agreed to support the study."
The Food and Drug Administration (FDA) is requiring experts to validate 500 tests for them to approve it.
"Once it passes the clinical tests, the FDA will grant full access by all hospitals, as guided by the DOH,"
PhilHealth is offering an "isolation package" and "referral package" to its members and those who are dependent that are experiencing symptoms of COVID-19.
Dr. Shirley Domingo, vice president of PhilHealth's Corporate Affairs Group said PUIs or those considered under the isolation package category will be given ₱14,000. Those under the referral package will be entitled to ₱4,000.
People who are suffering from moderate pneumonia are entitled to ₱15,000, while those who have severe cases will be entitled to ₱32,000.
The No Balance Billing (NBB) policy will allow poor and old people to pay no more in excess of their PhilHealth coverage when admitted at government facilities as it relates to COVID-19.