Mayors found ways on how to serve citizens and help the national government regarding COVID-19 case testing.
The coronavirus disease (COVID-19) has taken its toll on the country. With the sudden rise of cases, local government units are now thinking of ways on how to help their people from being infected.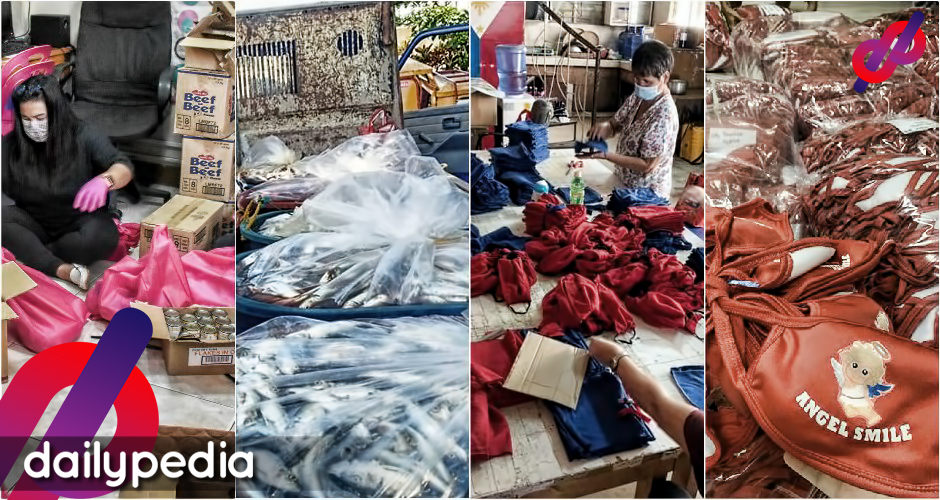 With this, more and more Filipinos are starting to realize the importance of their LGUs. Here are  notable actions that are worth the hype and praise:
Mandaluyong
Renters aren't citizens of Mandaluyong? Maybe these officials don't care about the others.
https://www.facebook.com/marjorie.hernando.5/videos/2860024514113537/
Cainta
Mayor Kieth Nieto makes sure that there are daily food distributions, financial aid, alcohol refill, face masks, ascorbic acid, multi-vitamins, food and drinks for frontliners, He headed the disinfection of villages in Cainta, Rizal.
Food packs, alcohol refill and face masks distributed to residents of Cainta on Monday. Mayor Kit Nieto says the municipality targets distribution to about 10,000 residents per day. 📷: Mayor Kit Nieto | via @angelmovido #LuzonLockdown #COVID19 pic.twitter.com/h90ULyUSFv

— ABS-CBN News Channel (@ANCALERTS) March 23, 2020
With Mayor Vico getting a lot of praise, I also just wanna share appreciation for our (perhaps lesser known) Mayor, Kit Nieto of Cainta. He disinfected entire villages so quickly, in addition to the great job he's done even prior to the quarantine. Thank you Mayor ☺️ pic.twitter.com/2ShCxjgsFe

— Ian Pangilinan (@ianpangilinan_) March 18, 2020
https://twitter.com/MarbenPortucela/status/1240202388931104769
#LabanPilipinas Matt Nieto gathers help for Cainta frontliners >> https://t.co/ELORQkj8dm pic.twitter.com/0sCxyyKpF2

— Tiebreaker Times (@tiebreakertimes) March 24, 2020
https://twitter.com/chinosingson/status/1240708743450390529
Iloilo City
Iloilo City was praised because of its proactiveness when it comes to receiving donations from businesses and organizations. The cash and goods the LGU received will be used for their projects regarding COVID-19. They also ordered test kits from South Korea and provided transportation for the health workers. Community kitchens with daycare facilities started to roam around the city to provide food for the citizens.
iloilo government must be rlly that tired waiting for an aid from the national government and made a solution on its own. iloilo is a new country near philippines btw pic.twitter.com/wydoHkpGrQ

— dumb parasite (@jankarlooooooo) March 21, 2020
rich families in Iloilo are buying & donating FREE testing kits to the city, the mayor provides free bus rides to frontliners, food is delivered @ the homes of those who cant work & have no income, constant press conferences to update everyone

ILOILO IS A WHOLE DIFFERENT COUNTRY

— Nicay (@nicaysob) March 22, 2020
iloilo city is really THAT bitch. i mean our mayor literally moved on his own to find a supplier of testing kits. he also implemented a curfew but allocated a budget for food to support ilonggos. jeeps were also banned but he provided buses so frontliners could still go to work.

— clarice (@iveronclarice) March 22, 2020
https://twitter.com/iamkaicalimoso/status/1241512736502067200
JUST IN: Iloilo City offers accommodations for medical staff amid reports of discrimination pic.twitter.com/GMeclxUy6A

— Daily Guardian (@dailyguardianph) March 22, 2020
Valenzuela City
The LGU of Valenzuela offered Central Isolation Centers for PUIs. They have also distributed food packs, vouchers, disinfectant solutions, and 200 sacks of rice.
Mayor Vico Sotto gets all the hype (and he deserved the kudos), but Mayor Rex Gatchalian has been quietly providing first-world facilities and governance in Valenzuela City for almost a decade now! https://t.co/9FvUblPxe5

— Aureli Sinsuat (@ACSinsuat) March 18, 2020
LOOK: Valenzuela city gov't installed two Central Isolation Centers in Balai Banyuhay and Valenzuela City Astrodome with disinfected modular tents in preparation for the COVID-19 outbreak in the city. (Mayor Rex Gatchalian and Valenzuela LGU Photos) pic.twitter.com/2ILT8w9EnZ

— Manila Bulletin News (@manilabulletin) March 18, 2020
Maraming salamat po sa ating mga boss at kaibigan, mula sa Valenzuela Business Club (VBC), uncle Gabby Ang sa pagdonate ng 200 sacks of rice. God bless po sa ating lahat!!! ❤️🙏👏#BayahinanSaVALENZUELA pic.twitter.com/9Y94tgbHFH

— Goyong (@Goyong_Serrano) March 24, 2020
Finally received our food pack voucher from @valenzuelacity. Sipag ng LGU headed by Mayor @rex_gatchalian. #Covid_19PH #covid19ph #COVID19 pic.twitter.com/JVEnRPy4wV

— 🌱 David D'Angelo 🌱 #KalikasanMuna (@daviddangeloph) March 24, 2020
Disiplina Village Ugong food pack door to door distribution.

At least now the thousands of residents sa 2 Disiplina Villages natin will not be part of the load of redeeming voucher holders tom. Ang dami din kasi nila. pic.twitter.com/nj1DweI5vX

— Rex (@rex_gatchalian) March 24, 2020
Makati City
Makati City Mayor Abby Binay spearheaded the release of Php2,000 worth of initial assistance for the city's tricycle and jeepney drivers. She also provided buses to and from the hospital for the frontliners and food packs for those who live in Makati.
Makati Mayor Abby Binay orders release of P2,000 worth of initial assistance for the city's 5,946 tricycle drivers to cover 1st 2 weeks of community quarantine. That's equivalent to around P11.892 million. Jeepney drivers will also get assistance package soon. @rapplerdotcom

— Mara Cepeda (@maracepeda) March 18, 2020
LOOK: Mayor Abby Binay deploys buses from Puregold to Ospital ng Makati and vice versa, LRT Buendia to Osmak and vice versa, and Waterfun C5 to Osmak and vice versa, to ferry OsMak employees to and from the hospital durng the Luzon lockdown. Makati City govt photos @rapplerdotcom pic.twitter.com/fl8578YF7T

— Mara Cepeda (@maracepeda) March 18, 2020
Thanks po mayor Abby binay…. pic.twitter.com/BGiL8ueSxL

— Jackelyn Gubatan (@GubatanJackelyn) March 24, 2020
Marikina City
Mayor Marcy Teodoro of Marikina City has been making headlines for his proactive solutions when it comes to COVID-19. He has set up sanitation tents, a molecular laboratory which can be used for mass testing, free transportation to those who needed to buy basic necessities, free disinfectants, and soap, and planned to use local testing kits to be used by residents for free.
Marikina City conducting their own mass testing for COVID-19 and setting up a molecular laboratory. MOLECULAR LABORATORY! We stan! https://t.co/9dLPEVogRc

— Jerry B. Grácio (@JerryGracio) March 19, 2020
https://twitter.com/superlayezyy/status/1239848904515960832
https://twitter.com/deisikseu/status/1238765636639002624
WHY IS THE NAT. GOVT SO SELFISH?

"Despite the readiness of Marikina City to operate its molecular laboratory center & start using locally developed testing kits, DOH has suspended the city government's plan to proceed with mass COVID-19 testing."https://t.co/AK1jTKtZkB

— fritzie rodriguez (@fritzdrodriguez) March 24, 2020
Heyyy Marikina City is using UP testing kits to support local

— michael adriano (@jim101100) March 19, 2020
Manila
Thank you po Tiger Sugar for donating 200 bottles of fresh milk for our employees at city district hospitals, Manila Health Dept and MDRRMO. 🙂

Thank you po. Thank you Lord! pic.twitter.com/idHbWAnB9W

— Isko Moreno Domagoso (@IskoMoreno) March 20, 2020
5 sacks mongo – Ch Tony Trinidad

300 fresh buko fr Gloria Gayadan

Donations to MDSW, to be distributed to various communities:

300 goldilocks cakes from SM Foundation

(2/2)

Thank you po! Thank you Lord! pic.twitter.com/rk6RKtc8CM

— Isko Moreno Domagoso (@IskoMoreno) March 20, 2020
Donations received by the City of Manila through MDSW for the homeless:

120 packed lunch – BrandBuzz c/o Gie Ramos and Joan Lavadia

60 packs hygiene kit – Ava Nicole Te

100 sleeping mats, 100 pillows, 100 packs hygiene kits – Sorok Uni Foundation

(1/2)@ManilaMDSW pic.twitter.com/UATboqwiew

— Isko Moreno Domagoso (@IskoMoreno) March 20, 2020
Thank you yorme @IskoMoreno pic.twitter.com/alyHOzoJDX

— blacksheep0310 (@blacksheep0310) March 25, 2020
Pasig City
Pasig City Mayor Vico Sotto has been the talk of the town ever since he started thinking of more creative ways to serve his people amid the community quarantine. He has launched the mobile palengke, free usage of city-owned bikes and buses for the health workers, disinfection of streets, sanitation tents, mobile kitchens, sanitation teams, and food packs for Pasig residents.
https://twitter.com/ricci_richy/status/1242310696773111808
Are you a frontliner in Pasig?

Pasig City is temporarily repurposing the Pasig Bike Share units to help essential frontline government personnel and health workers get to work. | via Pasig Transport pic.twitter.com/P6otGb46s3

— The Philippine Star (@PhilippineStar) March 18, 2020
Disinfecting day in Pasig. Good job @VicoSotto!!! pic.twitter.com/s2ImCOBsrT

— Isabella Velasco 💕 (@IsabellaVelasco) March 11, 2020
https://twitter.com/manilabulletin/status/1240128546070298625
Those heading to Pasig City Hall will be greeted by a sanitation team and a tent before you can enter the premises. Social distancing is practiced too for queues outside the building.

Similar measures are in place at the Pasig City General Hospital & Child's Hope pic.twitter.com/kAV5gLycOL

— Jeff Canoy (@jeffcanoy) March 18, 2020