Vice President Leni Robredo debunked some fake news going around that she's living in a lavish mansion paid for by the government.
She stated that the Quezon City Reception House does not serve as her residence but is her team's office. 
Vice President Leni Robredo recently called out a media outlet for spreading fake news. Screenshots from an article in the Daily Tribune were posted on her account.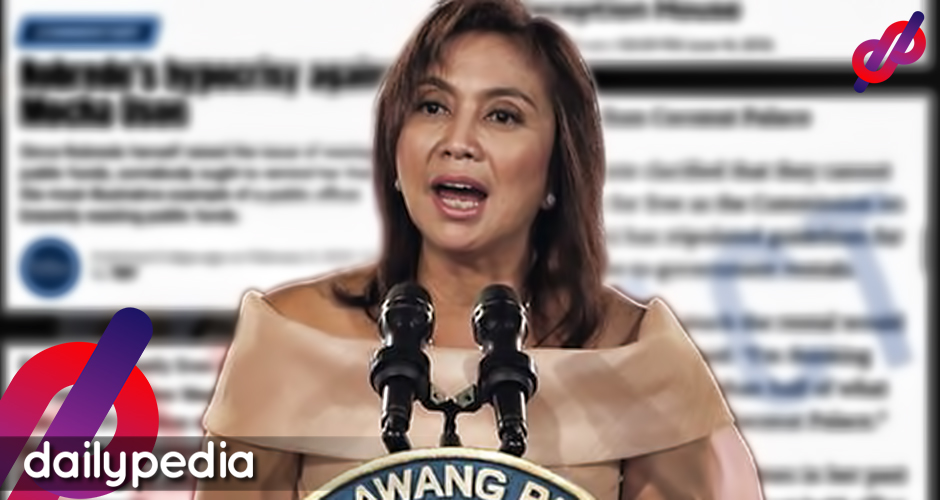 The Tribune article titled 'Robredo's Hypocrisy against Uson' was published on February 5. It claimed that the Vice President is currently residing in a mansion and has another mansion for her bodyguards. Both paid for by the government.
"Robredo currently lives in a luxury mansion in the expensive New Manila district in Quezon City. The P1-million monthly rent for it is paid for by the government. There is a separate mansion nearby, also paid by public funds, for her bodyguards," it read.
Robredo called it fake news and clarified that the Quezon City Reception House serves as their office and not as her residence. The rent does not reach Php1 million and there is no separate mansion for her security personnel.
"Let's report these fake news peddlers," she encouraged her followers
Fake news. QC Reception House serves as our office, NOT my residence. Our monthly rent is not P1M, but only half of what OVP used to pay for rent at Coconut Palace. And no separate mansion for our security personnel.

Let's report these fake news peddlers. pic.twitter.com/qqtPGByJr2

— Leni Robredo (@lenirobredo) February 6, 2020
Meanwhile, in the Inquirer.net article that Robredo deemed true, it read "But Belmonte clarified that they cannot just give it for free as the Commission on Audit (COA) has stipulated guidelines for government-to-government rentals. Asked about how much the rental would be, the vice mayor said: "''m thinking along the lines of less than half of what they are paying at the Coconut Palace'
"Robredo had said many times in her past interviews that she would not hold office in the lavish Coconut Palace in Manila. She described it as 'too ostentatious' for the vice president."
Netizens reacted.
Good to hear. P1M per month rent is staggering for an office that is just a cost and not a revenue center, and does not even have a fully-operating public service function.

COA should do an independent verification. The lawmakers who reviewed the GAA should have seen this. https://t.co/U06qi02eMb

— TishaCM❄️ (@TishaCM) February 6, 2020
While some said that the Vice President's explanation was "good to hear", others encouraged her to sue and report the writer of the said news.
https://twitter.com/PunchTheLies/status/1225314760461365252
I agree. First step is to report them so their accounts are permanently terminated by social media sites.@lenirobredo https://t.co/tuiEmv7G9o

— Boom Buencamino (@BoomBuencamino) February 6, 2020
VP Leni,

We are with you in reporting all these fake news against you but the accounts we are reporting are the very same, old, usual accounts posting & sharing all these obviously made up articles.

File a case! Sue them! Tama na sa reporting because it won't stop them! Please! https://t.co/Gfu1TDKSNz

— Ryan (@rryyyaaaannnn) February 6, 2020
While some stated that people are doing this as they're afraid of Robredo.
https://twitter.com/davesison/status/1225307412514533376
This is how they bring down people with integrity. With lies, whether or not the public believes it determines its effectiveness. Fortunately, not everyone is believing this crap anymore.

This admin is scared of Leni that they tend to make shit up. https://t.co/JxNPACsl3o

— BPongol ლ(╹◡╹ლ) (@pongzy_pongs) February 6, 2020
Mocha Uson encourages the spread of alleged "fake news".
As Vice President Leni Robredo tries to stop the said fake news, Mocha Uson encouraged her followers to spread the article.
Ganito ka plastic ang ating alleged FAKE VP. Read and share. https://t.co/T4Vt6PEDWF

— Mocha Uson Blog (@MochaUson) February 5, 2020
"Ganito ka plastic ang ating alleged FAKE VP. Read and share," she wrote.