The guy approached him to ask for assistance because he was in big trouble at the time
A man from Singapore named Derick Khoo Yew Seng shared the story of a friend who borrowed money from him way back in 2002.
At the time, they were both in the National Service (NS), a mandatory military service required for all 18-year-old male Singapore citizen and permanent residents.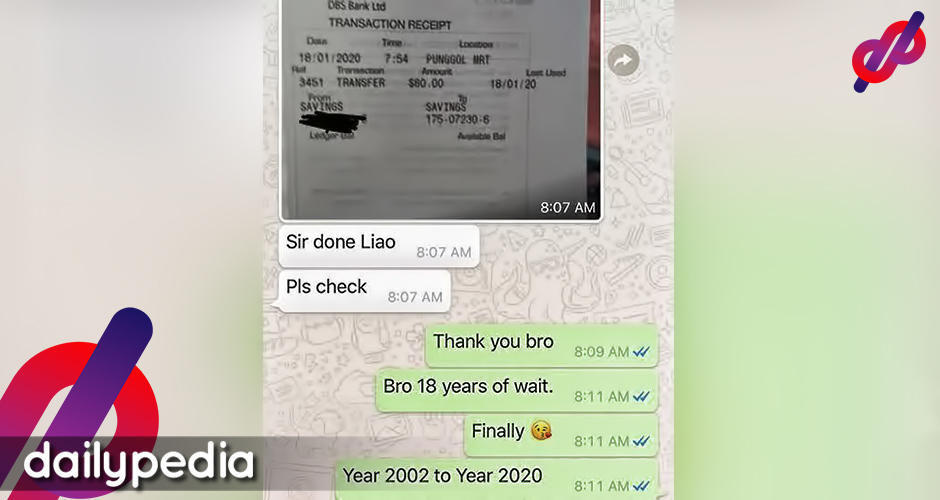 He was the platoon commander when the guy approached him to ask for assistance because he was in big trouble at the time. He took pity on the guy and lent him some money.
The guy promised him that he would pay him back as soon as he could but it took him 18 years to pay off his debt.
According to him, his friend was unable to pay him during their Military service then they lost touch after they graduated from the service. He could no longer contact's the guy's old number.
Years later, they met again by chance as they got to talk about life. They even talked about the $80 the friend borrowed.
"In these years, I met into him again outside and ask him hows life, we exchange contact and also we did mention about this loan matter in our messages. He said he did not forget and sure would return to me. I believe him!" Derick wrote.
"A few times of promises but always never fulfil again and again when deadlines are met. He changed mobile number again. We would never know why maybe he can't pay the bills and telco terminate his number? We have to always keep it positive."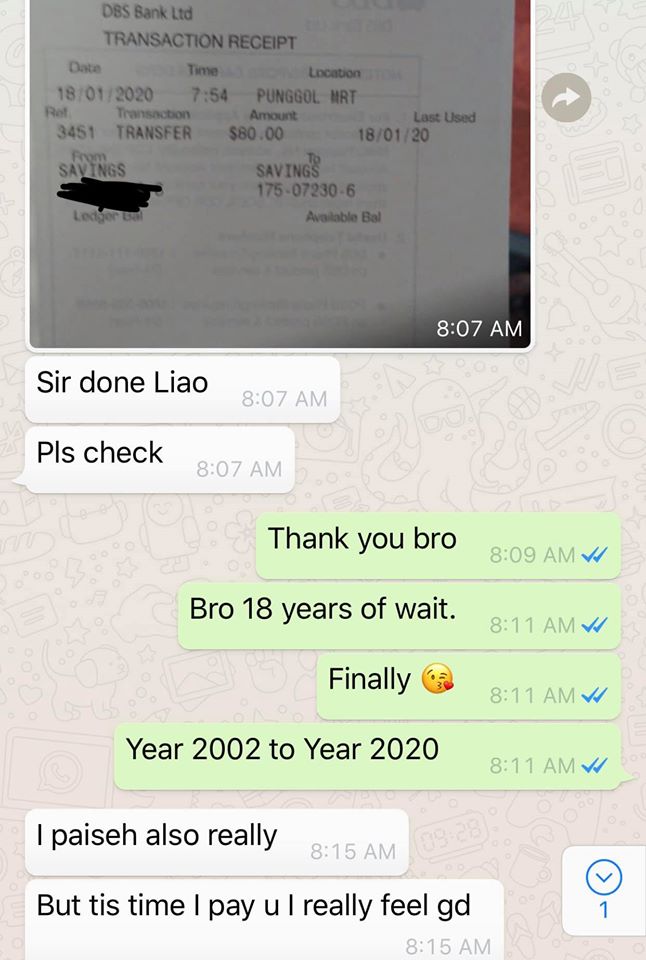 Image courtesy: Derick Khoo Yew Seng / Buzooks.com
After several years have passed, they both reconnected via Facebook. His friend promised again to pay his debt but he no longer expected it back after so many years of unfulfilled promises.
One night, he received a call from an unknown number and the caller asked for his bank account number. He recognized it was his friend who said he would finally pay off his debt.
"Last night I receive a call from a number not stored in my phone. 'Sir give me your bank account number leh.' I ask 'Who are you?' I thought must be some scam call because why in this era still call me Sir," Derick shared.
"Then he identified himself and told me this time he confirmed will return me. I believe it half-heartedly as I have long ago let this debts flow… This morning, he texted me with this receipt. Tears flowed down from my eyes…" he said
For him, it was not about the money but because his friend finally fulfilled a promise.
"It's not the amount! Honestly 1 HDL meal also not enough but it may be a big amount to someone. Why I am so joyful because he finally did it and step out of that 'always empty promises' him. I see that my man finally wanted a change of his life!"
Netizens were happy for the both of them as they hope that others will be encouraged to pay off their debts.