Being HIV Positive is not the end of the world
Carlo Tabije, a gay man living with HIV, is going viral on Facebook for encouraging those who have the disease to keep on living.
Carlo says that he and his gay fiancé Ben Padero are a discordant couple, which means one partner is suffering from HIV while the other is not.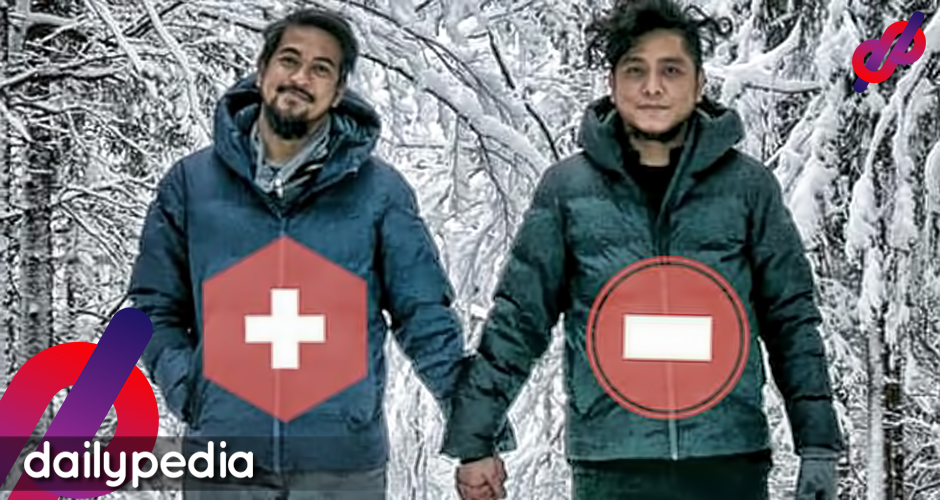 In 2005, Carlo found out that he had the virus. The news really hit him hard.
"I learned about my status when I tested positive for HIV in 2005 during a routine medical test. It was a dark year in my life and it took me days before I told my parents about it."
Carlo and Ben fell in love with each other, but Carlo wasn't entirely honest on his part as he did not tell Ben that he had HIV. Carlo knew that there was a good chance that Ben would leave him if he did.
"When I met Ben in 2007, it was basically fear of not being loved and accepted that led me to decide to hide it from him, no matter how wrong it was."
The couple then took an HIV test together in 2013, and even with all the sex they had throughout the years, Ben tested negative which took a lot of weight off from Carlo's shoulders.
"I feared the worst because I knew I would test positive. I cried tears of relief when Ben tested negative, despite the safe and unsafe sex we've had over the years. I told myself, I cannot move on in this relationship without being honest to this guy whom I love the most."
After being lied to, along with all the dishonesty, Ben almost broke up with Carlo, but to the latter's surprise, he stayed.
"I told him I knew about my status prior, completely accepting whatever he'll feel about it and most especially if he'll decide to stay or not. After the initial anger and feeling of betrayal he felt, almost to the point of breaking up, which is understandable, Ben decided to stay and stick it up with me."
Ben was lucky that Carlo had a low viral load, which is good since it will make HIV transfer improbable.
"As long as a person living with HIV keeps his viral load low (at 200 copies/ml of blood or less), he has zero risk of passing on the virus. Seems my viral load was low during the years we got together after 2007."
Carlo started taking medications in 2015 which means his viral load is nearly 'undetectable'.
"I started my ARV medication in 2015, and had since steadily lowered my viral load to 40 as of last testing in 2019. This means my viral load is undetectable."
Carlo has been putting the time in to avoid making his disease worse than it already is. He also looks at his situation as more fortunate compared to others who have it.
"My CD4 count is 218 (target is 300 up). I strive to keep myself healthy. I stopped smoking 11 years ago, try to eat healthier foods, and most importantly regular exercise and ample rest. I was one of those lucky ones I think, because the sad reality is, most Pozzie stories aren't like mine."
Ben is still negative to this day, and is the reason why Carlo is able to stay positive through all this. They have been together for 13 years and have been engaged 4 years ago.
"Ben remains negative after 13 years of us being together. We got engaged 4 years ago. We are both in good health, active, free of drama and overcoming this illness hand in hand."
Carlo wants to let people know that having this virus is not the end of the world. He believes that love and the right amount of support can be very helpful.
"Here we are coming out, letting you all know that HIV is NOT a death sentence, that the meds are working efficiently, and that knowing your status is important. This illness can be overcome by love, compassion, support, and understanding."
Carlo wants to inspire the LGBTQ community and those who are HIV positive.
"The real enemy is stigma and fear. If coming out will enable us to help more people through advocacies on HIV and the LGBTQ++ community and save lives, then we're coming out."
The couple worked on a play entitled Under My Skin, which was directed by Melvin Lee and written by Rody Vera. The couple also handled the costumes and the production design of the play.
The play's motive is to inspire Filipinos with HIV to keep on going and to not quit. It is also a sign of gratefulness towards the people who were there from the start of the journey.
"It is about the lives of HIV Positive Filipinos, fighting, surviving, and living with HIV. This is a work of love from me and Ben, a token of gratitude to all our families, friends, nurses and doctors who helped us along the way. Salamat sa pagunawa, pagmamahal at higit sa lahat sa pagsagip sa aking buhay"
The play will be played from February 7 to March 22 at the PETA Theater.