A group of Filipino fans of So Ji Sub recently celebrated the birthday of the South Korean actor with a simple feast.
Based on the photos shared by Annyeong Oppa on Twitter, the fans got together to celebrate the actor's 42nd birthday with cake, pasta, fried chicken, and chicharon.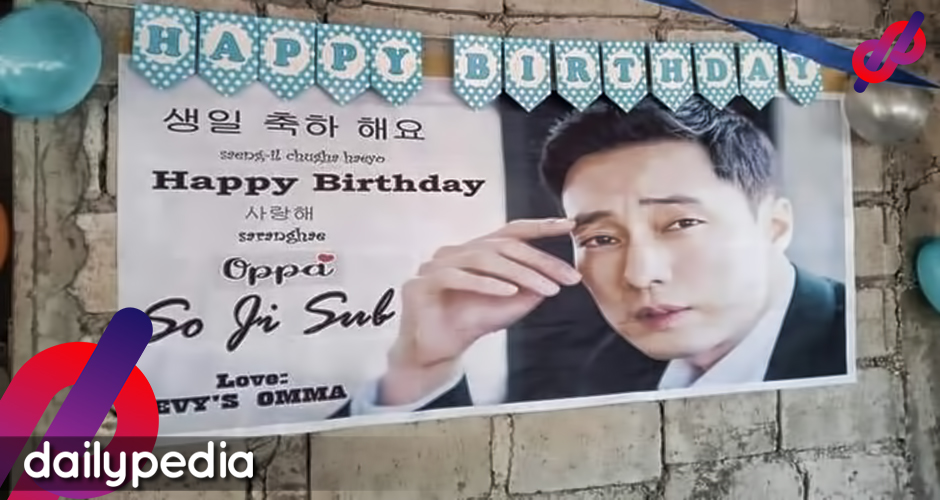 They celebrated the My Secret Terrius star's born day with a very "Filipino style handaan," complemented with a tarpaulin.
"You don't need to be rich para ipaghanda si oppa! Grabe bes, happy birthday So Ji Sub!!!!!" Annyeong Oppa said.
The actor, known for his good looks, celebrates his birthday every 4th of November.
His Pinoy fans dubbed him as the "coolest oppa" ever.
Filipino fans are drawn to So Ji Sub not only for his good appearance but also for being a great actor with a genuine persona.
During his visit to Manila for his Hello Asia Tour last March, the Korean actor told his Pinoy fans that he does not follow fashion trends.
Instead, he said he wears comfy and loose clothing.
You don't need to be rich para ipaghanda si oppa! grabe bes, happy birthday So Ji Sub!!!!!

Credits: Travel With Karla
Photo from: Roa Panguito#HappySoJiSubDay pic.twitter.com/0jqiujOTH8

— Annyeong Oppa (@TheAnnyeongOppa) November 4, 2019
During his fan meeting, So Ji Sub also gave advice to some fans who shared their problems.
This only showed that not only did the multi-talented actor wowed the Pinoy fans with his stunning visual, but he also amazed them with his wisdom, sensibility, and counseling skills.
So Ji Sub made his entertainment debut as a jeans model.
He became known for his leading roles in the TV series I'm Sorry, I Love You (2004); Cain and Abel (2009); Phantom (2012); Master's Sun (2013); Oh My Venus (2015–2016); My Secret Terrius (2018); as well as the film Rough Cut (2008).
He has also released several hip-hop EPs.
Nowadays, it is just common to see Filipinos flashing the Korean finger heart as Pinoys have caught the Korean pop culture fever.
K-pop and K-dramas have gained huge audiences not only in the Philippines, but worldwide.
In a Philippine News Agency report, Korean Cultural Center in the Philippines director Lee Jincheol earlier said what is distinct about Korean culture is its candidness that can be seen in K-dramas.
He said K-dramas always deal with the daily lives of ordinary people, thus, the viewers can relate.
He added that K-pop songs, on the other hand, reflect "the agonies, the scar, the concerns of other people," which could be the reason why many people could relate to this genre of music.