Habal driver Mike Vanuya gave out free rides to students stuck because of train operations being suspended
He revealed that he only wants prayers as payment so his sick son can recover
Modrea Eulanne Reyes went on Twitter and shared her appreciation for habal driver Mike Vanuya who drove students for free due to suspended train operations from Marikina to Manila.
Last October 7, commuters—most of them students—were stuck in Manila, looking for  transportation so they could get to Cubao.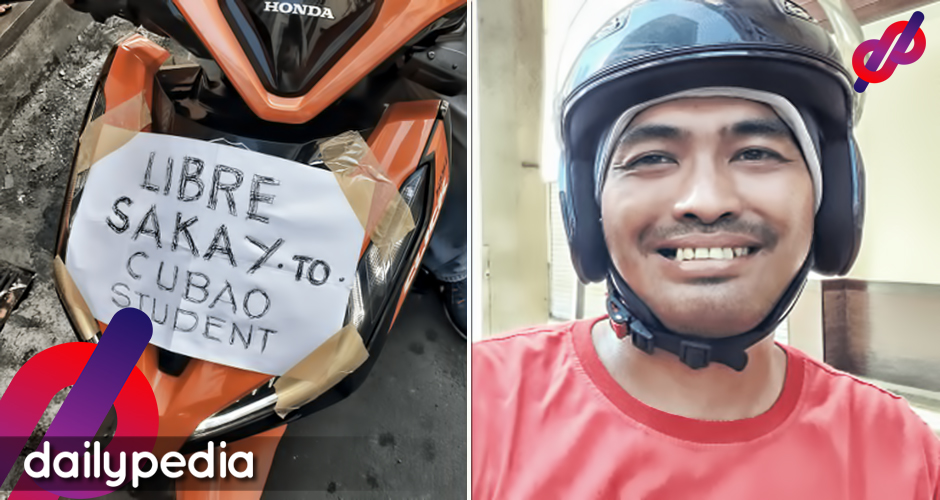 Habal driver Mike Vanuya then came to the rescue of commuting students, going around with his Honda Click with a sign attached to the front saying, "Libre Sakay To Cubao Student".
Reyes was one of those who got a free ride, and took the opportunity to take a selfie with the good Samaritan.
Reyes had already been standing and waiting for over an hour when Vanuya arrived and offered to help. Vanuya also helped several other people to get to Cubao, and charged them nothing.
"Amidst the hellish commute in Manila and the high demand of public utility vehicles, he willingly helps students by driving them to Cubao station for free. I was one of the lucky ones who saw him while waiting an hour for a PUV."
Vanuya did all of that to make sure students get to their class on time. But he also revealed a sad reason behind all that kindness. Vanuya's five-year-old son has been hospitalized for the past three days and he hoped that the people he offered free rides to will pray for the recovery of his little boy.
"He said he doesn't want students to be late and also this would be his good deed so the Lord will cure his son, Marcus, who has been in the hospital for three days.
"I insisted on paying him or even opening a fund raising account for their hospital bills, but he rejected me multiple times."
Reyes thanked Vanuya and urged her friends and family to pray for his son.