Leeches love aquatic weeds such as the water spinach or Kangkong
Eating leeches can lead to illness and infections
Water spinach, also known as kangkong, is one of most well-known vegetables in the Philippines. Possessing minerals such as magnesium, iron, and potassium, it can easily be identified as a superfood.
Plus, kangkong is very accessible as it can be found in rice fields, and is one of the cheapest vegetables in the market.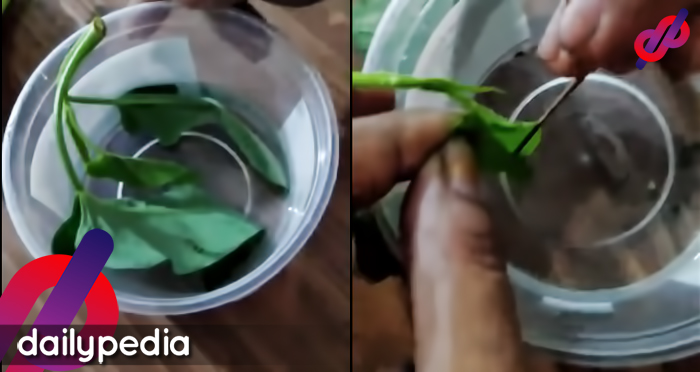 But not a lot of people know that this plant usually has leeches on them.
Leeches usually thrive in watery areas with various plants to feed on, specifically aquatic weeds, which kangkong is categorized as such.
A concerned citizen went on Facebook to show that leeches can be found in kangkong.
She shows kangkong leaves that appear to have no problems.
"Makikita po natin normal lang yung kangkong."
The woman then slowly starts to open a closed leaf with a small stick.
"Pero pag pinuklat po natin yung dahon na nakatupi, makikita po natin kung ano yung nasa loob"
"Totoo pala yang linta, linta sa kangkong"
Urging people to be more careful when cooking kangkong, she opened the leaf and let the leech fall into a plastic container filled with water.
"Kaya maging mabusisi po kayo pag nag luluto ng kangkong."
"Ilalaglag ko sa tubing yung nakita ko sa dahon."
The leech could then be seen swimming in the water.
"Isa po siyang linta, malaki po."
She says that leeches usually hide inside the leaves, not the stems.
"Yung mga nakatupi tupi sa dulo, dun minsan tumatago mga linta."
Usually, eating leeches don't really bring a lot of problems, except if the leech contains pathogens, which can lead to illness and infection.
Leeches will be digested just like any other protein, especially if they are eaten when cooked. Eating live leeches can cause more problems though, as they can get stuck in your esophagus. But drinking at least two shots of liquor will do the work.
Kangkong should always be washed and cleaned thoroughly before getting cooked.
People can get Fasciolopsiasis, a condition caused by large parasites that will eventually lead to indigestion, stomach pain, and anaphylactic shock.