A netizen posted an annoying conversation with a guy who wouldn't return his Nintendo Switch games.
Twitter users took this viral conversation as a chance to create memes and have fun on the social media platform. 
We've all experienced the frustration of having something borrowed from us but never returned. The situation wherein no matter how many times you remind the person to give it back, he or she just won't return what's rightfully yours.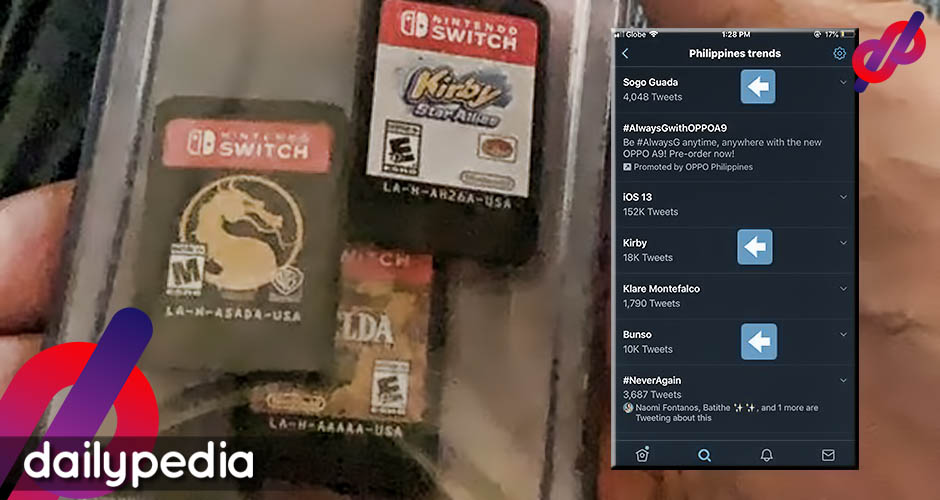 One netizen had enough of his kind reminders to a friend after that person borrowed his Nintendo Switch games such as Kirby, Mortal Kombat, and The Legend of Zelda. They may be just games to some, but we all know that these are not cheap at all.
The conversation started when the "kuya" said that he will just leave the games at Fitness First MOA so that they can both save on the commute.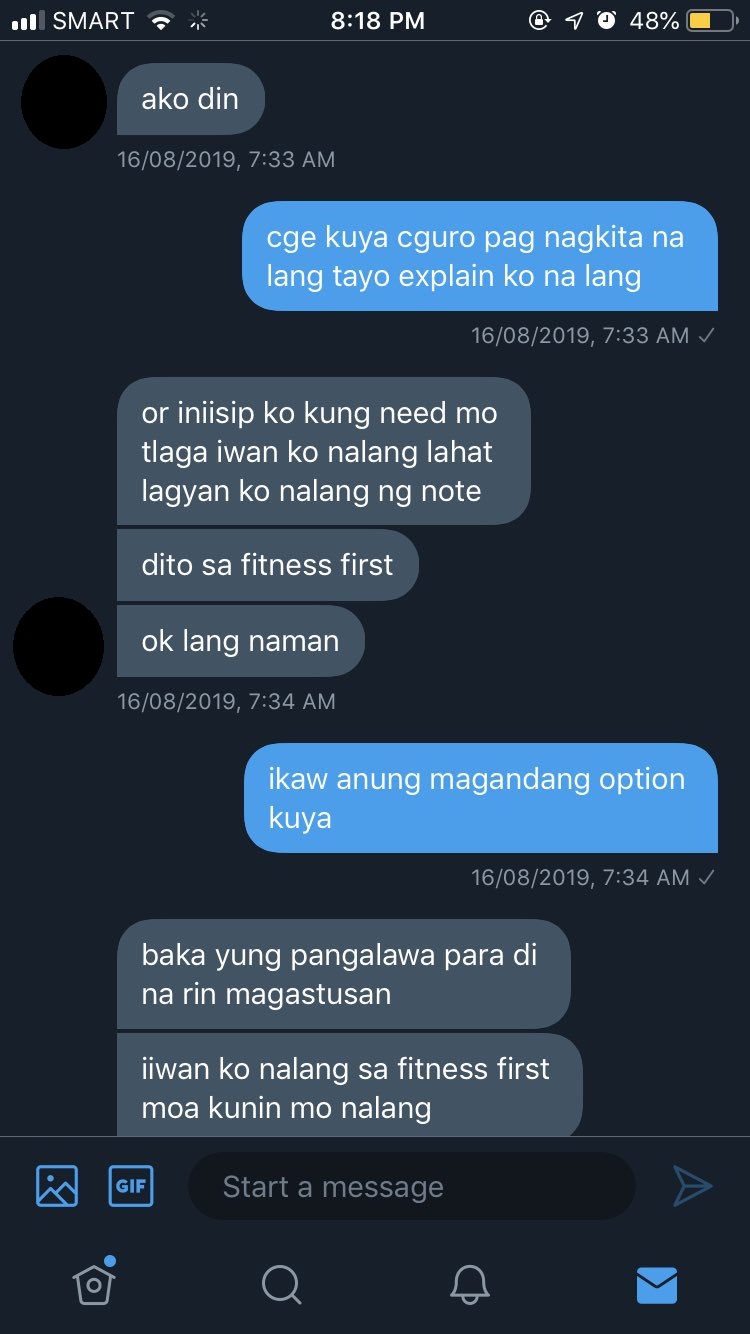 He stated that he would drop off the items within the day and message the other guy if it's already there. He also reassured that the guy that his things will be safe.
But then the "kuya" changed his mind and asked the guy to meet him at the Guadalupe branch of SOGO Hotel instead.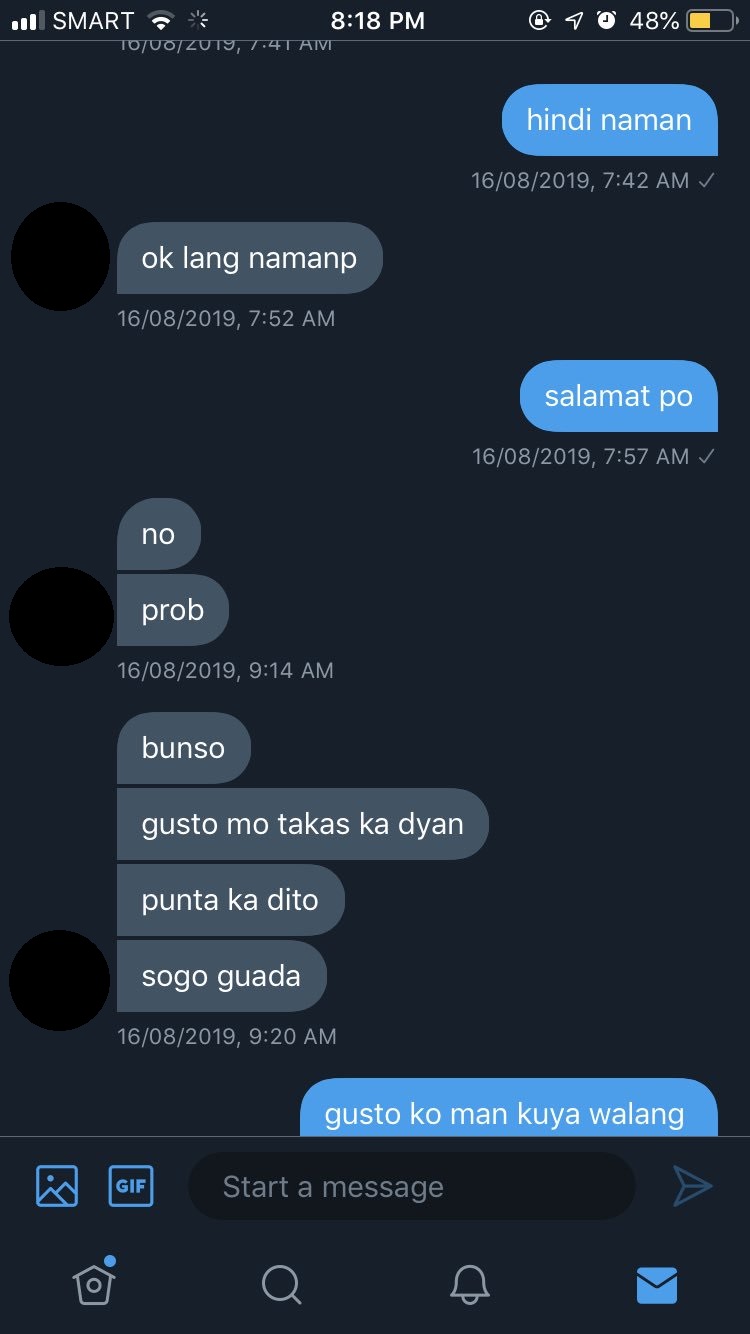 The "bunso" refused, saying that he can't skip his assessment as his training director is present.
After a few hours, he arrived at Fitness First Mall of Asia but failed to find his games because the staff said that the "kuya" didn't leave anything.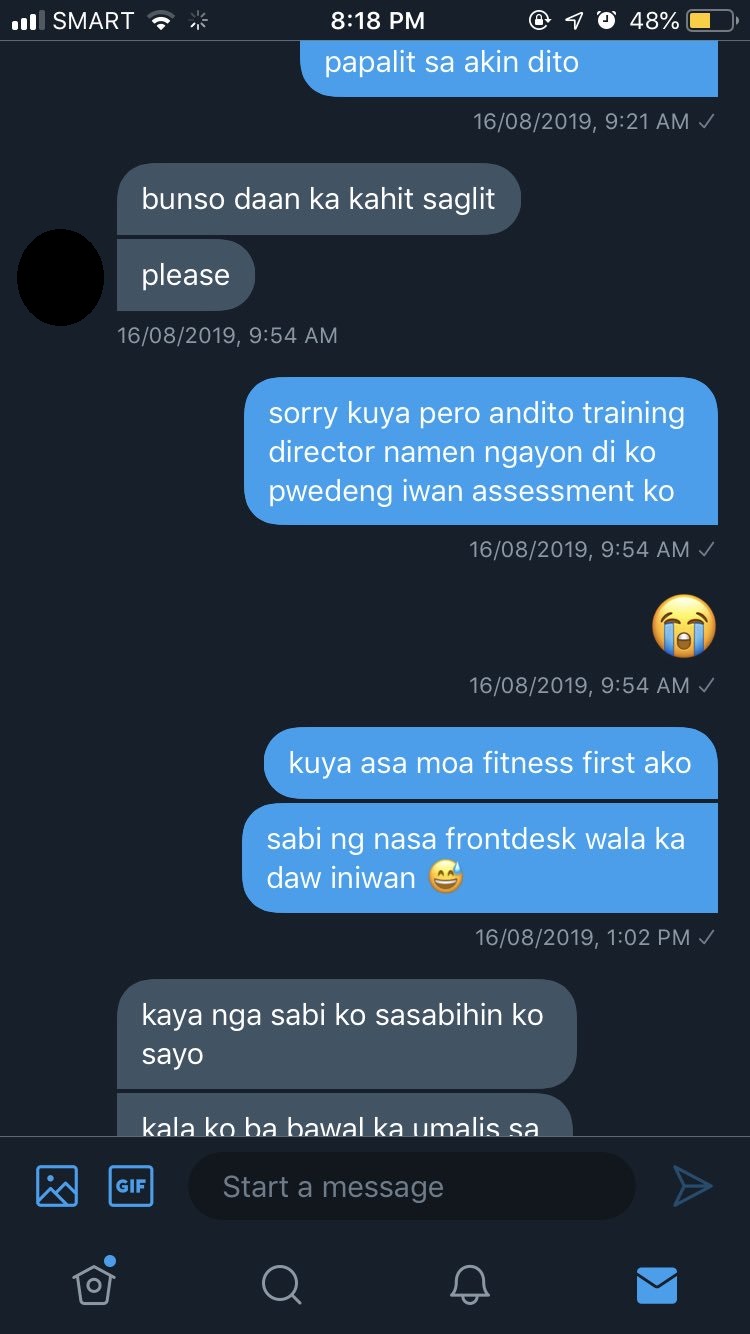 This started the tension between the two as the "kuya" got annoyed. He got even more pissed as the "bunso" started calling him "sir".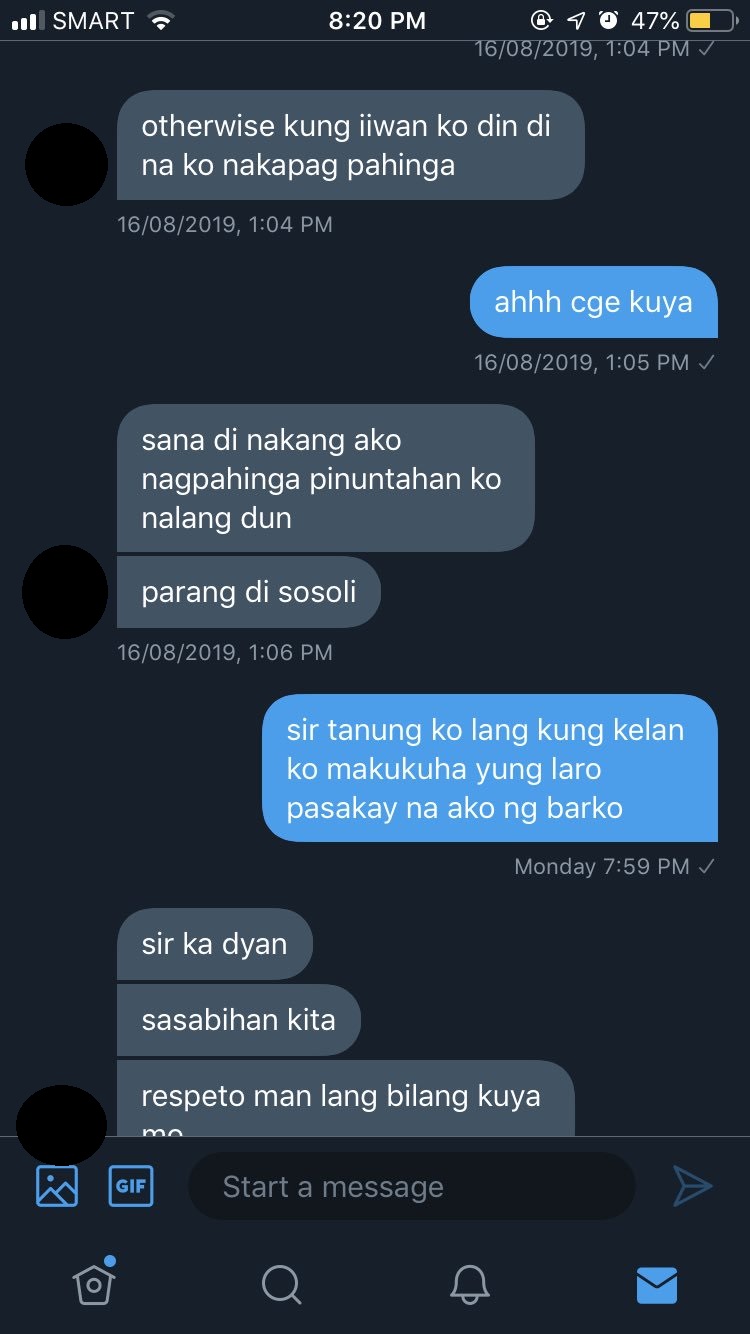 The day after, "bunso" couldn't take it anymore and expressed his annoyance with the other man's excuses. He said that the older guy should respect him and just return what he borrowed in the first place.
The "kuya" answered back saying that the younger man should also respect his time and proceeded to let out a cussword.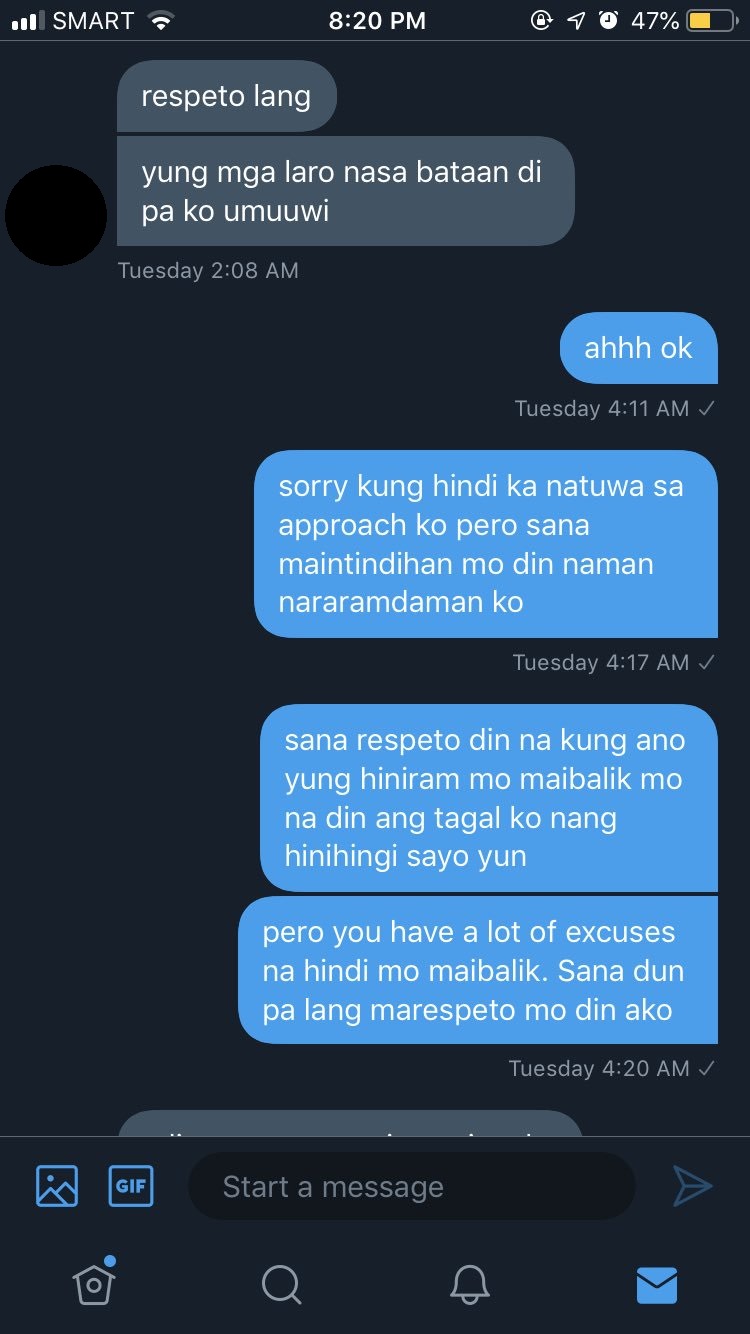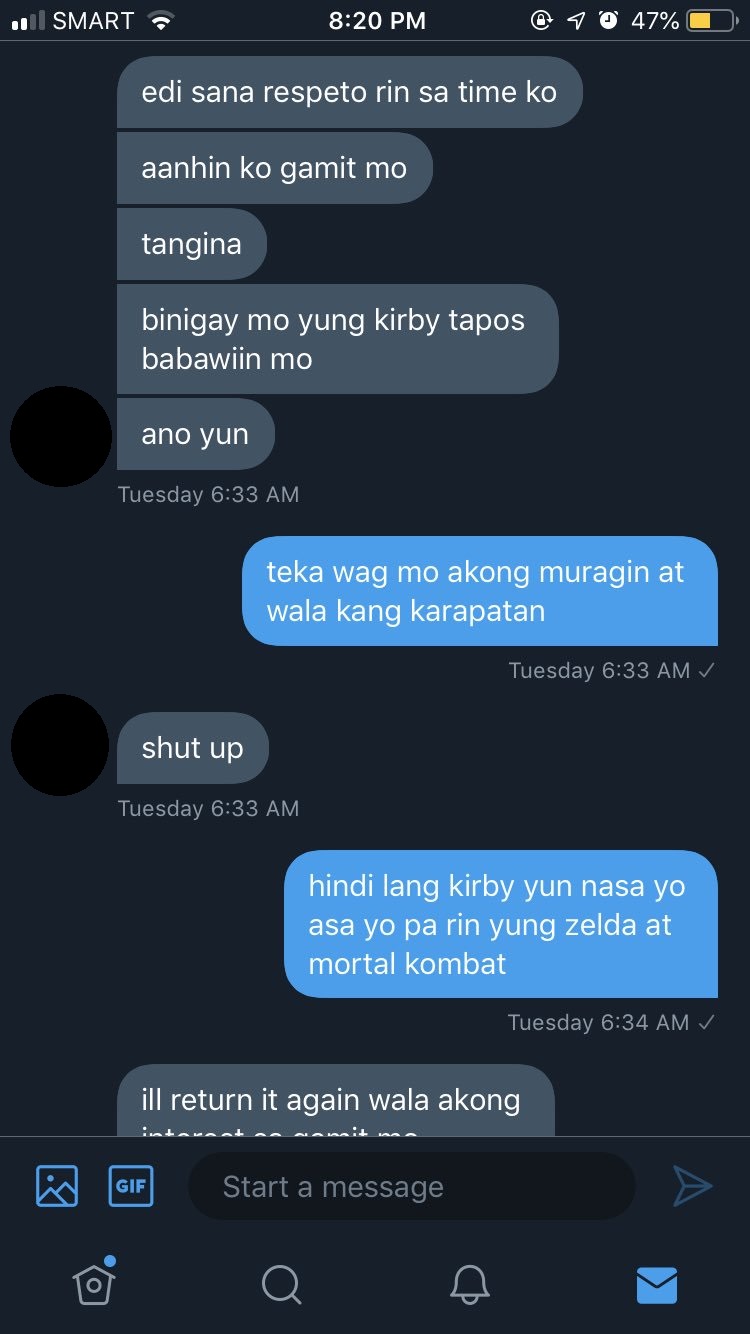 "Ikaw na nga tong nanghiram, ikaw pa tong galit," the "bunso" stated angrily as the "kuya" said that he has lost the will to return it after the former gave it to him only to take it back.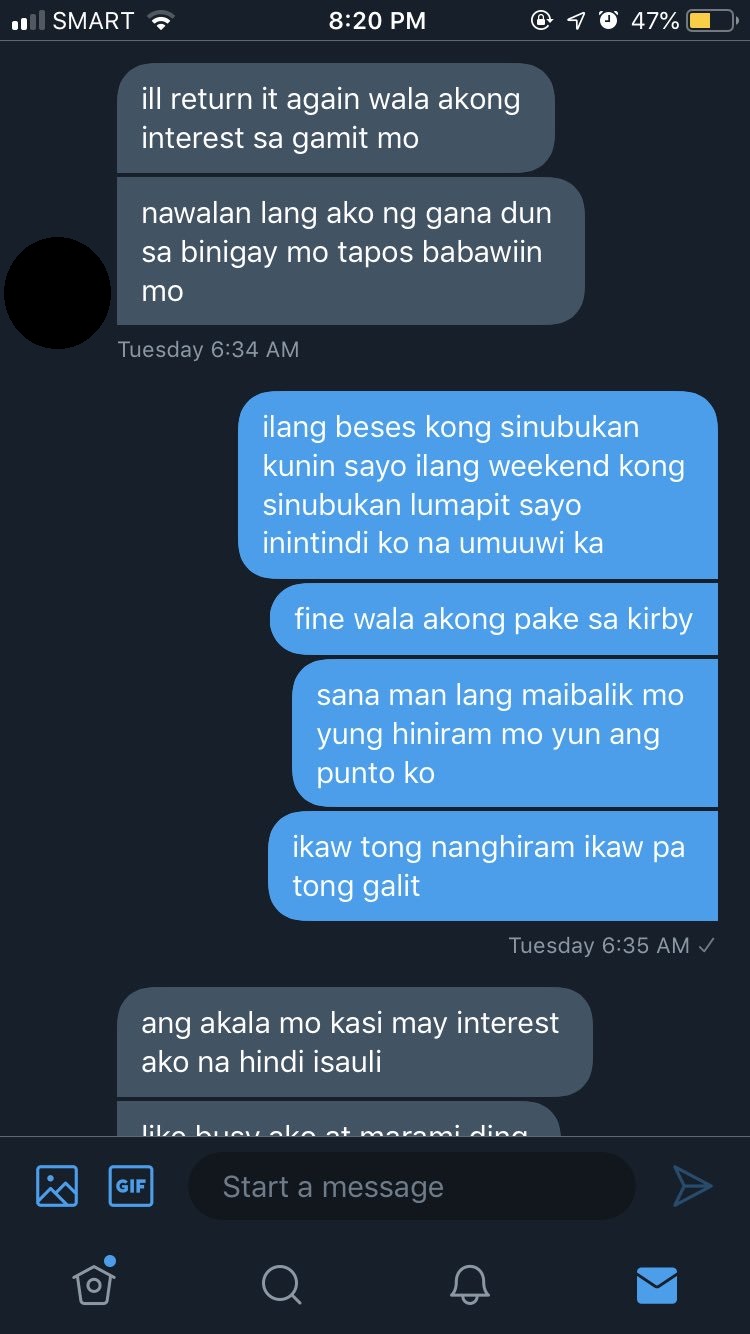 The argument then went back to the conflict between the "sir" and "kuya" namecalling.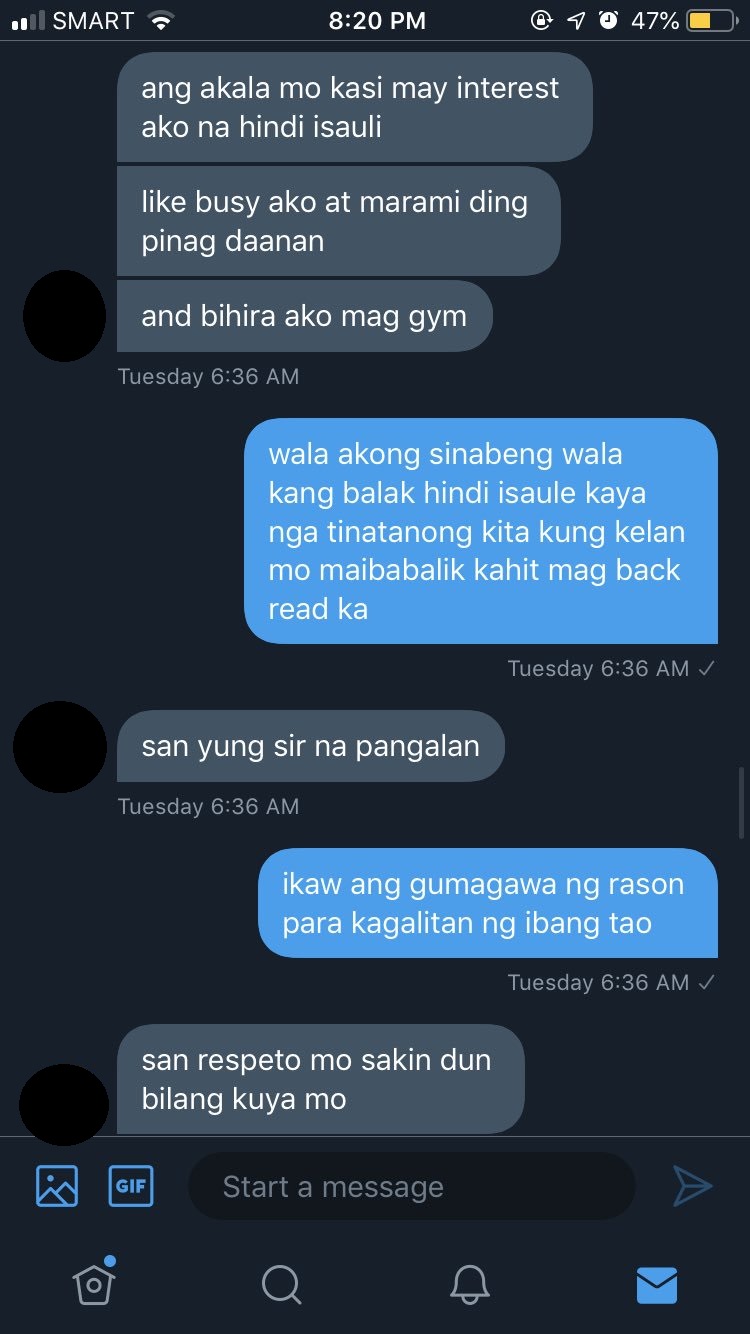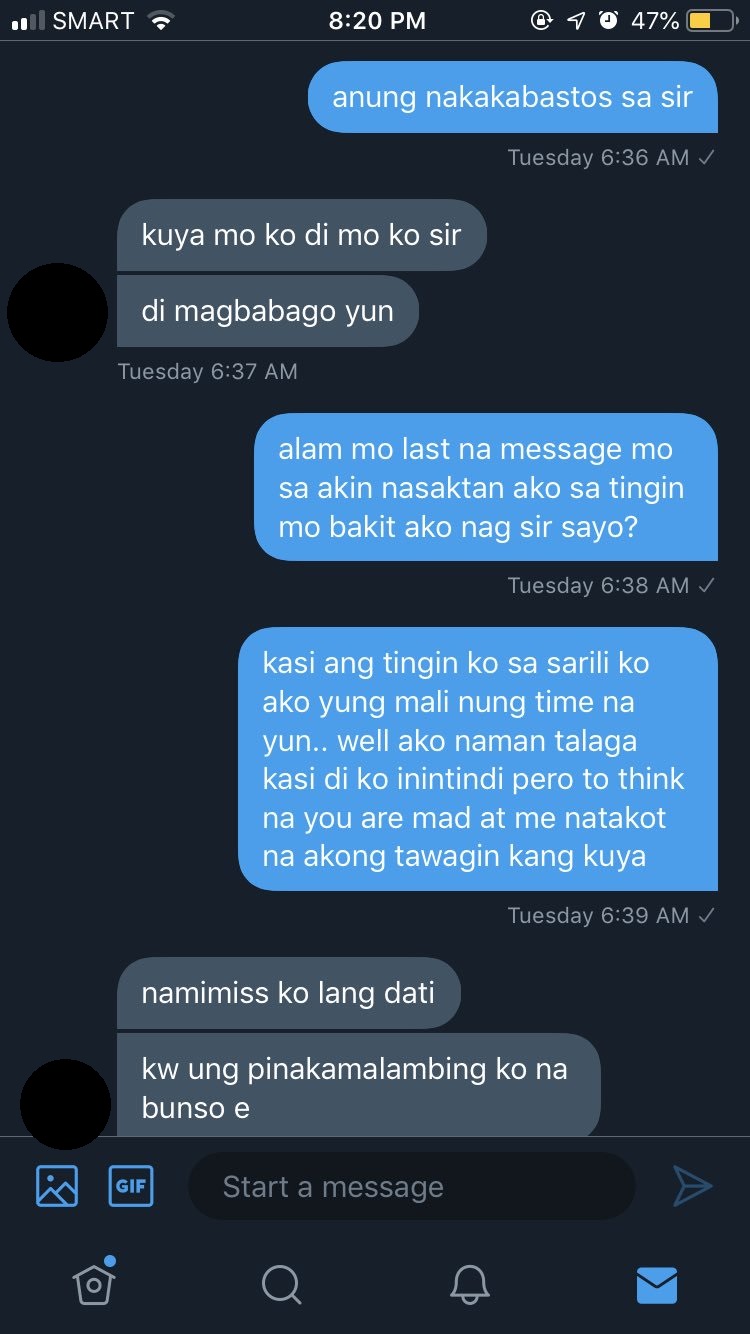 The two continued to argue until the "kuya" had enough and said that he'll just drop the games by the door of the Fitness First branch.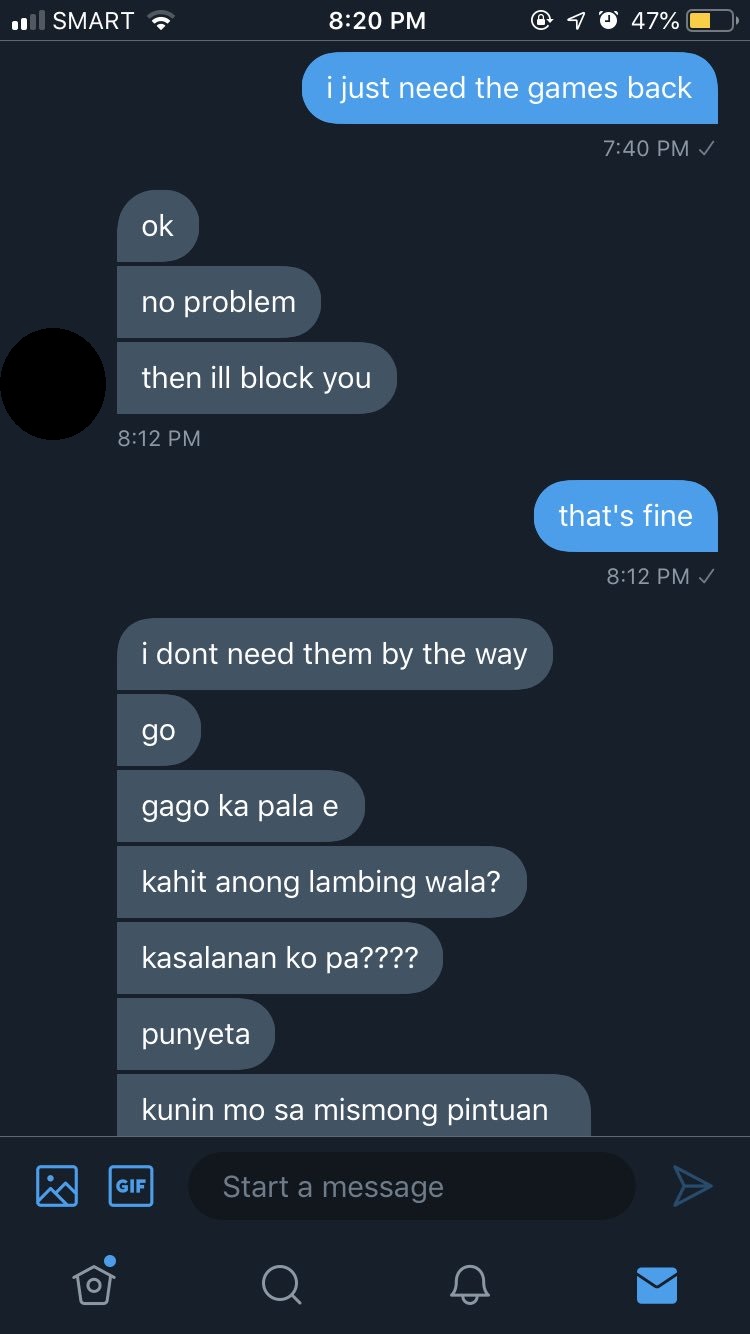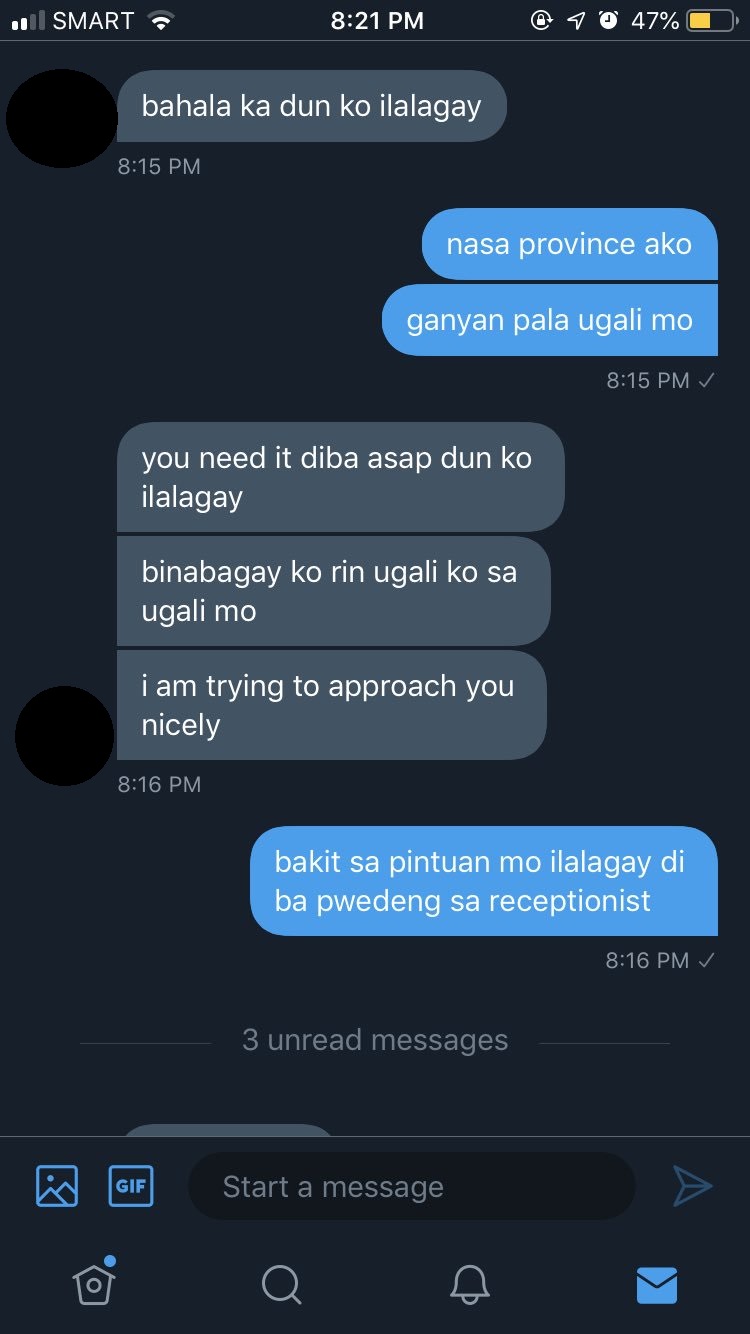 This lead to the "kuya" saying that he won't even give the guard instructions when he leaves the games at the door of Fitness First. "Yes, I can be this bad and mean," he said.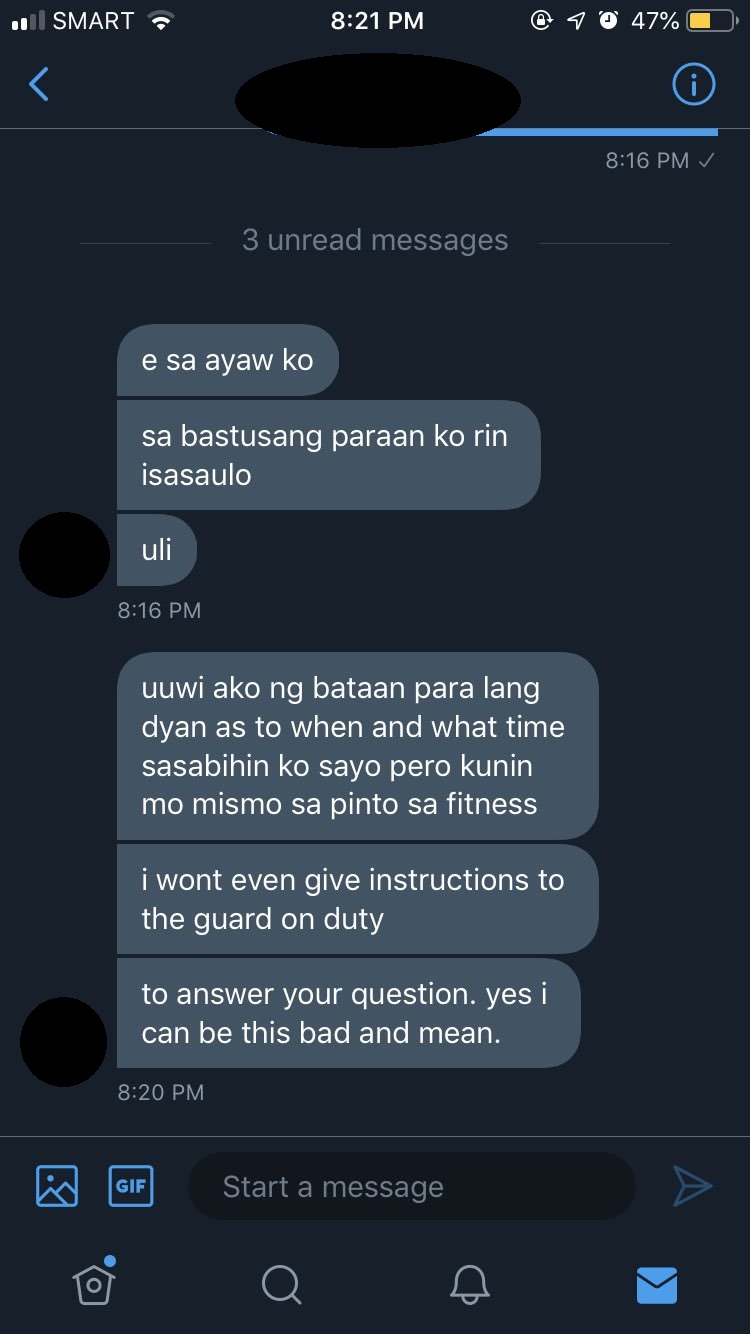 This viral conversation became the source of memes from other Twitter users, with most playing on the two men's terms of "endearment" towards each other, "kuya" and "bunso", as well as the randomly mentioned SOGO Guadalupe.
In fact, the establishment even made it to the local trending topics.
take note, bunso. pic.twitter.com/HwGaMRz6wN

— dale 🤷🏻‍♂️ (@allanplusdale) September 19, 2019
On my way to Sogo Guada. LF: bunso. Eme!!! pic.twitter.com/h5pnFt3GYO

— A. (@jnlfrdo) September 20, 2019
https://twitter.com/iskolarium/status/1174919106400681984
#DontCallMeSir pic.twitter.com/xq95tp1Jeu

— junc/o (@juncoc0) September 19, 2019
Kaw yung namimiss kong malambing na pic.twitter.com/BQ5SJ8JPWX

— Aeron (@Myrrage) September 19, 2019
From the land of "Bunso takas ka punta ka dito sa Sogo" Guadalupe! pic.twitter.com/h97abagOOI

— Stephen (@imyouradvisor01) September 20, 2019
Me waking up to Sogo Guadalupe trending on Twitter. pic.twitter.com/QANC8DhxK2

— Cris P.Bacon (@TheMeanFatGuy) September 19, 2019
As SOGO Guadalupe trended, others began pointing out the amusing fact that this topic has served as free publicity for the brand itself.
That's free publicity for Sogo Guadalupe, they are trending. 😆

— Nickoy (@nickoybeto) September 20, 2019
One netizen even offered a free tour.
If you want me to tour you guys, nandito ang number one landmark namin, ang Sogo Guadalupe. #Bunso

— Kim Bennet (@KBManalo) September 20, 2019
A Twitter user even dreamed about the place.
Tambayan ng mga Kuya. pic.twitter.com/fL2YXU2mAV

— Karlo Santos (@karlomsantos) September 19, 2019
https://twitter.com/oohmiley143/status/1174813936245362695?fbclid=IwAR1yWGz6V-F-GLTzrt_94GrySuMZn4nkajPjpEwlkNuk_XAQ8KH1qL7lLQ0
While another took it as a chance to invite people to take part in a threesome.
Morning karat mamaya sa SOGO Guadalupe. Baka may gustong maki threesome samin ng fubu ko. Sarap neto. Hot mama. ❤️ #alterph #altermakati

— SteezyFvckBoi (@DadBodTop1) September 15, 2019
Seriously, is bunso-kuya a form of endearment? Kadiri 'di ba?

Bilang bunso sa pamilya at sa barkada, sobrang cringe neto. Ugh.

— Jericho Rayel Timbol (@jerichorayel) September 19, 2019