Having a good relationship with your financial adviser is important
Always give out necessary information and ask about things that you do not know about your deal
An anonymous netizen shared his story on how he thinks Variable Universal Life Insurance is just a scam that is made legal since it happens inside a bank.
Screenshots show the user losing money over the course of several years. Apparently he was investing money on his VUL but the value was just decreasing which lead him to believe that the entire scheme was a scam.
Floi Wycoco, President and Founder of The Global Filipino Investors, went on Facebook and shared his two cents on the matter.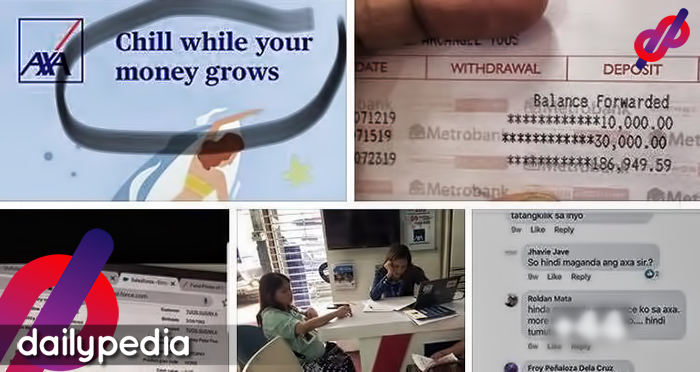 Floi theorized that maybe the man wasn't informed properly during the promotion of a VUL to him by one of the bank's financial advisors.
"I assume here that he was approached by one of the assigned financial advisors in a bank where the mentioned life insurance is accredited. Nothing wrong with that, it's just that banks are known to direct yung mga nag iinquire about investments sa bankassurance (life insurance) company na accredited partner nito kahit na investment lang naman ang inquiry nung client."
Floi says that there is nothing wrong with this since most of the people who have VUL know how to deal with it. But there are those who just jump right in and end up being surprised that their investments amount to nothing after several years of funding.
"Those who have an idea on how VUL works know how to respond pag naoffer ng VUL but for those who are not are usually the people na nagkaka issue pag nalalaman na halos wala palang investment value ang VUL plan nila after years of funding."
One big issue is that the client and the financial adviser do not have an understanding of what is really going on. Floi says that asking questions is important when it comes to VUL.
"My suggestion before signing to any VUL proposal given to you is to please ask at least 3 different proposals from 3 different companies/ financial advisors in order for you to compare properly which is the best fit in your VUL needs."
"Wag kang ma-overwhelm sa projected return ng VUL na pinapakuha sayo dahil gaya nga ng nasabi "projected return" po sya so magbabago pa talaga ang value nyan lalo na pag hindi ok ang pinaglagyan ng VUL investment mo.", Floi added.
The anonymous man claimed that he lost money after 10 years of investing in his VUL. Again, Floi expressed the important of knowing every detail. He cannot express enough the importance of asking questions, as well as providing necessary information.
"Pag minsan naman hindi lang din alam ni client what to ask so the FA must make sure na naiintindihan ni client ang kinukuha nya. In this case, they might just focused on the computation of the projected fund so the client assumed na yun na ang end value ng pera nya after 10 years."
Most people do not understand that before they get to the investing stage of their VUL, they still need to pay off insurance coverages and fees.
VUL usually have a 3-year window that requires clients to pay off their insurance coverages.
"Expect na magsimulang magka value ang VUL plan mo on the 3rd year onwards."
Since there are a variety of VULs, clients can ask for one that is more investing oriented so they can enjoy their value without getting confused after a few years of funding.
"Ask your FA or tell him/her na gusto mo na investment focused ka at add on lang ang insurance mo para hindi ka madisappoint later on."
VULs include those that are equities which have fluctuating values since they are invested into stocks, there are also those that have a mixture of stocks and bonds. Based on his analysis, Floi says that the anonymous user probably invested in a stock oriented VUL.
"May bonds lang for conservative investor meaning you get to earn a little less than 3-5% max per annum sa interest, meron pure equity na volatile kasi nga invested to purely sa stock market, at meron balanced fund so mixed of stocks and bonds. "
Given all the fees that the user paid off, it is expected that he will see a loss in value after a decade of investing.
Floi, once more expressed the importance of having good communication with a financial adviser.
"In short, importante na may communication ka with your FA kaya ako I preferred getting from an FA that I know personally at hindi lang comm ang habol sa akin."
Lastly, Floi says that financial advisers can also be blamed if they have not received enough information about their client.
Hiring financial advisers that you have a relationship with is vital.
"Pagbabayad ng VUL ay long term so dapat yung FA na may good history in serving his/her clients well ang kinukuha mo."
Clients, if hesitant when getting a VUL, can opt for an alternative like BTID which is a cheaper and is more focused on funds invested than paying off fees.
"Pwede kang mag BTID approach or buy term and investment the difference since it is cheaper than getting a VUL and you get to have your fund more invested than paying for its insurance coverage."
He concluded by saying that both the anonymous user and the company are at fault for what happened between the two parties.
"Ang tingin ko both should be responsible in explaining well kung ano ang product na kinukuha ni client at si client na dapat nanghihingi ng update from the insurance company kung ano na ba ang value ng hinuhulugan nyang insurance plan."