A netizen posted a photo discriminating HIV and LGBT saying " Sa mga mahilig sa 150, say hello to HIV"
He strongly opposed and not tolerating HIV and LGBT discrimination
Bernardo said to spread awareness on HIV it is good to start with the young ones whose mind are still pliable
Human immunodeficiency virus (HIV) is a virus that attacks the cells that help the body fight infections and is transmitted through bodily fluids.
HIV patients are usually the targets of discrimination, with many still remaining ignorant of the disease.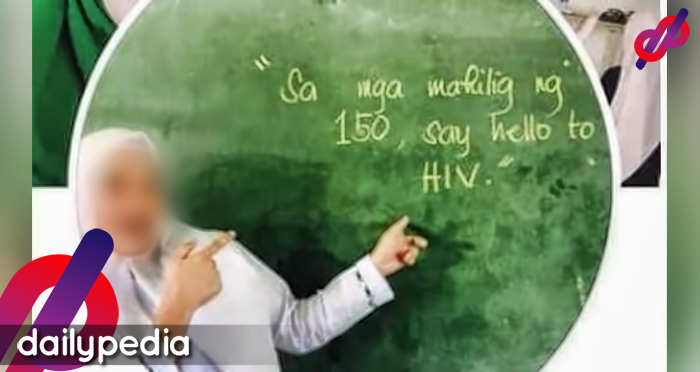 ---
Tech Jungle: VIVO V17 PRO Review
---
A Facebook user named Asmilah Abdusamad posted a profile picture with a message saying " Sa mga mahilig sa 150, say hello to HIV." She even added a caption explaining the message on her photo and claiming that she is not in favor of those guys who have a relationship with gays.
"If you don't want to be transmitted in this virus, don't accept 150. I'm one of those girls na nandidiri sa lalaking pumapatol sa bakla. P. S: kung di ka pa rin natuto say Hello to HIV na lang"
A netizen named Bernardo Benedicto IV took a screenshot of her post and reposted it on his Facebook account. He strongly opposed the non-tolerance of HIV patients and LGBT discrimination. It was painful for him since he has lost friends to the disease while are struggling with it.
Bernardo also emphasizes that discriminating against a person with HIV and spreading misinformation can be punishable by law under Republic Act No. 11166, An Act Strengthening the Philippine Comprehensive Policy On Human Immunodeficiency Virus (HIV) and Acquired Immune  Deficiency Syndrome (AIDS) Prevention, Treatment, Care and Support, and Reconstituting the Philippine National Aids Council (PNAC), Repealing for the Purpose Republic Act No. 8504, Otherwise known as the "Philippine Aids Prevention and Control Act of 1998."
Clearly, it states in Article VII, section 49 as Discriminatory Act, and Practices and Corresponding Penalties that the act of bullying is prohibited.
"Bullying in all forms, including name-calling, upon a person based on actual, perceive or suspected HIV status, including bullying in social media and other online portals."
Individuals who violate this law can be penalized in accordance with the law.
"Any person who shall violate any of the provisions in Section 49 on discriminatory acts and practices shall, upon conviction, suffer the penalty of imprisonment of six (6) months to five (5) years, and/or a fine of not less than Fifty thousand pesos (P50,000.00), but not more than Five hundred thousand (P500,000.00), at the discretion of the court, and without prejudice to the imposition of administrative sanctions such as fines, suspension or revocation of business permit, business license or accreditation, and professional license."
Bernardo reported to Facebook about Abdusamad's photo that displayed hate speech but the latter took down the post before Facebook was able to review it.
In an interview with Bernardo via messenger, he said to spread awareness on HIV it is good to start with the young ones whose mind are still pliable. Letting them be aware that HIV is not acquired based on gender because there are individuals who are born positive and living a normal life. They should be informed that science has moved forward when it comes to treatment.
"Start them young, awareness has to be learned while their minds are still pliable, that you cannot justify discrimination of any kind based on gender because there are kinds that are born positive, and grow up to be as normal as anybody, they have to learn that science has moved forward when it comes to treatment that this disease is not a death sentence anymore. Furthermore, they have to learn that not everyone gets it from the LGBT, the high percentage of detection is because more LGBT people are more active in testing themselves aside from their straight counterparts," he said.
In conclusion, he said that People Living with HIV (PLHIV) who are regularly taking their medications and living a normal life like anybody else are called "Undetectables" because their viral loads are so low and they have the smallest chance of infecting other people. In this case, they still have the chance to build a family without infecting their partners and kids which they called it as Serodiscordant Couples (People who have Positive Partners, have kids but their Husbands or Wives, and this Includes Kids Stay Negative).
Bernardo learned about HIV Awareness from his 2nd-year high school teacher in biology as he also got some training with the Red Cross Youth. Now, he is currently applying to be a Red Whistle Volunteer which he is very passionate about aside from DJing.