Maximilian Fernseber is wanted in Germany for child pornography
He went viral because of photos showing him selling barbecue with his wife
Fernseber is now awaiting trial
Maximilian Fernsebner, 34, was arrested this week in Thailand. Fernseber had been on Interpol's radar for some time before his arrest.
Interpol was able to track him down because of social media. The German native went viral on social media because of pictures of showing him helping out his wife Pawanee "Nan" Sricheai sell barbecue.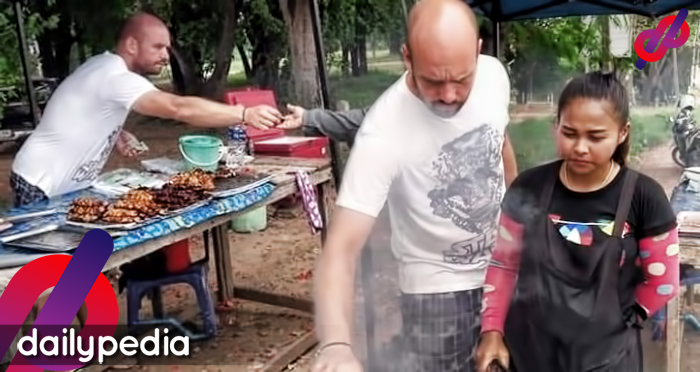 Reports suggest that Fernseber was helping out his mother in law because she was ill.
The main accusations against the German include selling meth and ecstasy online, being involved in theft, and distributing child pornography.
He was caught because people became curious about who he really was and the authorities found out he was a wanted man.
Col. Chatchawan Tipichai said, "After the pictures blew up, many news publications started calling us for the name of the German. Since we didn't know who he was either, we sent pictures to the German embassy. That's when they told us, 'Hey this guy's wanted!'"
Fernseber arrived in Thailand a couple of years ago but illegally, that is why he hadn't been detected until he went viral.
"When he entered the country in 2017, the Interpol warrant had not been forwarded to us yet, when we finally got it last year, he was already in Thailand, but because he did it illegally, he is not in the system. So we didn't know he was here."
The German ran off as soon as he found out authorities were planning on arresting him in his own home.
"We waited for him for over a month after that. We had police staking out his wife's house, but he never showed up," Chatchawan said.
His run did not last long, as locals reported a foreign looking guy frequently seen in an abandoned area.
On June 18, surveillance started and only lasted for three days when the German Embassy called saying Fernseber's mom said that her son will only turn himself in if the Thai police back off and let the embassy representatives handle the situation.
An agreement was made and Fernseber gave himself up.
Fernseber is now awaiting trial in Germany.