Mac Andre R. Arboleda asked his parents to give him a gravestone for his graduation gift
He said he will use it as something to put his laptop on
Netizens react
It is very common to see the relatives of new graduates get tarpaulins made with their loved one's image and a congratulatory message for a job well done.
The tarp is usually hung in front of the house where everyone can see it. Parents do this to show that they are proud of what their children have accomplished.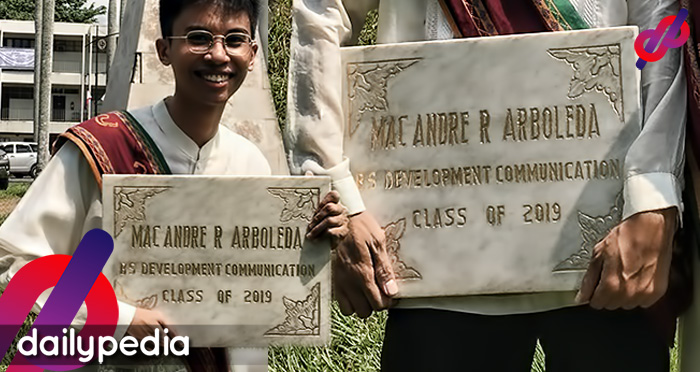 But Mac Andre Arboleda, who was graduating with a BS Development Communication degree from the University of the Philippines in Los Baños, wanted something different.
Instead of getting a tarpaulin dedicated to him, he asked his parents to make him a gravestone.
The gravestone has his name on it and his the course he graduated from, BS Development Communication.
His reason for asking for the unusual gift is that tarpaulins are useless because you can't use them for anything. But the gravestone that he asked for he could use as something to put his laptop on.
Netizens found his post to be hilarious.
Napansin ko lang, ang daming magagaling at matatalino rito. Lahat ang daming sinabi sa bagong graduate. Ang perfect talaga ng mga tao ngayon. Hay, Pilipinas. Ang lakas manlait ng iba, pero kapag sila nilait, galit na galit.

— 謝瑞德 TOEI ADVINCULA (@radadvinculaph) June 26, 2019
naalalala ko lang sa province may nakikita aq lapida na nakasabit sa labas ng bahay. nakaukit din ung pangalan at course na tinapos sa kolehiyo. parang same nung hawak ni Mac Andre.

— abbynat15 (@abigailcuetara) June 27, 2019
Yung pangatlong beses mo ng binasa pero di mo parin magets yung punto. pic.twitter.com/yew7yNuRHw

— Dens- (@denswabe) June 26, 2019
https://twitter.com/Chris_theGreat_/status/1144075311216304128
I had to read this story twice because it didn't make sense at first. After having read it twice, I realized the whole thing is stupid and will never make sense 😂😂

— wonderer (@is_it_right) June 26, 2019