People were laughing and felt pity on the pig in a standing position on a habal-habal ride
They continued laughing so hard seeing the pig was trying to balance itself on the habal-habal
The video received different reactions
In the Philippines, people are so practical when it comes to transportation. One of the most popular rides, especially in remote areas is the "habal-habal."
The usual motorcycle is only good of two to three people, including the driver, but riding a "habal-habal," an improvised two-wheeled single motorcycle that can accommodate more than 6 to 10 passengers can be considered as an extreme ride.
Sometimes this is also used to transport agricultural products and livestock to the market.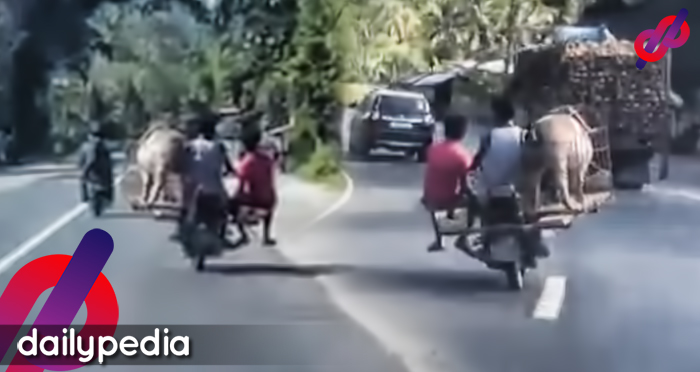 A Facebook user named Melody Melody posted a video of a habal-habal carrying a pig on his left while another man on his right. The video was captioned, "stressful moment sa baboy," where you can hear the people laughing and felt pity on the pig in a standing position on the habal-habal.
They spotted the scene at Kitcharao, Agusan del Norte.
While watching the driver, who managed to balance the habal-habal with the pig and another passenger, they were starting  to laugh and felt pity with the pig until one said, "maoy klaro nga struggle is real."
They continued laughing so hard seeing the pig as it was trying to balance itself on the habal-habal.
"Kalouy sa baboy before siya ihawon didto niagi siya grabe nga stress," and they continued laughing so hard.
The video went viral on social media as it garnered 4.8 thousand reactions and 12, 318 shares.
It also brought joy to some netizens because of the pig and on how they laughed so hard.
"Nalingaw pod ko sa katawa ni ma'am 😊"– Ryan Orbe
"Hahahahaa…daw ako ya nakulbaan sa baboy hahaha😆😅😂🐖🐷"– Jocelyn Panes
"hahahahaha makatakod inyong katawa mga maams hehe good vibes! salamat sa pag post niini!"-MoMot
"Kodus to the driving and balancing skills of the driver, the baboy and the supporting actor! 😂😂😂😂"– Ryan Deovan Caloñge
Some of the netizens weren't happy with how they laughed on the video because it wasn't funny at all.
"Kataw an gyud? Pwerte gihimo pa gyud kataw anan. Unsaon mao raman gud nay means nila to transport. Respeto lang unta. Unsa pud kaha mga dagway ani nila" -Eli Cabang
"OA ra kaayo ang nag video wa may kataw an day…" -Albert Patoltol Estanol