A man is looking for the owner of a large amount of money he found left behind at an ATM
He made a post on social media hoping to find the owner in order to return the money
He asked netizens to share his post in the hopes of finding the rightful owner
A Facebook user named Aries Cave is earning praise after he decided to return some money he found at one of the ATMs in Walmart.
In a Facebook post, Aries said he was looking for the person who withdrew from one of the Banco De Oro ATMs at Walmart, Muñoz. The person had forgotten to get the money and also left the receipt at the ATM.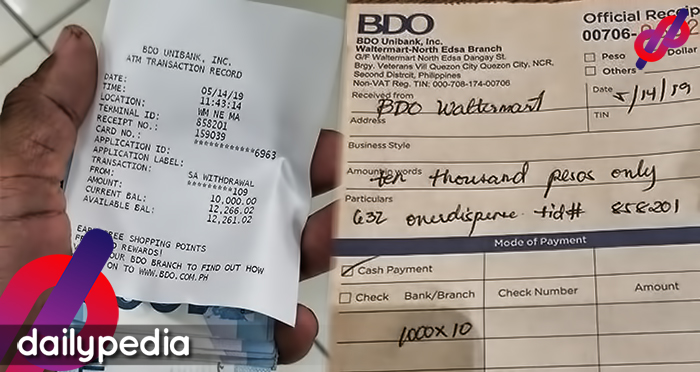 He took the money before anyone else could take so he could be sure it would be returned to the owner.
"Maybe you know who withdrew at BDO..at Waltermart Muñoz..you did not get the money and receipt left in the ATM machine. I took it because someone may take it and not return it to the owner [which would be] a pity," he wrote in his caption.
Aries returned the money to the BDO Walmart branch in case the owner returns to look for the money.
In an interview with The Dailypedia via messenger, Aries said that there was still no update from the bank if the owner had shown up to claim the money. He is asking netizens to share his post hoping that to reach the owner via social media.
"Gave it to the BDO bank Waltermart the money be the one to claim it there..forward to others so the owner sees," he added.
Netizens lauded him for his honesty.
"Nawa'y Pagpalain ka sa Lahat ng pagkakataon.You deserve to be blessed..,sana all like u kuya.."
"Thank you so much for being an honest person! My husband lost money that way sa ATM and he never got it back. I wish someone like you would have helped him."
"Ang bait po ninyo, Sana marami pang ganyan, God bless po"